It's April and we are trying to catch up with spring here in Montana, clearing away the snow.
They are working to open up the roads into Old Faithful at Yellowstone National Park. That requires really big rotary plows.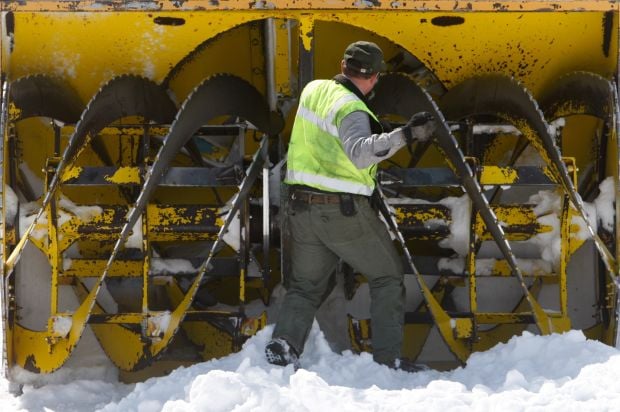 Yellowstone NP employee removes snow and ice jam from rotary plow, NPS Photo.
The feds use the rotary driven snow throwers to dig through really deep snow.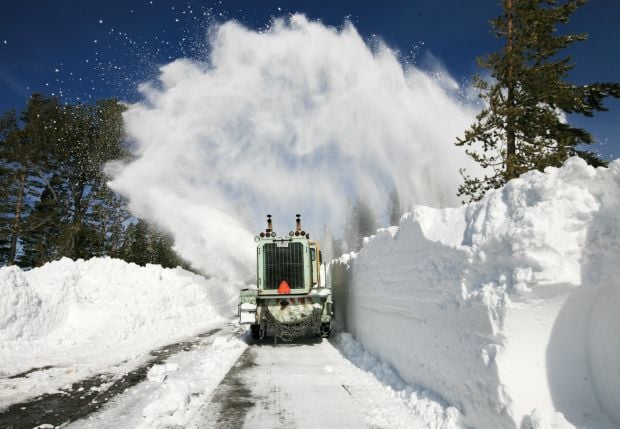 Clearing snow from the Yellowstone Loop Road, along Lake Yellowstone, NPS Photo.
The snow plowing, wedging and throwing dudes got their very own video
.
Here is the Yellowstone story.
YELLOWSTONE LAKE, Wyo. — Spring is finally coming to this snowbound high country, but don't assume that it's a gentle transition from winter.
The roar of straining diesel engines is deafening, vibrating bystanders' chests. Linked by what seem to be insignificant strands of green synthetic rope, two 20-ton bulldozers pull a 27-ton road grader with a plow. The strain can at times be so great that the 4-inch diameter rope is stretched to only an inch-and-a-half thick. It takes this extensive effort, and much more, to break the snow's firm grasp on Yellowstone National Park's remote mountain roads.
Lance Tyson grins as he watches the work, his large grease-stained hands grasped together as he leans through the window of his mechanic's truck. The smell of diesel exhaust hanging in the air.
"It doesn't get any better than this," he says. "There's no tourists, nobody bothers us, and the buffalo and elk calves are being born."
Read more: http://billingsgazette.com/news/state-and-regional/montana/yellowstone-plow-crews-labor-to-open-park-for-spring-visitors/article_2d67ea8b-3bb8-5f41-a008-e8791341c9d1.html#ixzz2z1ATYRxn
Meanwhile, below Yellowstone they are clearing the approach road to Yellowstone's southern entrance through Grand Teton National Park.
Crews are clearing snow from roads and highways in Grand Teton National Park,
NPS photo.
It is a step-by-step
process
.
Grand Teton National Park road crews cut through the deep snowpack on the Teton Park Road between the Taggart Lake parking area and Signal Mountain Lodge—a distance of 15 miles— and completed this portion of the annual spring plowing on Friday, April 4. The Teton Park Road has now melted down to pavement and is currently open to non-motorized recreation such as walking, roller-blading, and biking.
However, road crews are still in the process of clearing the Jenny Lake scenic loop road, as well as other auxiliary roads and wayside areas, according to a statement released by the park's public affairs office.
The biggest challenge is up north at Glacier National Park, the where the first order of business is to bring in heavy duty excavators to clear away avalanches.
A "steam" shovel carves into avalanche debris near Red Rock April 10 on Glacier Park's Going-to-the-Sun Road. Courtesy of Glacier National Park.
Here is the Glacier National Park story,
A rumbling fleet of snowplows and excavators began the daunting task of clearing a path along Glacier National Park's Going-to-the-Sun Road on Thursday, forging through a winter's worth of snow and heralding springtime in Northwest Montana.




On their first day of work, plow crews on Glacier's west side encountered a familiar obstacle – the 25-foot deep avalanche at Red Rock, the first of many colossal drifts along the 50-mile-long feat of engineering.
The road is plowed through winter up to Lake McDonald lodge, and once plow crews clear the section of road between the lodge and the vehicle gates at Avalanche Campground, cyclists and hikers can enjoy access to the road without having to worry about vehicles.
"Once they get through (the avalanche at Red Rock) they have to clear the Avalanche Campground before we open the gateway for hiker-biker season," park spokesperson Denise Germann said.
On the east side of the park, crews are working to clear the Many Glacier area, Germann said, and park officials will begin updating the website so visitors can follow the plowing progress.
"They are finding lots of snow. There is definitely lots of snow everywhere and bigger drifts than normal," she said.
Brian Domonkos, water supply specialist for the Natural Resources Conservation Service, said snowpack levels measured on Flattop Mountain, elevation 6,300 feet, measured 51 inches of snow water equivalent – or the amount of water in the snowpack – which, as of April 11, was 119 percent above the median.
Wintery weather persists in Glacier Park's high country, and on Logan Pass, park officials measured record winds of 139 mph. Germann said they did not yet know whether the winds caused damage.
"We had record winds but no damage that we are aware of, but we can't know for sure until we get into the higher country," she said.
The 139 mile per hour winds were just last week. Going to the Sun Road will not be cleared and opened end-to-end before June 20th. Glacier got over a foot of snow last night.
The season is short but incredibly sweet. Come one, come all, and enjoy!