Bozeman High School is known not only for dropping Michelle Obama's national school lunch program, it is terrific academically, rated first in the state. It has great opportunities for college bound kids, technically inclined students, students bound to remain and thrive in agriculture, and those seeking vocational training. The school's administration is creative and inspired, the teachers aspire to help every student be the best than he or she can be, and it has an activity or organization styled to suit virtually every type of student, bent or interest (it has a fantastic, broad-based music program). The alternative program is fantastic and fully supported by the community. I swim and share the pool mornings at the Swim Center attached to the school most every weekday during winter months so I get a pretty good sense of the vibe and school spirit. They are high, very high. Bozeman High is better on virtually every level than the school our kids would have attended if we had remained inside the Beltway in self-proclaimed "World Class" Arlington, Virginia.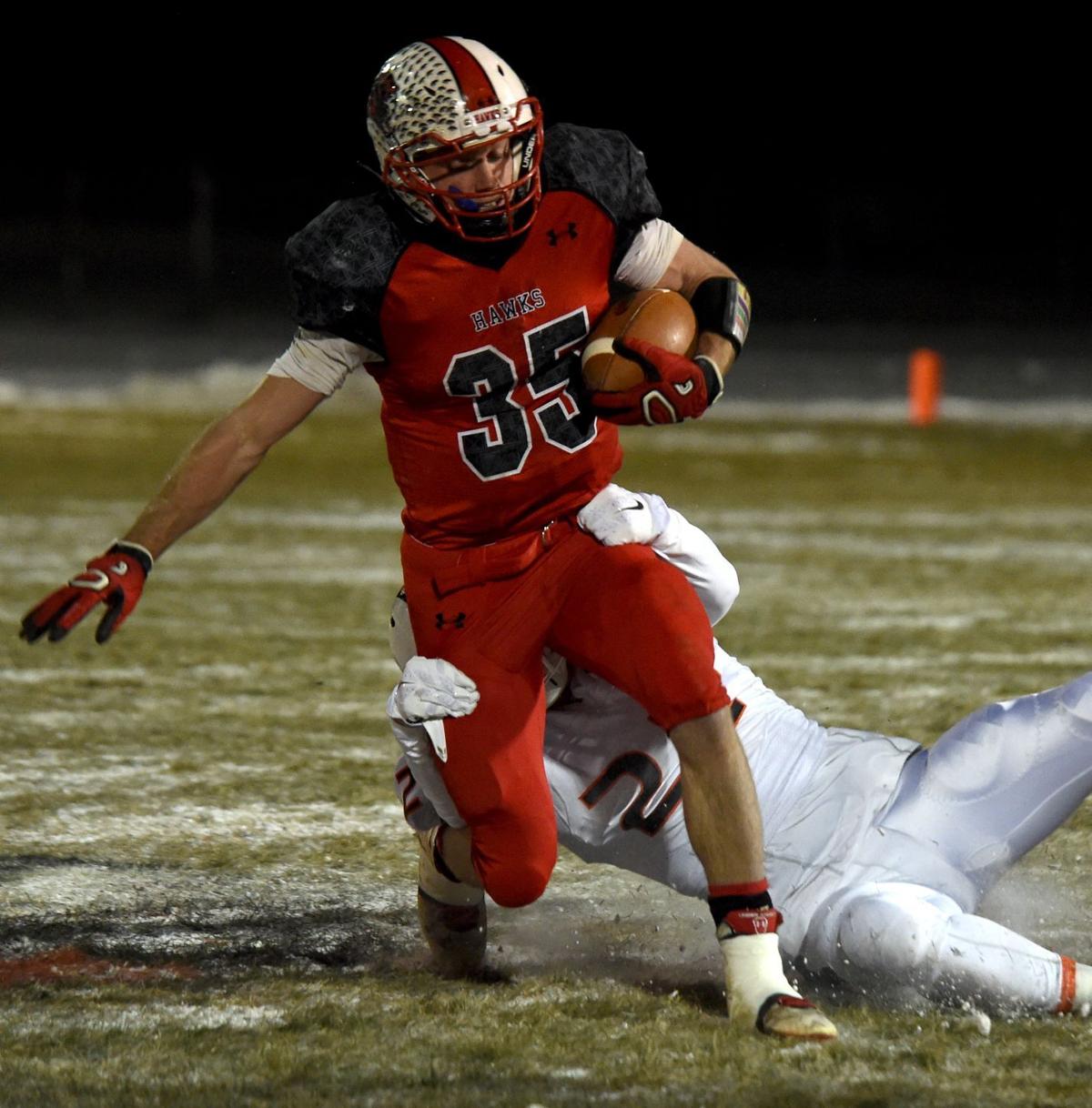 Bozeman's Balue Chapman breaks a tackle
at Friday night's football game.
This week, congratulations are in order to the Bozeman Hawks High School football team which downed cross-state rival Billings Senior in the AA championship game last Friday night at frigid Van Winkle stadium in Bozeman. The Hawks scored two touchdowns in the third quarter to set up a 35-23 victory. Bozeman finished the season with a 12-1 record, bouncing back from a 5-5 finish in the 2014 season. On the home front, we recognize our eldest daughter who performs with the school's jazz band, for braving the elements to root and drum the Hawks gridiron warriors to victory.
Earlier this month, the Bozeman girls volleyball squad won the first state high school volleyball title in school history.
[T]he Bozeman Hawks captured the 2015 Class AA State Volleyball Championship in a hard-fought victory over Missoula Sentinel.The win gave Bozeman its first high school volleyball state title in history.
"We've been working on this since day one of tryouts, and we tried everything we could during practice," said senior outside hitter Caitlin Lonergan. "We gave it our all, all the time. We left it all on the court, mostly us seniors. We knew this was going to be out last time in these jerseys. So we left it all out there."





"I'm really proud to have coached these girls and been a part of it," said head coach Erika Gustavsen. "To make school history is just icing on the cake."
Way to go young ladies!
Bozeman High School boy harriers hanging at Mandeville
Creek outside the high school. We last featured Bozeman HIgh
at Along the Gradyent

to report the bear intrusion in Long Hall..
In mid-September the neigbor boy across the street stopped by to fund raise for the Bozeman High School cross country team. As I retrieved my wallet I asked the young man what his best times were for those 5K races. He said high 15's. "Wow, that's really motoring," I said. Since then I noted the cross country squad loping down Main Street, rain, wind or snow regardless, at 7:30 am most every weekday morning. Two weeks ago the Bozeman High School boys and girls won their respective state high school cross country championships. The next week the boys team placed in the Northwest regionals, which qualifies them for the national championship. Congratulations Chase Equall and your squad;
best of luck on December 5th in Portland.
Also this week, four graduating Hawks committed to NCAA Division 1 athletic scholarships, one in baseball and volleyball, and two in basketball. With 17 seniors on the state championship football squad there will certainly be more. Congrats to all the Hawks and best wishes in your future endeavors.
Stanford freshman and last year's Montana state soccer player of the year at Bozeman High School, Averie Collins, scored three goals and an assist so far for Stanford this year. The Cardinal are hosting an NCAA quarterfinal game this Friday versus Duke.