By blood on the paternal side of the family we are descendants of Fosters and Sandersons in my grandfather's line, and Armstrongs and Hollenbecks in my grandmother's line. Previously, I wrote multiple times at length about the Fosters, and posted several times about the Armstrongs (see the end of this post for a complete list of posts), but have reported little on the Sandersons and Hollenbecks. That is not for lack of material. Today's post begins to fill in the gaps via a look back at a notable ancestor in the Foster/Sanderson line. This is the first of three posts we will publish this fortnight on George Pringle Sanderson.
The Foster/Sanderson line has had quite a collection of Georges. My father was George (George W. Foster, 1909-1999). Dad had an uncle George (George Sanderson Foster, 1864-1946). Dad'
s uncle George also had an uncle George (George Pringle Sanderson, 1850-1940) who is the topic of this post. And that uncle George was the son of yet a fourth George (George Sanderson, 1808-1903). And oh, did I mention I have a first cousin named George?
The five generations of Georges had lengthy lifetimes, averaging eighty-nine years (excluding cousin George who is still with us near Reno in his eighties), collectively spanning the Napoleanic rule of Europe, Joseph Smith's founding of Mormonism, Marx and Engel's publication of the Communist Manifesto, the prosecution of the American Civil War, the inventions of the telephone (Bell), the phonograph (Edison) and the electric light bulb (Edison), the invention of the airship (Count Ferdinand von Zeppelin) and the airplane (Wright brothers), the invention of plastic (Baekeland), World War I, the rise and fall of the Third Reich (see Adolph Hitler), a worldwide Great Depression, the launching of man into space (Yuri Gagarin), near eradication of infectious diseases such as polio (Jonas Salk), smallpox and typhoid, and the invention of the internet (see Al Gore). Yep, they lived through a lot.
The third of the four Georges, George Pringle Sanderson, was born to George Sanderson and Mary Clark Sanderson at Kemptville, Ontario, Canada on 24 December 1850. He passed from this mortal world at Edmonton, Alberta on 27 October 1940. In between George Pringle Sanderson was carpenter, fire chief, alderman, blacksmith, carriage and bicycle maker, gunsmith, locksmith and safecracker. Here is his story.
Biographical Summary.
Most of the time when researching an ancestor, I have been fortunate to come across a summation already written that encapsulates his or her life. Often that is an obituary. Less commonly it is an article, a chapter, a passage in a book, or a synopsis that was written in consequence of that's relative's position or notoriety in life. It was writings of the latter genre that jumped to the top of the search engine results when I researched George Pringle Sanderson. George's biographical sketch appeared straight away on the Project Gutenberg site.
GEORGE PRINGLE SANDERSON
A bit briefer biography and a photo of an apparently older George Pringle Sanderson, appear in a history of Edmonton, Alberta.
Sanderson, George Pringle

Born in Ontario. Went to Winnipeg in 1877 where he worked as blacksmith before coming to Edmonton in 1881. In partnership with Edward Looby opened the second blacksmith shop in Edmonton (the first one was in the fort), but returned to Winnipeg where he married Julia Simpson. Returned to Edmonton and continued operating his blacksmith shop and later worked on bicycles. And harness making. Appointed Fire Chief on July 6, 1892. Elected alderman in 1893; continued as Fire Chief until February 1894. Appointed alderman on July 28, 1896 to fill vacancy caused by resignation of I. Cowie on July 6. Died in 1940. Three children.

Additional Photos:
An illustrated guide to Fort Edmonton Park, p. 49
George Pringle Sanderson was brother to my great grandmother, Margaret Sanderson Foster (1840-1871). Among his nephews were my grandfather Isaac Jarvis Foster and Isaac's four younger brothers -- George, William, James and Robert. Great grandmother Margaret died of complications following the birth of Robert. My great grandfather (William K. Foster, 1836-1902)
and
his children maintained close ties with the Sanderson family, even after William's remarriage and move from Smiths Falls and Kemptville, Ontario, Canada -- where most of the Sanderson family remained -- 1,200 miles west to Bathgate, North Dakota. As stated, George Pringle Sanderson settled in Edmonton in 1881 (the city's population then was approximately 200 then compared to 877,296 in 2014). In the 1890s my great uncle James Dwyer Foster (the fourth of Margaret Sanderson and William K. Foster's five sons) followed his uncle George P. Sanderson out west across the Canadian prairies to Edmonton, then of the Canada's North-West Territories.
We thank Mary Joan, my cousin Jim Foster's wife, for supplying documentation giving color and contour to uncle George's life, including this
more complete biography in an undated newspaper clipping.
Before the horseless carriage age, the most essential persons in the community were the blacksmith and carriage maker. In their shops horses and oxen were shod, iron tires reset on wooden wheels, wagons and carriages made, and a great deal of wrought iron work such as hinges, hasps, and tools were fashioned. Today, the shops with their blazing forge, bellows and anvils, with the many tools, the noise and the smells would be a fascinating place.
Undated clipping, George Pringle Sanderson, biography.

An establishment in 1885 Edmonton combined both essential trades under one roof. George Sanderson and Edward Looby worked as partners for a number of years providing those services without which much of the community could not have survived.
George P. Sanderson left Ontario in 1877 with the intention of settling in Winnipeg. After working four years as a blacksmith there, he and his friend and new partner Edward Looby, headed further west by ox cart. They arrived in Edmonton in October, 1881, and at once proceeded to set up a combined blacksmith and carriage making business.
In 1883, Sanderson returned to Winnipeg to marry Julia Simpson. The handsome couple returned to Edmonton in June of the same year to start what was to become a long and prosperous life together.
In 1887, Looby purchased Sanderson's share of the business, but after a few years converted the establishment to the City Harness Shop, which he continued until his death in 1914.
In the meantime, Sanderson literally cashed in on the bicycle boom, and later included safe and lock smithing in his new business, at which he gained wide recognition. He remained active in his trade until his death on 27 October, 1940, having spent 60 of his 89 years serving the community as a tradesman, town councillor, Edmonton School District Trustee, and Director of the Edmonton and St. Albert Agricultural Society, the Edmonton Cemetery Company, and the Edmonton Oil Company.
George Pringle Sanderson's Origins.
Earlston, Scotland, on the North Sea side, 40 miles south of St. Andrews
and 20 miles
southeast of Edinburgh -- home town of my ancestral great great grandparents.
I located evidence of George P.'s early life in a Lanark (Ontario) county family history. George Pringle Sanderson was born Christmas Eve 1850 to George (1808 - 1903) and Mary Clark (1811 -1886) Sanderson. George Pringle's father was of Scottish ancestry. His mother's blood ran Irish. Newly wed George and Mary emigrated to Canada from Earlston, Berwickshire, Scotland in 1831 on what was to become their lifetime honeymoon. There they begot ten Sanderson children. George was the youngest. George's father's trade was joiner/carpenter which meant he was in the same line of of work as son-in-law William K. Foster. Both catered to spiritual well-being. George helped to build the Methodist church in Kemptville. My great grandfather William, among other things, crafted coffins.
Here I reprise a bit of my research process, as much as anything to give others who might be interested in researching family history an idea of the source tracing and detective work involved in tying down and identifying accurate information.
The known siblings of George Pringle Sanderson were as follows, according to the Lanark County Ontario researcher.
As for the first of the two daughters named Mary the researcher reported:
Mary was 12 years old in 1851. Nothing more is known of her. She may have married before the date of the 1861 census or she may have died. If she died in the early years she would have been buried in the old Methodist cemetery. The cemetery ceased to be used prior to 1900 and fell into disrepair. Few gravestones now remain.
Since Mary's age corresponded with the age of my great grandmother Margaret Sanderson Foster, I suspected the name was erroneously transcribed.
So I went to the original source document, the 1851 Canada census, (see line 11 below).
Census Canada, 1851.
Family record showing all ten Sanderson children.
Sure enough, by close inspection of the image and comparison with the other "Mary" entries it appears that the 12 year old daughter was actually "Marge" or "Margie" Sanderson. That, plus the age given, confirm the entry was for my great grandmother, Margaret Sanderson Foster, who indeed was married by the time the 1861 census rolled around.
Also, according to records supplied by Mary Joan, offspring missing from the Lanark County history are a young child named Elizabeth (1834-1840) and a previously born Margaret (1836-1840), both who were taken from this earth before the 1841 census was taken. Mysteries solved.
William Foster (age 24, cabinet maker) and Margaret Foster, 1861 Census of Canada.
Margaret Sanderson, age 12 as of the 1851 Canada Census, reported on line 11.
Her future husband, William Foster, age 17, apprentice cabinet maker, reported on line 47 of the same.
Census reports for later years shed light on George Pringle Sanderson's career progression and principal occupations.
In 1871, while still living at his boyhood home in Kemptville, George's occupation was given as "Joiner," same as his father and an elder brother.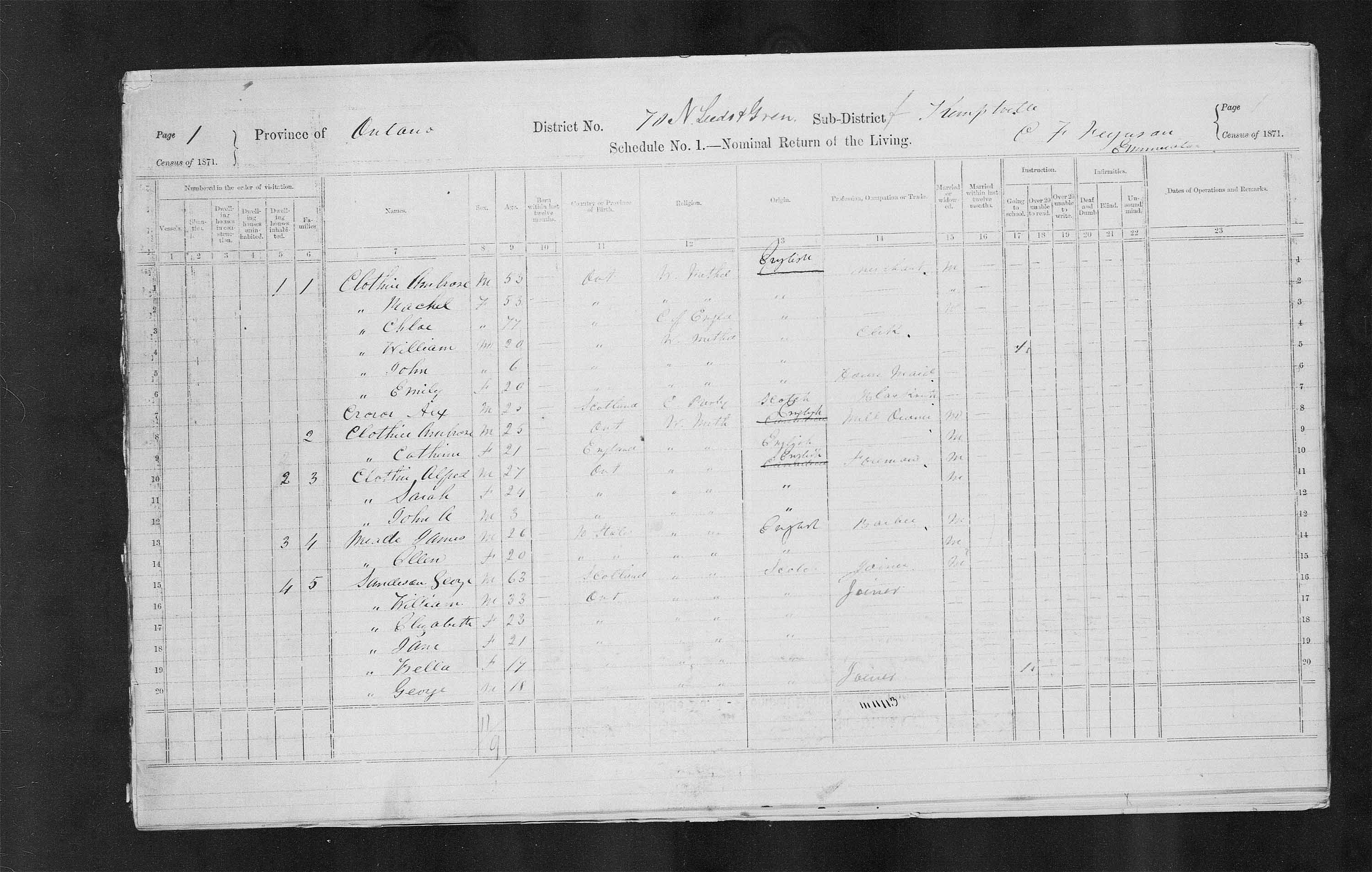 George was settled in Edmonton and identified himself as blacksmith in 1891.
Census Canada, 1891
He was listed as blacksmith again in 1901.
Census Canada, 1901
But in 1911 sixty-year old George told the census taker he was a locksmith, the advent of steam and internal combustion powered locomotion having reduced the need for horse and oxen, and advancing age likely having wilted George's passion for stoking a hot forge, pumping a bellows and hammering red hot iron, hour upon hour, day after day.
Census Canada, 1911
George continued to serve as a locksmith even when he became a septuagenarian.

Census Canada, 1921
The historical archives are rich with detail and fascinating stories on George's blacksmith and locksmith careers. Look for those interesting reports, including pictures of George's business and yarns about his safecracking escapades, in the forthcoming parts 2 and 3 of this post. There is much more to report and we shall do it.
Additional Ancestry Posts on the Foster, Armstrong, Sanderson and Hollenbeck lines.
On the Road to Bathgate Act 5: Founding and Early Years
On the Road to Bathgate Act 6: Norval Baptie Champion Skater
On the Road to Bathgate, Act 7: An Introduction -- Tracking the Lives of the Armstrongs
Uncle Lyndon King Armstrong At Rest
On the Road to Bathgate: The Odyssey Continues
On the Road to Bathgate: Great Uncle James Dyer Foster -- Teacher, Farmer, Assessor, Real Estate and Insurance Agent, and Agriculturalist
Additional George Sanderson References:
George Pringle Sanderson's Parents: Obituaries

Kemptville Weekly Advance, April 30, 1903




| | | |
| --- | --- | --- |
| | MARY SANDERSON - The late beloved wife of Bro. George Sanderson, an honored class leader at Kemptville for nearly forty years past, went before on the morning of Friday, 2nd April, 1886. She died in a moment, sleeping peacefully away, "At the narrowest point in the river she crossed over," - so said Dr. Elliott. She walked with god and was not, for God took her. Sister Sanderson was born in Erilston, Scotland, in 1811, of Presbyterian parentage. In 1831, she was married and came to Canada with Bro. Sanderson, settling at once in Kemptville, where they always remained. She was brought to God at a camp meeting, but did not experience the joy of salvation until sometime after (in 1840), under the ministry of Rev. Wm McCullough. Of ten children with whom our aged friends were blessed, four are already in heaven, and the remaining six are on the way thither. Sister Sanderson possessed a rare combination of superior intellectual gifts, combined with deep spiritual feeling and the soundest judgment. she was noted for her extraordinary sagacity, her wisdom and reliability in counsel concerning matters small and great, her tenderness and trueness in sympathy, her keen appreciation of character, her knowledge of the Scriptures, and her ability to confute the worse with the better doctrine. She is embalmed in the grateful memory of all the ministers who have labored on the Kemptville Circuit. Her decease is mourned as far as her acquaintance extends, for she was a true friend, and "in her tongue was the law of kindness." Her record is on high. While her many friends in Canada united their sorrow at her departure, may they unite their prayers that the aged pilgrim who remains may be comforted until his latest hour, and have ministered unto him an abundant entrance into the everlasting kingdom of our Lord and Saviour Jesus Christ. [signed] S.D. Chown | |
George Pringle Sanderson, charter stockholder of The Edmonton Oil Company, Limited.

Edmonton Bulletin, October 12, 1893



http://www.sfredheritage.on.ca/deathsobitsS.html