Cube Square is rising in Huntsville, Texas. One of the coolest new ideas in apartment construction is to build using intermodal shipping containers. They call it Cargotecture. You have seen them on truck trailers, double stacked on flat bed train cars and stacked to the sky on cargo ships. Now they are beginning to appear on land, rising high in the latest green movement in apartment architecture.
America is a consumer nation, resulting in a surfeit of shipping containers inbound at U.S. ports -- many looking for a domestic home in lieu of an empty back haul. In our import intensive economy, the containers protect goods that are shipped in but are not needed in equal numbers for outbound export. A solution? Shipping container apartments: Reuse, repurpose and adorn to create a utilitarian industrial chic.
Blocks away from the Sam Houston State University campus in Huntsville, Texas, here is the beginning of what will ultimately be 24 efficiency apartment units built four stories high in three buildings, using 36 containers. Note the side portal windows and the floor to ceiling glass windows looking out the end of each unit.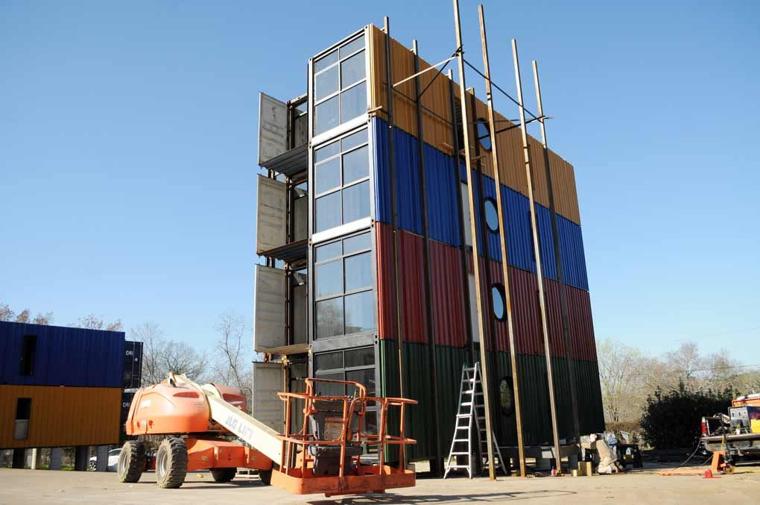 The Huntsville Item reports:
When driving down Sycamore Avenue, it's almost impossible not to notice the multicolored shipping containers stacked one on top of another.
These containers are not being used in conventional fashion, however. They soon will be rentable apartments, which Wagamon Enterprises hopes to begin leasing this summer.





"The whole idea behind doing them in shipping containers is just because it's cool," general contractor Jack Wagamon said. "It's student housing so we want to make it look cool. Kids like that kind of thing.
"Most of the growth on Sycamore over the last five years has been all this student housing," he added. "So, we're just trying to take advantage of that."
The 540 square-foot standard efficiency apartments will come with appliances, granite countertops and industrial-looking fixtures.
Wagamon Enterprises has not yet set prices for the future apartments, but designer Tina Wagamon Felder says that it should be close to $1 per square foot.
By building the apartments, Wagamon Enterprises can increase its property value as well.
"Having discovered that our property was in the university's master plan, our attorney did advise us that if we did increase our property value significantly it would lower the likelihood that the university could exercise eminent domain on our property," Jack Wagamon said. "It was not our primary reason; we just want to make money. That's definitely a benefit (though)."
Brazos Valley NBC affiliate KAGS produced a news report on Cube Square.
Our connection to the project is that thirty-three years ago my wife and her dad (around the time he retired for the first time) started a printing business in the garage behind their Huntsville home. They christened it "The Print Shop." The business grew and prospered, eventually specializing in producing multi-part business forms. Several banks and the local hospital were big customers. As my wife moved on to other pursuits, the reins of the business transferred completely to her brother and sister who became full-time employee owner/operators, as they remain to this day. The business is now named Wagamon Printing.
My in-laws added on to the garage, installed an office in the bump-out, and converted most of their back yard into a parking pad. In time they outgrew all that too, so Wagamon Printing moved to a an eight tenths of an acre site with a 3,500 square foot (formerly) retail building. The accompanying parking area went way beyond current or prospective needs of the printing business.
In the digital age, the printing business not being what it once was, Jack (my brother in law) and Tina (my sister in law) looked for ways to grow the business. They decided to equip and launch a silk screen printing operation, producing roadside and yard signs of the type you see sprout up in the days and weeks weeks preceding elections, and appearing on weekends to advertise local businesses or real estate developments. The sign business is brisk. Here are product examples.
Signs produced by Wagamon Printing.
Silk screen printed signs stacked for shipment.
Silk screen yard sign print run, first color.
The Wagamons also looked at ways to leverage unused space on their business property. Fast forward to Cube Square.
Cube Square is located at 1410 Sycamore Avenue in Huntsville and will be ready for occupancy for the 2015-16 school year. It's conveniently located several blocks from Sam Houston State's campus.
Cube Square is conveniently located to Sam Houston State University.
Tina Wagamon Felder is accumulating a list of tenants prospectively interested in an apartment. If you have questions or are interested, you may call her at Wagamon Enterprises (nee Printing) at 936-295-9586. The apartments are designed for single occupancy.
Following are pictures from the early stages of the construction project. We wish nothing but success for Cube Square!
Raising the roof (and the walls and the floor).
Porthole window view.
Lease an apartment at Cube Square and one of these gentleman will be your landlord. Ask him about the time he slipped off the top of one of the cubes, while laying on a tarp during construction to protect from the elements..
Looking inside out.
Topping out the first building.
Exterior balconies to be.
More links to TV news spots.
From Newsfix
.