In golf news today, LPGA third-year tour player, and one time University of Alabama All American, Brooke Pancake, took a one shot lead in the first round of the Pure Silk Bahamas LPGA Classic, leading world number two, Inbee Park, and tour driving distance leader, Brittany Lincicome, by a single shot.
FULL LEADERBOARD

1


-6
F
-6
67
67
T2


-5
F
-5
68
68
T2


-5
F
-5
68
68
T2
-5
F
-5
68
68
T5


-4
F
-4
69
69
So what do you do if you are young, hot and your last name is Pancake? You team up with the Waffle House of course.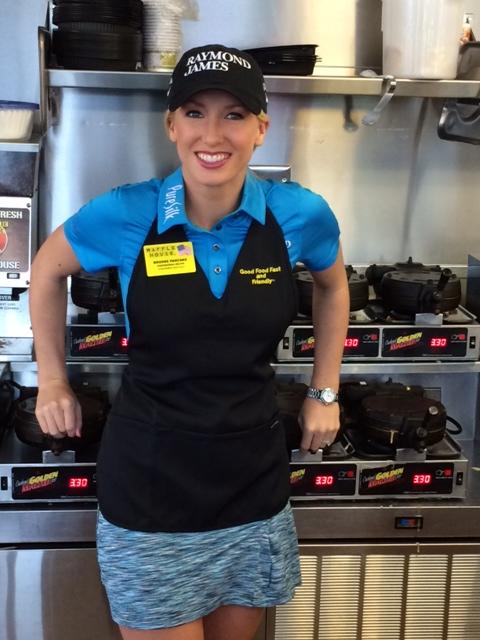 Brook Pancake at Waffle House
In a rather amusing twist, Brooke Pancake has announced Waffle House as her newest sponsor. Pancake, a former All-American at Alabama, will visit Waffle House restaurants throughout the country while traveling on the LPGA and carry the restaurant chain's logo on her bag.
"Growing up in Chattanooga, I've always been a Waffle House fan," Pancake said in a release. "And to be quite honest, I prefer waffles over pancakes anyway."
Pancake, now in her third year on the LPGA, married former UT-Chattanooga player Derek Rende one year ago but kept her maiden name. She will be serving waffle samples at the CHASE54 booth during the PGA Merchandise Show on Jan. 21 from 9-11 a.m. at the Orange County Convention Center in Orlando, Fla.
"This will be the first time that the Waffle Nation will be cheering for a Pancake," said Walt Ehmer, Waffle House's president and chief executive officer.
Pass the syrup, please.
The relationship was suggested by an executive of another breakfast icon.
OCALA, Fla. – Brooke Pancake stood outside the Waffle House on NW 34th Avenue and patiently scooped up golf balls as they came racing down a green strip of artificial turf. Most folks who came out after breakfast to meet Pancake and sink a putt quite obviously were new to the game.





The recent marriage of Pancake and Waffle House so far seems like a win-win for everyone. Since Pancake, a third-year LPGA player, announced Waffle House as her new bag sponsor, Waffle House has enjoyed 71 million online impressions and 7.5 million from TV. (That doesn't count social media.) The Pancake announcement received mentions on "NBC Nightly News," "Good Morning America," "Today" and NPR, plus in The New York Times, The Washington Post and several shows on ESPN, among others.
That kind of mainstream exposure is gold for the LPGA.
"Everyone has messaged me saying breakfast is on me all year," said Pancake, laughing. Players have already taken to calling her "Brooke Waffle" or "WaHo."
Pancake, an engaging blonde from Chattanooga, Tenn., was introduced to a retired Kellogg's vice president this summer by her host family in Grand Rapids, Mich. The former Kellogg's execute happened to be golf buddies with some of the founders of Waffle House in Georgia and floated the idea of sponsorship.
Pancake wrote a personal letter, and the next thing she knew she was in Atlanta meeting with the head of marketing for Waffle House and national sales directors.
The sponsorship was announced last week during the annual PGA Merchandise Show in Orlando, where Pancake passed out waffle samples at the booth of her clothing sponsor, Chase54.
Growing up, Pancake often frequented Waffle House with her family after church.
"I love to order two eggs over easy with wheat toast, extra crispy hash browns and an orange juice," Pancake said of her standard order. Her husband, former UT-Chattanooga golfer Derek Rende, usually orders the All-Star Special, she said, and she eats part of his waffle.
"When people have asked me what was my favorite pancake, to be honest, if I was going to go anywhere I'd order waffles over pancakes," she said.
The Waffle House has become the go to place for Southern golf. Last year's big news was when Bubba Watson patronized its Augusta, Georgia outlet after winning the Masters golf tournament.
BUBBA WATSON LEAVES $148 TIP _ How do you celebrate your second Masters win in three years? You make it rain at the Waffle House. As you may know, Bubba Watson celebrated his win at the Masters on Sunday with a trip to the Augusta Waffle House, where he had a double grilled cheese with a side of hash browns, and whatever else for four or five friends. But he also…


Made a side trip to Steak 'N Shake for six milkshakes.

Left a $24 tip for the shakes.

At Waffle House, left a $148 tip.
If you cannot remember the last time a waitress called you "honey" I'd suggest stopping at a Waffle House the next time you are south of the Mason Dixon line.

Have a great day and good luck to all!
More Pictures of Brooke at the Waffle House