When we grew up in Morton Grove Illinois during the late 1950s and through the 1960s, nothing represented the grandeur and the muscular vitality of the city of Chicago more than the Prudential building. Whether we were
motoring along Lake Shore Drive or
driving down to the Loop via the Northwest Expressway (as the Kennedy was initially known), we would gaze up and see the broad shouldered limestone edifice standing proudly above all.
1950's view of the Prudential building, Chicago, from the lakefront.
Back in the day WGN TV transmitted its signal over the airwaves from an antenna on top of the Prudential building. The antenna plus its supporting tower on top of the building rose a combined total of 914 feet above ground level, making it the tallest structure by far in the City of Chicago.
The Prudential has a storied history. For two decades, from 1934 onward, through Depression and War, construction in Chicago had ground to a half. The skyline whose towers had popped up like weeds in the 1920's became frozen in time.





With an easement to build a trestle and breakwater a short distance from shore, the Illinois Central Railroad had controlled Chicago's lakefront since the 1850's.




From the bank of the river southward, the IC had created a massive railyard, dominated by a huge sign for Pabst beer that as it met Michigan Avenue to the east was the most ambitious bit of construction on the site.



The Prudential Building would change all of that, When it was announced in 1951, it became the first structure to be built over Illinois Central air rights, and the opening shot in the revival of major new office construction. It included new viaducts along its perimeter, and a completely new street, the one-block Stetson Avenue, named after Edward Stetson, an I.C. board president. According to a post on the Connecting the Windy City blog, the air rights deed was 85 pages long and identified 500 small, individual pieces of property.



At 42 stories and 601 feet, the Prudential would fall just four feet short of overtaking the Board of Trade as Chicago's tallest building. Designed by Naess and Murphy, it broke ground on August 12, 1952. At nearly 22 million cubic feet, it was the fifth larger building in the city. Each of its 2,617 windows were double-glazed, and designed to allow both sides to be washed from the inside.





The Prudential was a compendium of superlatives. At 1,400 feet-per-minute, it's elevators were the world's fastest, and popping ears became standard elevator car conversation for first-time visitors. The Prudential had the biggest floor-to-floor heights. It's air conditioning capacity -- 3,150 tons -- also set a record. Elevator service stopped at the 40th floor, and the world's tallest escalators carried visitors to the 41st floor and its observatory, which actually bested the one at the Board of Trade to become the tallest in Chicago. The panoramic views from Stouffer's Top of the Rock restaurant immediately made it a destination dining location for tourists and locals alike.
The Prudential building hole at Par King in Morton
Grove. A putt into the central elevator shaft went up
and over the top from where the ball would drop out
onto the rear green, tracking at or near the hole.
A putt on either side would take an indirect route
that made even a deuce difficult.
It was a special treat for grade school students, Brownies or Cub Scouts on a field trip or families on a weekend excursion, to whoosh aboard the high speed elevators and climb up the sparkling escalators to the Prudential building's top floor, where they could experience the observation deck's uninterrupted vistas of Chicago to its borders and beyond.
But we in Morton Grove did not need to travel 24 miles southeast to view the modern skyscraper. We had our very own Prudential building in the village on the grounds of the Par King Skill Golf course, where it stood out as a first among equals including scale-model replicas of national monuments like Mount Rushmore and the Statue of Liberty, and more whimsical icons such as the Old Lady Who Lived in a Shoe, The Three Bears and Humpty Dumpty.
FOUNDER GEORGE BOZNOS
Located near the southeast corner of Dempster and Waukegan in Morton Grove, Par King Skill Golf's origin took place in the minds' eyes of George Boznos and his sons. At the same time, the mini-golf extravaganza was a natural extension of the Boznoses' multiple and increasingly intensive uses of the property, which by the time Par King was built, had been in the family for almost four decades.
Naturalization Record, George N. Boznos
The story of Par King begins with the early 20th century immigration of a 17-year old youth. The patriarch to be of the Boznos family, George Nicholas Boznos (18 July 1896 - 26 March 1991) or Georgios Nickolacu Mpoznos (literally translated before Anglicization), arrived from Greece on July 22, 1913. He naturalized as a United States citizen on December 19, 1924. George settled in Chicago, where he became a fledgling entrepreneur in a neighborhood heavily populated by Greek immigrants. Mr. Boznos was proprietor of a grocery store at 3958 West Grand Avenue and lived above the store with his uncle Gustave.
According to entries in the 1920 Census, George Boznos lived with uncle Gustave at 3958 West Grand Ave. in Chicago above his grocery store (click to enlarge).
Google Maps 2015 Street view of 3958 West Grand, retail space now occupied by a cell phone emporium and a defunct mini-mart.
In 1923 George Boznos moved body and business to Morton Grove at the southeast corner of Waukegan and Dempster. In time, he would come to call the businesses he established there Boznos and Sons. But first he married Demetra and fathered two sons, Gust and Nicholas. Later there would be a third son, Sam, and then a fourth, John. George was listed in the 1930 census as proprietor of a produce market. It was a family affair. George's brother and sister in law resided in his household. Brother William was employed as salesman, and sister-in-law Irene found work elsewhere as a servant.
1930 Census listing of the young Boznos family at 6337 Waukegan Road (click to enlarge).
WAUKEGAN AND DEMPSTER BEFORE PAR KING
This 1938 aerial shot of the Boznos property (outlined in yellow) shows a collection of buildings on the southeast corner of Dempster and Waukegan, and crop row remnants on the remainder of the approximately 30 acre property.
George Boznos marketed produce grown on site. During the Great Depression he advertised his business as Dempster Vegetable Farm, growing "all kinds in season" raised on "30 acres of gardens."
The Daily Herald, August 4, 1933
Boznos publicized his business in a cross-promotion with The Daily Herald. He sponsored the 2nd prize in an ad re-writing contest (a common reader engagement tool back in the day), "a bushel basket of mixed fresh vegetables given by Dempster Vegetable Farm, Dempster and Waukegan Rds."
The Daily Herald, September 1, 1933
In time, George Boznos opened a restaraunt, Dempster Cafe, on the southeast corner of Dempster and Waukegan roads.
The Dempster Cafe trade would be taken over by Thomas A. "Murphy" Vosnos who for many years owned and operated Vosnos Restaurant on the northwest corner of Dempster and Waukegan. Murphy lived to the ripe old age of 101.
Thomas A. "Murphy" Vosnos
August 24, 2000
Vosnos Restaurant postcard.

Thomas A. "Murphy" Vosnos, 101, a longtime Morton Grove restaurant owner with a passion for hunting and fishing, died Sunday, Aug. 20, in Glenbridge Nursing and Rehabilitation Center in Niles. Born in Greece, Mr. Vosnos came to the U.S. in 1914, arriving at Ellis Island and traveling by train from there to the Chicago area. In 1939, he and his brother, Harry, became the owners of the Dempster Cafe in Morton Grove. In 1947, they built Vosnos Restaurant in Morton Grove., which Mr. Vosnos ran until he retired in 1979. A longtime resident of Des Plaines and Morton Grove, Mr. Vosnos was a hardworking man who didn't need many frills in his life, said his son, Thomas W. "He was very unpretentious," his son said. "He didn't have to drive a Rolls-Royce." Mr. Vosnos enjoyed teaming up with his Weimaraner, Dorn, on trips to South Dakota, Wisconsin and Alabama to hunt quail, pheasants and geese. On many occasions, his grandchildren tagged along, his son said. He also tended a garden in his back yard, where he planted tomatoes and corn. Mr. Vosnos also is survived by four grandchildren and three great-grandchildren. Visitation will be from 4 to 8 p.m. Thursday, followed by services in Simkins Funeral Home, 6251 Dempster St., Morton Grove.
Antioch News, May 19, 1949
The Dempster Cafe's fixtures and equipment were liquidated in May, 1949.
George Boznos and Thomas Vosnos were born within a few years of each other and both were Greek immigrants. Boznos and Vosnos are Anglicized variations of likely the same Greek surname. Whether their business relationships and physical proximity were serendipitous or by blood relation, I do not know. I do know, that the intersection of Waukegan and Dempster in the mid-twentieth century was not the only place and the only time that the family names were intertwined in the Chicago area. I subsequently heard from a descendants who confirmed the men, indeed, were cousins.
Driving Range Comes Next
Golf came to the Boznos property first in the form of a driving range, named immodestly after its founder, Gorgeous George's Golfing Garden (subsequently abbreviated and modified to 4G Practice Fairways). The driving range occupied much of the 30 acre expanse that was first dedicated to supplying vegetables for George Boznos' produce market. To serve the lawn and landscaping needs, and gardening demands of new residents in the rapidly developing northern suburbs, the produce market evolved into a nursery and garden supply center, doing business as George Boznos & Sons.
The driving range was opened to the public by 1951. The Boznoses beseeched "Golfers Attention!" inviting linksters to "come out to the country club atmosphere of the 4G Fairways," where they would find "Available for your convenience: snack shop; pro shop; instructors; 100,000 watts for nite play; and ample parking."
Northwestern University Syllabus, 1951
During the 1950s, almost half of all adults in the United States were smokers. Matchbook covers with free matches were a ubiquitous advertising and promotional medium of the day. George Boznos, proprietor, entreated would be customers to "Stay Young," and "Play Golf " at 4G Fairways where they would find "Golf Practice at its Best." The 4G Fairways matchbook cover called golf "The game of a Lifetime," and mapped the driving range location on the inside. The location was described as "on Dempster St. just east of Waukegan Rd.," as Boznos & Sons continued running their produce market/gardening operation at the prime corner of Dempster and Waukegan. The map indicated the Boznoses reached out to prospective customers in Northbrook, Lake Forest, Glencoe, Winnetka, Wilmette, Glenview, Skokie, Lincolnwood, Park Ridge, Chicago and Des Plaines. For some reason, Niles did not merit a mention. The phone number was Morton Grove 9616.
Golfdom magazine inquired of George about his driving range pricing arrangements.
Do you think some kind of a Season Ticket arrangement would help business at your range? What's Your Opinion ?





George Boznos, 4G Practice Fairway, Morton Grove, 111. — We've built our business on promotion, good service and good equipment. We are willing to go along on that. I don't think a Season Ticket setup would help us. We have numerous regular customers who use the range four or five nights a week and if we were to give them Season Ticket prices, we'd lose a good deal of money on their business. A fellow who is getting started in the range business might use the Season Ticket as a gimmick to build up a following, but he'd be smart to ease out of it in two or three years.
True to George's word, he and the boys heavily promoted the enterprise. One time they engaged noted trick-shot artist Paul Hahn to put on an exhibition that publicized 4G Practice Fairways.
Arlington Heights Herald, August 21, 1958.
Trick-Shot Artist To Hold Exhibition
Paul Hahn, golf's famous trick shot artist, will state an exhibition and clinic Tuesday, Aug. 26, at 9 p.m. at the 4G Practice Fairway on Waukegan road and Dempster.
Hahn will teach fundamentals of golf in one half hour session, then will display his trick shots which will include using an eight pound head on one of the clubs.
Sam Boznos is manager of the 4G Fairway. There will be no admission charge for Hahn's demonstration.
Paul Hahn hit trick shots using a rubber hose shafted golf club.
Touring pro Doug Sanders made a special appearance to put on a golf clinic at 4G Fairways.
Arlington Heights Herald, June 28, 1962
Pedersen, Sanders in Golf Clinic
Chuck Pedersen, professional at Rolling Green Country Club, and Doug Sanders, one of the leading players on the pro circuit, conducted a clinic Tuesday at 4-G Driving Range in Morton Grove
Sanders joined the PGA tour in 1957 and has been grinding out an excellent living with an unorthodox swing. Employing a wide stance, very little body turn, and a short backswing, Doug looks more like a weekend golfer than a major threat along the tourney trail
Doug Sanders came to be best known in golfing lore for his sartorial splendor and missing a final round three foot putt on the 18th green of the Old Course at St. Andrews, Scotland that would have locked up the 1970 British Open Championship.
The Boznoses invited couples to enter a miniature golf contest and visit "the finest driving range in the Midwest" to earn an opportunity to win a 7-day trip to Florida.
Arlington Heights Herald, July 5, 1962
The Chicago Tribune once reported that George Boznos built 4G Practice Fairways "just for young Sam to have a place to work out."
Chicago Tribune, June 19, 1954
We suspect that George had mercantile goals in mind as well, but highlighting the claim of fatherly devotion made for good copy.
The Boznoses boasted the 4G Practice Fairways was "the only landscaped driving range in these parts" and sought the patronage of touring pros.
Chicago Tribune, July 18, 1954
The L. R. salute the 4 G Practice Fairways, on Dempster st., one block east of Waukegan rd., in Morton Grove .... The 4 G boasts it is the only landscaped driving range in these parts .... The project was built up in three years from a vacant lot by George Bosnos, his wife, and their four sons ..... The family still maintains the corner grocery store which was their first venture .... The Clan Bosnos is inviting all professional entrants in the forth-coming Tam tournaments to use the fairways.
George May's The World Championship of Golf was held later that summer at Tam O Shanter Country Club, two miles south of the Boznos property in Niles. The tournament drew the world's best golfers. It enticed competitors with a $50,000 winner's check when $2,000 was the norm for a PGA Tour first place finish. Tournament champions over the years included Sam Snead, Julius Boros, Bob Toski and Ben Hogan. I recall my father telling stories of encountering these renowned players when he worked concessions during the tournament to earn a few extra bucks.
Sam Boznos served as manager of 4G Practice Fairways throughout the 1950s.
Chicago Tribune, April 22, 1956
Par King Skill Golf

The original Morton Grove Par King was designed and constructed in the late 1950s facing Dempster Street on the north central part of the property, in front of the driving range which continued to operate for the first several years of Par King's existence.
Management of the present day Par King on Milwaukee Avenue in Lincolnshire recounts the founding and early days of Par King in a short paragraph.
ABOUT US
Par-King originated in the late 1950′s in Morton Grove, Illinois at its founders golf range called 4G Fairways … George's Gorgeous Golfing Garden. Soon thereafter, in the 1960′s, it was branded by the country's leading trade magazine as "Minigolf's Taj Mahal" and noted to be the most elaborate 18-hole minigolf in the nation.
Here is the magazine cover proclaiming Par King's Taj Mahal status.
The "enchantingly different" Par King opened to rave reviews in 1960, including an article which identified the themes of each of the original 18 holes.
Arlington Heights Herald, July 21, 1960
Par-Shattering Golfers:

Try This Course For Size
On this golf course, the player can putt through the Prudential building, watch the ball whirl around the toll road and wind up playing roulette in Monte Carlo.
It is the new and enchantingly different miniature golf course and Dempster St. and Waukegan rd. in Morton Grove which has attracted hundreds and hundreds of fascinated players, golfers and non-golfers, young and old, in the short time it had been open for play.
It was designed and its construction supervised by 20 year old Sam Boznos, a graduate of Niles Township high school, Skokie, and holder of a Bachelor of Science degree from Northwestern university.
EACH OF THE 18 holes is identified by a replica, meticulously made by hand and painted in beautiful colors, of some famous landmark.
You get an idea of what the holes look like, and what they represent, from their names. The holes on the front nine are called:
"Liberty Bell," "Alligator," "Toll Road," "Statue," "Mount Rushmore," "Grandfather's Clock," "Turtle," and "Prudential."
On the last nine:
"The Shoe (an 11-foot tall copy of the one the old gal lived in with all her kids)," "Indian Tepee," "Humpty Dumpty," "Sweetheart," "Three Bears," "Roller Coaster," "Old Mill," "Clown," and "Roulette."
IT TOOK almost two years and about $80,000 to complete the course. The "Prudential" building took the longest to make. It is 11 feet high, has 41 floors like the one on the lakefront, 2,500 tiny plastic windows, each one inch square and a quarter inch thick.
Mount Rushmore is a reproduction of the monument in South Dakota with the faces of four Presidents: George Washington, Thomas Jefferson, Abraham Lincoln and Theodore Roosevelt in clay.
PAR is 30 - 32 62. As you can guess from the comparatively high par for the course that a hole-in-one is quite an accomplishment.
Because accuracy and skill are rewarded on 17 of the 18 holes, the course was named "Par King Skill Golf."
The elephant hole in the foreground, and Mount Rushmore in the background.
Par King's 18th hole roulette wheel hole gobbled up patrons' balls, and awarded a score of one through six based on chance.
Holes in one were recognized with a bell ring and rewarded
with a golden token yielding the lucky putter a future free game.
In time a plexiglass cover was added so players could not cheat
the system by dropping balls into the free game slot.
An early review labeled the operation "Tee-Hee Golf."
The Salem News, August 3, 1960
.
TEE HEE GOLF
PLAYING GOLF can be fun even if the hazards include going down a toll highway, through a giant office building and into an alligator-filled swamp. Actually, this rugged course is part amusement park at Morton Grove, a suburb of Chicago. It takes on a putter to play the $80 thousand Par-King course. It's a Lilliputian amusement park in which every golfer towers over the skyscrapers, peaks, fairy tale characters and assorted animals. Each of these "hazards" is a hole, with its own pitfalls and its own special fun.
Photographer Tom Shafer went around the course with a camera instead of a club. Here [displayed in the article to the right] are some of his top-notch "shots."
The Amusement Business magazine "Taj Mahal" article lauded the conception, economics and staging of the Par King mini-golf course.
MINIGOLF'S "TAJ MAHAL"
... a Course with all the trimmings sets a new pace for an old game.
By KEN KNAUF
Possibly the most elaborate mini-golf course in the nation, it claims to be the biggest grossing 18-holer in the country. And the two superlatives are not just a coincidence.
Par King Skill Golf, on busy Dempster Street in Morton Grove, Ill., a Chicago suburb, sets it own pace rather than following the pattern. That's why there is frequent a two hour wait to play, even at $1.25 a round.
The Boznos brothers, Sam, Gus and Nick, owners and operators of Par King, have over $200,000 invested in the course. And with that kind of investment they have to and do get top money: 75 cents a round is the minimum fee on weekdays until 6 p.m. After 6 the fee is $1, and it's $1.25 on Friday, Saturday and Sunday nights. And yet, patrons stand in line to play. Here's some of the reasons why:
The Boznoses design and manufacture their own Fiberglass figures which serve both as golf hazards and as decor for the course, giving Par King an individuality all of its own. Each hole is themed to one of the figures. Among them: a scale model of Mount Rushmore, the famed Mountain of Presidents. The Boznoses used 24 photo slides of the South Dakota peak, shot at different angles, in designing this model. Another scaled figure is an 11-ft.-high, 41-floor model of Chicago's own Prudential Building, complete with a glassed-in elevator that takes the ball for a ride, eventually dropping it down a shaft onto a green behind the structure. Still another scale model is of the Statue of Liberty. Highly realistic palm trees of Fiberglass but with real spring loaded leaves that rustle in the breeze add a tropical mood to the course. The Boznoses plan to market these units as well as some of their hazard figures.

Par King keeps three attendants on duty evenings, supervising play. A starter at the No. 1 hole controls the number of people playing at one time. As a result, Par King has had no problem handling crowds, and can and does keep potential trouble-makers off the course. Parents feel free to let their youngsters play at the course at any time. While Par King stays open until 2 a.m. weekends, youngsters under 10 are discouraged from coming in after 7 p.m., are often deliberately turned away and sent home. Park King furnishes balls and putters to players, but it hasn't lost a putter in 1½ years, loses only about 50 balls annually.
Snacks are an attraction in themselves at Par King. At one end of the layout is a "Castle" that King Arthur could be proud of. Inside, soft drinks, hot dogs, sundaes, cones and orange freeze are sold at 10 to 55 cents. Flanking the Castle is another building now being expanded to twice its original size. It will house a fancy ice cream shop with Polynesian motif, table service, phone jacks at each table and intercom paging service. Fancier prices will go with the fancier atmosphere. Patrons may enter either building without paying to play on the course.

As do most mini-golfs, Par King gives away many free games, but the way it is done, again, is unusual. The 18th and final hole consists of a roulette-like wheel enclosed in a glass bubble. As the player hits his ball, it enters the wheel and is spun around until it lands in one of 48 holes on the wheel. If he's lucky, the players will hit the "free game" hole. This is the one way a player can win a free game, but 25 to 75 games are awarded daily.
Rather than offer a confusing string of daily or weekly promotions, Par King concentrates on a few. Major one is a six-month-long tournament for couples (dating or married couples make up the course's biggest share of patronage). Grand prize last year was an all-expense-paid trip for two to Miami Beach.
Finally, since Par King runs its own shop, it is continually improving and changing the appearance of the course. A survey the Boznoses made of other courses convinced them that while many of them enjoyed great initial success, revenue eventually tailed off. Par King thus keeps striving for improvement, has kept revenue climbing steadily.
Here is the full-size color photograph of the magazine article's lead picture, featuring the alligator, elephant, rocket and Statue of Liberty holes, with the Old Lady Who Lived in a Shoe, Prudential Building and tepee holes in the background. Refreshments were served in the rear castle building.
Par King Skill Golf 1965 photograph.
Par King's 10th hole made a list of the 18th toughest miniature golf holes in the Chicago area:
The 18 Toughest
A miniature course full of maximum madness
By Phil Vettel
A

ll you need to know about my devotion to miniature golf is that I built a course (okay, one hole) in my basement, Peple ask me: "Why a golf course?" and I say, "Because a pool table won't fit." But I wouldn't give up miniature golf for it. Actually, the two are quite similar, especially on holes that require banks shots. But I digress.




The Chicago area is chock full of varied, inexpensive and challenging course. My task was to find the 18 meanest, most ornery holes around, holes that chew up novice players and spit them, like so much predigested cud, on the artificial grass. I wasn't easy -- the pursuit of excellence never is -- but it go me out of the office for a few days.
Chicago Tribune
, August 14, 1987
#10 Par King (Morton Grove)
Sure, you hit straight tee shots, but how long do they stay straight? If you can keep the ball straight for about 384 inches you'll get a well deserved hole-in-one, but if you're off by just a few degrees you'll be in trouble. Hole 17 at Par King is a four-section, club-diamond-spade-heart, configuration; off-line shots catch one of the rails at some point and that's where the fun begins. If you have to shoot out of one section on an angle, you'll hit one of the rails of the next section, and so on. This could keep you busy for some time, especially because the sides of this hole are made of concrete and the rebound on errant putts is considerable. To make it even more interesting, the putting area level drops 3 inches after the first two sections, then drops another 3 inches after the third section. I lost considerable respect for this hole when my 10-year-old niece, Candy, aced it, but shortly after I teed off, I gained a lot of it back.
Par King's popularity increased into the 1970s and beyond. Holes were modified and/or replaced from time to time. Note the advent of a Buddha themed hole and a hole with a revolving disk.
A crazy course
Miniature golf: Putt some fun into your life
By Nancy Adams
MINIATURE golf is not an amusement people tend to take serious. "Kids' game," they jeer, "Cinchy, they'll say. "Easy." "Forgiving."
They immediately picture some dreary little course with bumpy greens, grain fairways, and green curbing under bug infested lights. Obviously they've never been to Par-King Skill Golf in Morton Grove. Roses bloom, romantic Shakespeare phrase are quoted, and Carly Simon music is part of the game here.
Chicago Tribune, August 5, 1973
Par-King is billed as "America's Most Unusual Golf Course," a claim not difficult to accept after a glimpse of the Buddha and Mount Rushmore holes. Like most miniature golf course, Park-King has its faults. There are waiting lines; a 20 minute or longer delay is not uncommon. A refreshment concession serves less than mediocre snacks. A game gallery with 25-cents machines steals faster than a a roomful of slot machines.
BUT SUCH miniature golf I've never seen. Par-King may be plopped down in the middle of a shopping center parking lot and it may look like a misplaced segment of Disneyland, but golf here is very serious. There are lots of rules to help keep things moving; No children under seven, no playing groups larger than a foursome, no ball marking, no full swings, no more than seven strokes a hole, no non-players on the course (they go in the free spectator gallery).

Men's and women's tees also help establish the earnestness of this game. Strict regulations govern playing hours according to age; youngsters under 14 must play before 5:30 p.m. That leaves evening hours free for dates and other adults who can't stand watching kids take 40 whacks at the ball on every hole.
FIRST PLAYERS take a number. When the number is called, a young employee guides them thru the first hole offering instructions and clarification of the rules.
The opening home has two approaches, one thus the mouth of a jack-o-lantern and a side track that bypasses the obstacle. The second hole on the par 59 course is the Statue of Liberty done in gold-painted plaster that looks like melting ice cream from some angles. Then it's thru a maze of giant tin soldiers, old shoes, rockets, elephants and water holes.
The more challenging holes seem to be the more mechanical ones. The Prudential Building on the 14th hole has an elevator to catch for the best chance of a hole in one. Another hole's degree of difficulty is based on a disk that moves while players try to take aim. The hole becomes more interesting when players try to stand with one foot on and one foot off the moving disk while putting.
Rates at Par-King range from $1.25 to $1.75, depending on what time you play. The course is owned and operated by Gus and Nick Boznos, who opened it in 1964 (sic) after designing it and building each hole themselves.
George Boznos built a wishing well as a central feature at Par King to generate good will and spur charitable giving.
Arlington Heights Herald, July 27, 1961

Wishful Thinking

Makes Sense; Ask




Skokie Hospital
Golfing enthusiasts did a lot of wishful thinking that made dollars and sense.
When 4G's Practice Fairways, Dempster Street and Waukegan road, Morton Grove opened its beautiful $100,000 miniature golf course known as Par King Skill Golf in June of 1960. George Boznos, the owner inaugurated a unique idea.
Visitors in the Disnelyland like course's wishing well could make a wish and toss a coin of any dnomination into the well. The money eventually would be turned over to the Skokie Valley Community Hospital Building Fund.
ONLY THREE persons would each have a key to the steel-grated top "vault" into which the coins fell: Ernest C. Gray Jr., administrator of Skokie Valley Community Hospital; Roland F. Dilg, president of the First National Bank of Morton Grove; and Boznos.
They were to be the trustees of the fund.
Arlington Heights Herald, July 27, 1961

Recently, the three men met and opened the vault. They counted the money which is being presented to the hospital. The pennies, nickels, dimes, quarters, and half-dollars came to $168.13.
BOZNOS, SO impressed by the amount of good that can come from wishful thinking which sometimes makes cents, decided to match the sum contributed by wish-makers and presented the Skokie Valley Community Hospital with a check for $168.13.
The hospital is thus receiving a total of $336.26.
"Wishful thinking can make sense, don't you think?" asked Mr. Boznos.
Continuing the Boznoses' history of promotion, Par King crowned its very own beauty queen in 1961.
Arlington Heights Herald, September 7, 1961
Par King was pure family and friends during the day and a dating hotbed at night.
Chicago Tribune, August 20, 1971
Courting your baby
at the Buddha hole
Par-King



TRIBUNE
ONE SUNDAY afternoon, we were wondering what to do. We figured we might as well drive while wondering, so we packed into Stu's maroon Bonneville and cruised up Dempster Street.
We ought to thank God we have Dempster Street. It is a truly great street. For openers, it hosts McDonalds, Burger King, New York Bagels, Chicken in the Rough and Jack in the Box. Early in the ride, we considered and promptly rejected the idea to stop and buy something from every food stand on the street.
We sat quietly, pensively, as we passed first Dunkin Donuts, and then All-Star Lanes. We crossed the Edens and kept on going. There was a half-mile stretch of trees on either side of the road, and then we saw it. Disneyland.
Awestruck, Stu screamed "Yes!" and swerved across the divider into the parking lot. We stood, the six of us, before the entrance sign. It smiled and said Par-King, and in a smaller script, Skill Golf. This we had to see.
The course was just so much! We simply weren't ready for it. Hitting thru Mount Rushmore and up the
Prudential Building elevator consumed all available attention. We didn't even remember to place bets on the match. We thought about it a long while at Dunkin Donuts before heading home.
Last Monday night, we returned to the fabled Par-King Club [isn't that how you spell parking?]. And I'm here to tell you that playing under the lights ain't anything like a Sunday afternoon match. Gone were the families and little kids, Monday night is heavy date night. It's crowded. When you're paying a buck-fifty a head and have a 40-minute wait to tee off, you know something is happening.
Par-King was constructed in 1965 (sic) as a prototype for a chain of links. Gus, the owner, helped design it himself. He was after a tough, classy course, and he got it. You won't find any other Par-Kings around, because Gus and his brother overdid it. They constructed such an elaborate set that they almost built themselves out of business.
As a result, Par-King plays like a real golf course. There are no "gimme" holes here.

Price of admission: your mind.

I was a terrible sport when I was a kid. I would scream and swear and wrap my clubs around trees whenever I hit a lousy shot. It got so not even my mother would play with me. Miniature golf was my salvation. The holes were all so simple, There was always a groove down the mat that carried the ball straight to the cup.
I'd come raging nut of my country club after shooting a 104, and tear over to the nearby miniature golf course to play another 18. This took about 20 minutes, and since I was assured of shooting no worse than a 45, I was able to regain a semblance of self-control before returning home for dinner.
Chicago Tribune, August 20, 1971
Weekend golfers aside, the miniature game was invented in the 1920s as 'a toddler sport. Instead of sending the little tykes out to tackle Pebble Beach with Daddy, they were shuttled off to a miniature golf course, where they could be easily watched and cared for. It was certainly cheaper than hiring a sitter for a few hours. The little game grew quite popular.
Then, suddenly, the sport dropped out of sight, not to reappear again until after the war. No doubt, miniature golf was one of the first casualties of the Great Depression.
It was a natural to spring back big after the war. Americana kitsch! What a marvelous country we live in. From dust bowl to deb hall, and no memories to pay.
Most of the modern courses, including Par-King, were built specifically with the suburban kid in mind, Skokie and Morton Grove kids are nurtured in little manicured gardens-the shrubbery outside their front doors is all symmetrical. There are no weeds and the grass is a uniform 7/8th-inch high. They are brought up to appreciate the finer things, and they recognize value when they see it.
So, when they bring their

hot little honeys to a place like Par-King, they know they won't he embarrassed. It's just like home. You almost feel like doing a bit of weeding while waiting on the third tee.
You will even hear your favorite song. Usually, the office blares Blood, Sweat and Tears over its p.a. system. Whether this obvious situational pun is intended is anyone's cosmic guess, but when you and your baby are playing the ninth hole, the Buddha hole, and you hit the ball thru this plaster Buddha, you have to wonder. Especially when Jim Morrison, the late great Lizard King, expectorates "America" while

you're lining up your second putt.
Of course, for most players the hand goes unlistened to. Who cares about the band? The guy is only there because he wants a cheap date where he can check out his girl and decide whether she's worth spending any more money on. In any event, after they finish golfing, he can take her to make out in the parking lot in front of Korvettes.
But you see, this isn't the '50s, This is the '70s, and there's nothing wrong here. I'm telling you, there's no need to worry. America is just as funny as it ever was.
Ron Berler
Par King had ecumenical appeal. The mini-golf course drew patronage from the North Shore Jewish Singles,
Daily Herald, May 25, 1997
as well as from the Couples Club of the First United Methodist Church of Des Plaines.
The Daily Herald, September 17, 1971.
There were first dates aplenty at Par King, some of which led to seconds and thirds, and ultimately to weddings beyond. Early on, a Northwestern student and his bride invited wedding guests for an evening of mini-golf at Par King in lieu of a traditional rehearsal dinner.
Chicago Tribune, July 6, 1973
Dr. Edward Streb continued his journey down the road less traveled after marriage and completion of his graduate work.
Are you one of those people who publicly sneers at the supermarket tabloids, but when noone is looking, sneaks a quick read? Let's face it, educated people are not I supposed to take an interest in UFO landings and parents who eat their babies. Unless you are Edward J. Streb, associate professor of communications at Rowan University.
Also known as Mr. Persuasion, Streb is an expert on the subjects of persuasion and social influence. The influence supermarket tabloids exert on their readers fascinates him. For the last 17 years, he has studied articles like "Mom Boiled Her Baby and Ate Her," "Cooks Her Boyfriend, Feeds Him to Pigeons" and "Invisible Aliens From Space Live Among Us." How did Streb get started on this offbeat scholarly path? He wondered, as many of us do, "Why would anyone read this? Do they believe it, and why?" He decided it was worth finding out. Except for his investigations, there has been little academic inquiry into the persuasive nature of supermarket tabloids and none into their credibility.
Funded by a research grant from Rowan to do intensive research on the tabloids and the National Enquirer in particular, he addressed such questions as: What rhetorical devices have they used to enhance their credibility with readers? How have they adapted their message to remain competitive with television's "tabloid" programs? What is the impact of libel suits on tabloid credibility?
Par King delivered on its promotional claims. It ran print ads that highlighted the elephant hole. "It's not the jungle," the ad copy trumpeted, "just shooting Skill Golf at Park King." The Boznos' never failed to mention that Par King was "America's Most Unusual Miniature Golf Course."
The Roselle Register, Jul 7, 1967
Another print ad used the same tag lines to promote hunting for pars on the alligator hole.
The Roselle Register, September 1, 1967




I tell my kids that if you want to retire rich and prosperous, buy 20 or 30 acres of property on the outskirts of a major metropolitan area, pay the taxes and cover the bills by operating a driving range and some kind of restaurant or auxiliary retail operation on site. Then sometime after you are 40 or 50 years old, cash out to developers as the property is overtaken by urban sprawl.
Massive change came to the Boznoses' property in 1963. Development beckoned in the form or Arlin Properties and a proposed Korvette City complex.
Trustees Delay Zoning


Until Court Acts
BY ALAN CLEVELAND
Morton Grove village trustees last week delayed action on a plan commission recommendation to rezone 30 acres for a five million dollar shopping center.
The trustees do not want to rezone the land If the shopping center is built in Glenview, where a court action is pending on the proposal.
The developers of the land have estimated that the expected yearly gross of-the complex would be 20 million dollars resulting in approximately $100,000 in sales tax rebates for the village.
Want Center In Glenview
The 30-acre tract on the southwest corner of Waukegan road and Dempster street is owned by George Boznos. The developer and proposed store operators wanted to build the center in Glenview, but their attempt was stymied when the village annexed the site and refused a permit.
The developer is Arlin Properties, developers for E. J. Korvette Enterprises.
A Circuit court suit is pending by Gene of Chicago, Inc., to determine whether the Glen- view annexation of the Arthur McIntosh property on Waukegan road near Golf road was legal.
Stockholders Are Same
Gene is a single purpose corporation set up by Arlin Properties to acquire the 20-acre Glenview site. Arlin's stockholders are the same as the principle stockholders of Korvette.
While Morton Grove trustees are waiting to see what happens in the Glenview-Mclntosh suit, they have instructed the village attorney, James Orphan, to arrange a legal agreement with Charles Wooster, attorney for Boznos.
The agreement would stipulate that the 30 acres would be rezoned from limited manufacturing to commercial only if Arlin develops the land for Korvette.
If Glenview Wins
Gilbert Hennessey, attorney for Gene, Inc., said if Glen- view wins the case the E. J. Korvette operation "possibly" would be moved to Morton Grove.
But if the court decides the McIntosh property was im- properly annexed, the center would be constructed on the 20-acre tract. This is the reason Morton Grove trustees are awaiting a decision in the case before rezoning property In their village.
If the Glenview annexation is upheld, Hennessey said, E. J. Korvette may not wish to wait until it can obtain proper zoning on the McIntosh property.
Two Stories High
The developers then might try to interest others in the McIntosh property, he said. Arlin also is developer for four other Eastern chains.
The shopping center would include a five million dollar complex by the developer, who would lease it to E. J. Korvette and other stores.
The center would be two stories high and contain approximately 300,000 square feet. It would employ between 500 and 600 persons and would be open from 9 a. m. to 9 p. m. six days a week. It would be closed Sundays.
The Morton Grove village board moved ahead with the rezoning application later that year.
Rezoning Clears Way
for Land Deal
BY ALAN CLEVELAND
Morton Grove village trustees last week in a 5 to 1 vote approved a plan commission recommendation to rezone the 30-acre George Boznos tract from light manufactur

ing to commercial.
The action came after a letter of intent to build on the property from E. J. Korvette Enterprises to Arlin Properties, was presented to the trustees.
The trustees had delayed action on the recommendation earlier to give them time to investigate the Korvette operation and to see what would be the outcome of a property an- dispute in Glenview, where Korvette was also said to be interested in building.
Veto Choice Option
Robert Schreiber, village president, said although the trustees could not deny zoning, they were not sure who would build on the property, they were hesitant to approve the zoning if it would give the Korvette interests a chance to choose between Glenview and Morton Grove for construction of a five-million-dollar shopping complex.
The letter of intent wiped nut the necessity of waiting to see what the outcome of the Glenview - McIntosh property annexation dispute would be.
George Boznos, owner of the tract on the southeast corner of Waukegan road and Dempster street, said he is still working on details of the sale with Arlin Properties. He said he could not at this time disclose the price the developers are offering.
$100,000 in Taxes
The developers estimated the expected yearly gross of the shopping center would be 20 million dollars, resulting in approximately $100,000 in sales tax rebates for the village.
William R. Kearney, president of the Morton Grove Chamber of Commerce, said Wednesday night prior to the group s regular monthly meeting that he expects the shopping center to increase trade in the community.
Expects Trade Shift
"Our major concern," he said, "is that the proposed center would throw the trading emphasis to the west side of town, while for years we have been trying to establish the Dempster street - Austin avenue area as the main shopping area.
"I can't see but how the new shopping center will stimulate trade," he said.
The Korvette interests had sought to build the complex in Glenview, but the Glenview zoning board of appeals denied a request for rezoning and a lengthy court fight to deter- the legality of the McIntosh land stymied their efforts.
Subsequent to the rezoning, George Boznos closed on the sale of the property and moved to shut down and sell out most of his business interests on the property, the driving range and the inventory of the nursery and garden supply business included.
Arlington Heights Herald,
Daily Herald,
By that fall E. J. Korvette moved aggresively to hire hundreds of employees.
Daily Herald, September 12, 1963
But Par King survived. Its grounds were shifted east to the edge of the property along Dempster Street, where it continued in operation another 40 years.
Front view of Morton Grove Par King at its new location in the corner of the Korvette City development.
Par King was featured in a 1986 Tribune article on miniature golfing in the Chicago area.
Miniature Golf Inspires Puttering Around




June 06, 1986 | By Nancy Maes.



It was not so much a decline in popularity but a rise in property values that did away with so many miniature golf courses. Says Bud Klatzco, owner of Novelty Golf in Lincolnwood, "In 1955, within a three- or four-block area in this vicinity, there were five courses, but the property got too valuable and they built stores on it, and we`re the only one left."



On a warm summer Sunday, families are still out at the miniature golf courses, trying to beat the odds and get balls through openings before the windmill whisks past, a trapdoor snaps shut or the bridge goes up over the moat.
The hanging scoreboard announced by number who was next on tee.
There may be an hour`s wait on a busy Saturday night at Par-King Skill Golf in Morton Grove, but customers are given numbers and an estimated times so they can go off and have an ice cream cone and come back for their turns.
Players are more than willing to wait because Par-King, now 24 years old, has such unique obstacles, designed by the three Boznos brothers who created the course.
Co-owner Nick Boznos never saw Mt. Rushmore for himself. But from a photograph he created a small fiber glass replica with recognizable faces and a granular rock-like surface for Par-King`s eighth hole.





Every winter the Statue of Liberty that stands at the second hole gets repainted, because the weather and wayward golf balls take their toll.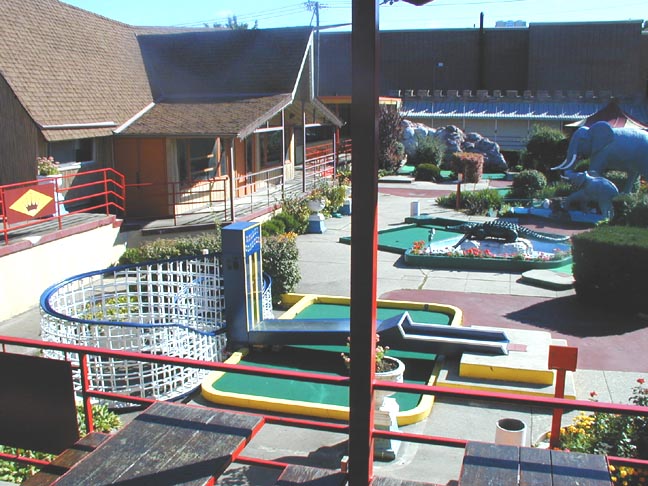 Roller coaster hole in foreground.
Other holes require fine tuning. The roller coaster that creates an obstacle between the players and the putting green of the fifth hole has been changed three times. Two years ago, Boznos did away with the ramp leading up to the roller coaster. "people had a great deal of difficulty with the concept of driving the ball up the hill," Boznos says. "Either they`d drive it straight through or right off the hill."
Now players shoot the ball down a slope into an elevator that carries it to the top of the red-and-white roller coaster, so the ball rides over the curves and down the inclines onto the green. "It took a lot of experimenting to develop an elevator that would function day in, day out seven days a week, six hours a day, without breakdowns," Boznos says.





At another Par-King Skill Golf near Lincolnshire, built 10 years ago, a hole with a Sears Tower reflects a more contemporary American scene.
The rules of use and decorum at Par King were published and multiple. It was a hands on Boznos operation, top to bottom and inside out. The Boznoses had old school values -- they had no interest in customers who honored their rules in the breach.
No Goofing Off Here-this Is Miniature Golf





August 04, 1989 | By Eric Zorn.





The tear in the corner of the little boy`s eye produces a nod of satisfaction from Nick Boznos, the grand potentate of north suburban novelty putting.



"I don`t care if he cries out or what he does," Boznos says, turning away. "I stick to my rules. Otherwise, my rules don`t mean anything."

And his rules say no one under 15 is allowed to play miniature golf at the Par-King in Morton Grove after 7 p.m. So the boy`s mom and dad have to pull him back to the car by the arm, sour looks on their faces, their family outing a shambles, their lives no doubt an unrecoverable ruin.

"Sure, people complain," says Boznos. "But in order to be fair to everyone, I must have some organization. Why, just this morning I had a woman come in here with a kid`s birthday party, and she had a 6-year-old with her. "The rules say no one under 7 is allowed to play miniature golf at the Par-King. Ever."



"I told her, `I can`t allow you to take him down there,'" Boznos says, gesturing with his thumb to the outlandish 18-hole layout that has made Morton Grove the St. Andrews of regional mini-golfing. "'The rules are intended for all.'"





- - - Sure, running a miniature golf course looks easy: Grease the moving obstacles every once in a while, order the little scorekeeping pencils from the pencil company and watch the money roll in.





But think about it. Who is going to repaint the oscillating pumpkin? Who is going to splice the pulley-belt on the dummy Prudential Building? And who is going to stand sentinel on the promenade deck to crack the whip over slow golfers?



"It`s a 12-month-a-year job," says Boznos, 61, a career miniature golf man. "I`m always busy. In the summer, I`m here 12 hours a day, seven days a week. I may get to play one hole here and there to check it out, but a full 18? Not in a long time."

Boznos does his own accounts, clips his own hedges, touches up his own cracked concrete rails and builds his own enormous putting-related knickknacks.



"I have to have all the skills," he says. "I have a complete wood shop, a metal shop and a fiber glass shop. If I need a new elephant, I make a new elephant. It`s not an easy thing, believe me when I tell you that. This winter, I`ll have to remanufacture the roulette wheel."



It is a typical busy weekend night at the Par-King, one of America`s two most unusual golf courses, according to its slogan. People are waiting nearly an hour just to tee off. Boznos is dressed something like a real clubhouse pro-white slacks, white shoes and a white golf shirt-and he prowls back and forth, from the roller coaster hole to the queen`s castle hole and into the arcade game room and out.



He pauses every so often to scrutinize the merriment over the hard rims of his reading glasses. No cameras allowed on the course. No spectators allowed on the course. No playing in undershirts. No ball marking allowed. No food on the course. No full swings. Stroke ball gently.





Eternal vigilance is the price of peaceful miniature golf.





Boznos has three young employees down on the dinky links helping him keep the little balls rolling smoothly and making sure the golfers pay attention to the ubiquitous signage: All players must maintain a rate of play consistent with those playing ahead. Six-stroke limit. Play at your own risk.





When a foursome dillydallies, Boznos descends from the viewing deck up front to urge them to play faster. "Yes, I do keep a close eye out," he says. "For everyone to enjoy the game, you have to have organization and rules. If you don`t, you have chaos."





No cash refunds. No rain checks. No loitering. "I will not tolerate any nonsense," Boznos says. "If a guy gets outta line, you know where he goes?





Out!"



The Boznos family was in the nursery and garden supply business in Morton Grove after World War II when they decided to open a golf driving range to make good use of their land. They put in a modest miniature golf course in the late 1950s, then sold out the entire operation to a shopping center developer. In 1963, the brothers Sam, Gus and Nick Boznos decided to create an ambitious miniature golf course complex complete with a replica of Mt. Rushmore, a brooding Buddha, palm trees, water hazards, a kiddie birthday party room and a huge, castle-shaped concession stand.



The concession stand and party room are now closed. "I found the restaurant business was not for me," Boznos said. "And at the birthday parties, the kids used to throw food all over the place and leave a mess."





Bad people started stepping in and splashing around the water hazards, so Boznos drained them. The water hazards, that is. Otherwise, the Par-King looks substantially as did 26 years ago.





After younger brother Sam left the partnership, Nick and Gus built the 36-hole Par-King II, putatively the other most unusual golf course in the world, 12 miles away in Prairie View in 1975. The brothers are equal partners, but Gus runs Prairie View and no-nonsense Nick runs the old course in Morton Grove.



The "play period" concept, a Boznos innovation, is in effect at both courses: Between 10:30 a.m. and noon players must be at least 7 years old and 4 feet fall; between noon and 7 p.m., they must be at least 9 years old and 4 feet 2 inches tall; after 7 p.m. they must at least be 15 years old, but they can be any height.



"This is not like a bowling alley where you rent your lane and you don`t affect the people around you," Nick Boznos says as he strolls the tiny fairways. "You just can`t have kids running around holding up play. Sure, people complain, but I just want to be fair to all ages."





A young man misses an easy putt on the moon rocket hole and utters a crispy oath. Boznos has no specific rule against this, and he shrugs.
``What am I going to do?`` he says, walking on. ``I can`t control the world.``
In 2001 a Chicago Tribune columnist described the essence of Par King's popularity in a story headlined by turning Mark Twain's famous golf quote on its head.
IN THE LOOP. SIDEWALKS




August 26, 2001 | By Rick Kogan.



Zeta Moore of Highland Park, 9 years old and full of fine stories, was telling me the other day that one of her prized possessions is a golden coin that she recently won "playing golf."

She didn't have to tell me where she won this rare item; I'm pretty sure my brother still has similar coins that he won more than 35 years ago. It had to be Par-King, that magical miniature golf course at 6711 W. Dempster St. in Morton Grove. When told of this, Zeta said, "Maybe I will keep mine too," and I thought how wonderful it is that there remains a certain, if decreasing, number of experiences that can bind generations.

The last time I visited Par-King (there is a newer course at 21711 N. Milwaukee Ave. in Lincolnshire, but I am partial to the original) was in July. It is harder to remember the first time. It must have been shortly after it was built in 1961, for the surrounding land was mostly farms and the trip from the city, my father behind the wheel, was long enough to seem like a vacation.
Toy soldier, left; Prudential building, right.
It was created by three sons of George Boznos, who long ago farmed the land and operated a grocery store there. Nick, Gus and Sam Boznos built a whimsical, patriotic course. There is a replica of the Prudential Building (the tallest structure in Chicago when the course was built; the Lincolnshire course features the Sears Tower), which asks you to putt into a moving elevator. There is a red roller coaster, a Mt. Rushmore, a Statue of Liberty, a castle, an alligator, a clown. And, of course, there is the 18th hole, the source of the golden coins if your ball drops into the correct slot.



Playing the course is a blast, still. And, truth be told, miniature golf is a much more satisfying and sensible pursuit than the real thing.



It does not offer much in the way of humiliation. It takes but modest athletic ability. It is virtually impossible to lose your ball. And it is possible for a round to end with a happy golden-coin shout rather than just a long sigh of relief.
Then one gray night it happened. Par King closed and it was no more.
The Morton Grove Par-King Skill Golf opened in 1956 (sic). It was originally known as "George's Gorgeous Golfing Gardens". This wonderful place closed in 2003 and was demolished in 2005. Fortunately, the sign was saved and is in storage. They still have another location in Lincolnshire.
The brightly colored plot,
was green fielded.
As of mid-2014 all that remained was this rusty curbside mail box, which sadly is reported to have disappeared since.
But we still have memories of our beloved and lost Park King.
Par King is dead -- except in a grainy, ghostly views.
Long live Par King.
Additional Morton Grove Posts On Along the Gradyent:
Morton Grove Little League All Stars, 1966
Morton Grove During the Baby Boom: Carl Eckhardt, His Filling
Station and the International Brotherhood of the Teamsters
Morton Grove Before the Baby Boom: Fred Sonne -- Pilot, Innovater and Aerial Photographer
Appendix A
Transparent Golf Club Insert
In 1962 Gus Boznos, the second of George's four sons, applied for a patent on transparent inserts for golf club heads, specifically putter heads. Gus said a transparent head was an "aid to improving putting accuracy." In my 50 plus year association with golf, I have yet to see anyone use a putter that actually has a transparent insert, for it is where the ball is going, not where it has been, that is of utmost importance.
Appendix B
Is oxymoronic height requirement for miniature golf shortsighted?
Daily Herald Reports

Posted on June 27, 2002
By Burt Constable
The belly laugh sounds as if it is echoing through every inch of the 4-foot-1 frame of Sally Falls, the president of the Little People of America's local chapter.
"I think it's hysterical that there is a height limit for miniature golf," says Falls, her cackling reaching that zenith where it just becomes silent shaking before it thunders back into hearing range. "Height limit, miniature, height limit, miniature. It's like an oxymoron."
But the 48-inch mandate at Par-King miniature golf course in Morton Grove causes tears for the diminutive 6-year-old twin girls who get within putting distance of the famed pink castle before being told they are several inches short of being allowed to play. Miniature golf executives say Par-King and its sister course in Lincolnshire may be the nation's only miniature golf courses that use safety concerns to ban short people.
"You've got to be 4 feet to play mini-golf? I've never heard of such a thing," says an incredulous Bob Detwiler, president of the Prominigolf Association, which is based in Myrtle Beach, S.C. Detwiler says that vacation Mecca boasts about 50 miniature golf courses that rank among "the most elaborate in the world," and none bans short players.
"When you have a borderline case, that's when it hurts a bit," Par-King founder Gus Boznos says of his 48-inch requirement. "We get a lot of heat."
Establish an age limit of 7, and evidence suggests that parents of 5-year-olds will lie to avoid disappointing their kids. So Boznos set the standard at a firm 4 feet, and remains willing to turn away entire families rather than break his rules for a single child.
"We haven't had a serious accident in 35 years," says Boznos, who is in his 70s. "We've sacrificed a lot of business for that."
The height limit is as old as the course, which was built in an era when Boznos modeled his most famous hole after the Prudential Building because it was the tallest skyscraper in Chicago.
But Boznos says he tosses aside the height mandate for short adults. He says he'd open the course to any of the 150 members of the Greater Chicago Chapter of Little People of America, who hail from Naperville, Elgin and all across suburbia, even though Falls says many of the members don't quite reach the 48-inch mark. The height rule is meant to protect children, who aren't mature enough to avoid older kids' backswings, or resist urges to touch the courses' many moving parts, Boznos says.
"You'd be the first one to call us if a 3-year-old got clobbered out here," Boznos says of the media.
The logic of a height minimum mystifies Steven Hix, executive director of the Miniature Golf Association of the United States. As someone who conducts safety inspections for miniature golf courses and is well-versed in legal liabilities, Hix says short children are not deemed unsafe at other golf courses.
"Miniature golf courses are a natural trip and fall hazard," Hix allows, adding that the bigger danger is "kids and adults deciding they're going to be Tiger Woods and tee off." (For the record, a pint-size Woods was beating adults on real golf courses years before he would have been tall enough to play at Par-King.)
Despite the occasional tumble or injury, miniature golf is considered a safe sport that provides fun for the whole family, regardless of height, Hix says. While the courses carry insurance against accidents, even those involving short kids, "you can't buy insurance for discrimination," Hix adds.
The miniature golf world has been hit with a growing number of lawsuits stemming from the Americans with Disabilities Act, says Hix, who says the Justice Department soon will require new miniature golf courses to make at least half their holes accessible to people in wheelchairs.
He estimates only 1 percent of the 5,000 to 7,500 miniature golf courses in the United States currently are fully accessible to people with disabilities.
But that will change. Even thrill rides, where the safety issues concerning height are much more clear-cut, will need to make a percentage of their seats accessible to people who wouldn't normally meet the physical requirements, Hix predicts.
"There's no doubt about it," Hix says of the future changes.
Boznos already lets adults and children in wheelchairs play as much of his courses as they can manage, but he's standing tall on the ban against short golfers.

"This is our policy," Boznos says, "and I don't plan on changing."
http://www.shortsupport.org/News/0320.html