Norval Baptie
Champion Speedskater
My dad was born and raised ten miles south of the Canadian border in Bathgate, North Dakota. He talked of skating on the frozen surface of the Tongue River, snaking into and down through town. When my dad laced up he wore racing skates, the long-bladed variety with tubular support, in the style worn by speed skaters, flashing left, right, left, right, left, right as they powered along.
Dad spoke in mythical terms of a skater from Bathgate by the name of Norval Baptie – an unbeatable speed skater and champion barrel jumper, a man who conquered the skating world but whose heart never left home. This has got to be hyperbole I thought -- dad's recollection skewed by youthful small town perspective. I could not have been more wrong -- Norval Baptie is a legend.
Norval Baptie was born in Bethany, Ontario, March 18, 1879, and was moved with his family to the Bathgate, N.D., area at the age of one. He was the eighth of 10 children born to Jonathan and Elizabeth Baptie. Norval began ice skating at a very young age and was often spotted in the railroad ditches racing the Great Northern trains as they passed by. As a youngster he maintained a regimen of constant exercise and rules for keeping fit.
Baptie's career tracked an amazing trajectory.
Norval Baptie, 1908
Chicago, IL
Norval Baptie

(March 18, 1879 – November 26, 1966) was a World record holding speed skater, a champion figure skater, and pioneering ice showman. He was inducted into the Canada's Sports Hall of Fame in 1963 and is generally referred to as the "Grandfather of Figure Skating".
By the age of 14 he was the North Dakota speed skating champion. In 1897, he challenged World champion Jack McCullough to a race, and easily won. Over his career, he won almost 5000 races and lost one. He shattered every amateur and professional speed skating record.
After his speed skating career, Baptie moved into stunt and figure skating. He set new records for broad jump, skating backwards, jumping over barrels, and even skating on stilts. Baptie began doing solo exhibition shows, which eventually evolved into the World's first ice shows. In the 1930s, he directed shows that featured Sonja Henie, a champion figure skater.





Baptie was also influential in the design of skates. He helped design the tubular racing skate and eliminated the curled figure skating blade.
In 1938, Baptie retired from the ice. However, he became a professional coach and was listed as a member of the American Skaters Guild in 1940. He continued to coach even after losing both legs from complications from diabetes. He was the Grandfather of noted figure skating coach, Betty Berens, and Great-grandfather of Ice Follies Star Susan Berens.
Norval Baptie's talents emerged early. Baptie "won his first race when he was only 10, on a patch of ice in Bathgate." "He was Northwest senior champion at 13 and beat the world amateur speed skating champion at 16" when, according to the Pittsburgh Press, he literally put Bathgate, North Dakota on the map.
The man who was to become the marvel of the age as a speed merchant on skates was at that time only a green country youth, aged 16. The older skaters made him the butt of all the "kidding" and one remarked that Bathgate was not even on the map. They looked it up and found the statement was correct. A railroad schedule showed that it was on the Northern Pacific, and that train, a combination accommodation and way-freight, stopped there once a week. This one was so slow that yesterday's train usually arrived the day after tomorrow.
James J. Hill, president of the (Northern Pacific) Road, happened to be in Montreal visiting his son. He saw the races and became interested in the young phenom. He heard the lad's story and Bathgate immediately went on the map, and now is the most important stop from Winnipeg to St. Paul. Baptie has since done his best to keep it there.
Norval Baptie, 1908
Chicago IL
Norval Baptie's speed skating accomplishments put even 5-time Olympic Gold Medalist Eric Heiden to shame. Baptie racked up, and retained 10 world records from 220 yards to 5 miles. Baptie said "I always view with pride that in 1902 at Saranac Lake, NY, I managed to win the five mile race and win the world's record of 14 minutes, 47 3/5 seconds, which still [in 1929] remains the established record for that distance."
As of 1918, Baptie retained the professional indoor mile record (2 minutes, 39 and 1/2 seconds set in Minneapolis, MN on February 26, 1909) and ½ mile record (1 minute, 16 and 3/4 seconds set in Fort Williams, Ontario on February 10, 1908).
By 1928, Baptie even shared the world record for barrel jumping – he had cleared 12 barrels, approximately 26 feet.
Baptie's reputation preceded him. He had a tough time finding competitors willing to race. When Baptie couldn't find competition he challenged the competition to come to him.
In the December 24, 1899 edition of
the
Saint Paul Globe
promoter Tom Eck issued the following challenge on Baptie's behalf,
MINNEAPOLIS, Dec. 23.—1 hereby issue the following challenge on behalf of Norval Baptie, of Bathgate, N. D.: I will match Baptie to skate any man in America any distance from 100 yards, quarter-mile, half-mile, one or five miles, either on a circular track or straight away, on a five-lap track or a quarter mile track, or on an eighteen-lap to the mile track, will give any skater his preference as to track or distance to be skated, the race to take place within the next three weeks. Yours truly. -- Tom Eck.
The Globe reported in "Skaters Will Race" on December 16, 1904 of a challenge accepted.
WINNIPEG. Man.. Dec. 16.—On behalf of himself and Norval Baptie, Charles Davidson authorizes the acceptance of the challenge to a pursuit skating race issued by Dorlon and Simmons, the former being one of the team that won the recent six-day bicycle race at New York. Davidson and Baptie are willing to meet Dorlon and Simmons at Pittsburg for from $200 to $600 a side.
At the height of his speed skating career, Baptie would challenge skaters to a race in which he would allow his opponents to skate in their normal style and he skated backwards or on stilts. Baptie's reputation and inability to find competitors was reported by the Sunday (Portland) Oregonian, on January 18, 1914.
Norval believes he is as good now as he ever was, and in proof of this argument he lays stress upon the fact that both Lamy and Wood, who rank next to the Bathgate boy have religiously avoided him. The world's champion has offered both of them inducements which would be eagerly accepted by aspirants of any other athletic title. Baptie has agreed to race them for a purse, for gate receipts on any percentage basis for fn for anything to create interest in the sport.
It doesn't look as if Wood, Lamy and Baptie will ever met as competitors. Last March they were matched to race In Cleveland for a purse of $1000 and a diamond medal. Baptie trained faithfully for the contest, and was at his best when he arrived in Cleveland. Much to his dismay, he learned that Lamy had been "injured" and that Wood had withdrawn. Baptie then made one of the biggest sporting offers ever known he agreed to waive his right to any portion of the purse and let Lamy and Wood split it. The offer was not accepted, and the only conclusion to be drawn is that both Lamy and Wood are not immune to the fear inspired by the champion's deeds of prowess on the ice.
It is further reported that "Baptie offered a 1917 challenge to race for 'love, money, or charity.' It appears the few who accepted the challenge later withdrew.
Baptie made the unheard of transition from speed skater and barrel jumper to fancy, or figure skater.
In 1914 he was the first to put on ice shows with his show called Castles in the Air and was soon in demand all over the continent. Some of the finer hotels and Broadway theaters built indoor ice rinks so Baptie could perform. In 1920 Baptie teamed up with Gladys Lamb who became his second wife. These two helped popularize pairs skating and were regulars at Madison Square Garden. A feature article in a 1921 Colliers magazine called him the Ice Man.
Norval Baptie and Gladys Lamb, Ice Skaters, Terrace Gardens, Morrison Hotel Chicago
As for teaming up with Ms. Lamb,
Skating historian Roy Blakey tells us "In 1915 they starred in the night club ice show atop the 44th St. Theatre in New York City. A newspaper article reported then that Gladys had been a dancer in Chicago where Norval was appearing in a tank show and he taught her how to skate. Colliers magazine writes he and Lamb were married in 1924."
Sally Berens, his Great Granddaughter from Baptie's first marriage to Lillian, reveals Baptie had contracts for tank shows in the 1920s for over $1200 per night to perform.

At the end of World War I Baptie launched one of the world's first touring ice shows, nearly two decades before the 1937 birth of Ice Follies. According to Roy Blakey, Baptie and Lamb did many shows including a 1935 Hotel Sherman show in Chicago with Eddie & Roy Shipstad, Oscar Johnson, and Bess Ehrhardt. Perhaps the idea for Ice Follies began here.
Ice stages for hotel and nightclub shows, known as "tanks," were generally only 20 ft. X 20 ft.. The stars were often also the producers, like Gladys Lamb & Norval Baptie, McGowan & Mack, Dorothy Lewis, and George Arnold. The 45 to 60 minute performances, sometimes four a day, featured lively solos and romantic pair skating routines, 4 to 6 pretty chorus girls, a wacky comedian, and perhaps a skating juggler or magician. Everyone filled the small rink to swirl, spin, and dance in a colorful grand finale. After the performance a dance floor electronically moved out over the ice (or the rink disappeared under the bandstand) and the live show band - sometimes Benny Goodman or Woody Herman - played for the elegantly dressed audience to dance.
Throughout his career Baptie extolled a healthy lifestyle. As reported by the Turtle Mountain Star, Rolla, SD,
Perhaps is will not be amiss to state that Mr. Baptie owes his world's record as much to his temperate habits, as to his natural bent. The agility and endurance he displays would be impossible if he had saturated his body with nicotine or alcohol. No man can reach the age of thirty with a constantly improving record for speed and endurance if he wastes his bodily strength with cigarettes and intoxicating liquors. This is one of the lessons that modern science is teaching with trumpet tongued eloquence.
Baptie passed on to youth his belief in the healthful effects of ice skating. He penned the following article in 1930 for the New York Public Schools Athletic League Annual.
It is only natural that you boys and young men in school do not now give much thought to staying young all your life, for that is something that does not now trouble you but we older fellows who have got on in years realize that one of the finest things in life is to stay young and healthy when you are old in years.
I, who have passed the half-century mark, know that the best way to remain a good specimen of physical fitness throughout life is to constantly participate in intelligent exercise. My favorite activity, and as matter of fact it has always been, is skating - ice skating, and after forty years, much of which has been spent with steel skates on my feet, I believe that this is one of the most enjoyable and healthiest of sports that will do as much as any sport or exercise to keep a young fellow healthy and active and an old fellow young.
There is nothing difficult about ice skating. Almost anyone with two sound legs can become a good skater. It is to some extent a matter of practice but largely a matter of liking, yes, of loving to skate. As with any other sport, one can only become proficient by constantly spending hours on the ice, and one can only spend hours on the ice when one loves to skate.
George Bellefenille and
Norval
Baptie
Chicago IL 190
8
No doubt the people who excel in any sport are those who have taken part in it all their lives; you have to grow up in a thing in order to be outstanding. I have been skating almost since the time I was able to walk. This is possible in the country where I was born, in Ontario and in North Dakota, where I was raised, because in those places winter comes early and stays late. At sixteen I was fortunate enough to win the professional skating championship of the world and since that time have competed successfully with some of the best and fastest skaters. I always view with pride, the fact that in addition to winning the above named championship, that in 1902 at Saranac Lake, NY, I managed to win the five mile race and win the world's record of 14 minutes, 47 3/5 seconds, which still remains the established record for that distance. These

accomplishments were only a

chived by constant exercise, continuous practice, and careful observance of the rules for keeping fit which you as athletes must also observe.
Every year it is possible to see some of the world's greatest skaters give exhibitions in and around New York. Some of these skaters are no longer in early youth but nevertheless they are still healthy and retain their youthful form and appearance. In contrast to other sports these people participate in skating almost throughout their entire lives without serious strain upon their heart and without detriment to their health. It is a smooth health-building activity, especially so as it often brings one out doors in the winter and when the air is bracing and invigorating.



It is only in recent years that indoor skating rinks have been made possible by the development of artificial ice. Skating in an indoor rink is always a great pleasure to one who not only likes spped skating but fancy skating, and at this point I might say a good word for fancy skating (figure skating). Few activities add so much to the grace and build of a man or a woman as does fancy skating for the benefit of those who might like to take it up. The gyrations, bending, twistings and curves of fancy skating give one more healthful exercise than any number of daily dozens. This too is something which almost anyone with the use of poper skates can learn to do with a certain amount of proficiency.
Knowing that the work of the PSAL (Public Schools Athletic League) is to build up healthy active habits in boys that will make them good citizens, I believe that ice skating will help to do this almost as much as any other sport or form of athletics and at the same time will give every boy a great deal of pleasure and enjoyment.
Feb 5, 1938
New Yorker Cover
As a sign of Baptie's fame, in the February 5, 1938 issue of the New Yorker Magazine shoemaker Gustavo Stanzione advertised that he made skating boots for Sonja Henie and Norval Baptie, among others.
Baptie was influential in the design of skates. He helped design the tubular racing skate and eliminated the curled figure skating blade.
In retirement from active skating Baptie eventually settled down in the Baltimore, Maryland - Washington, DC area, where he taught.
In 1942 he moved to Baltimore, Md, where he managed an ice arena.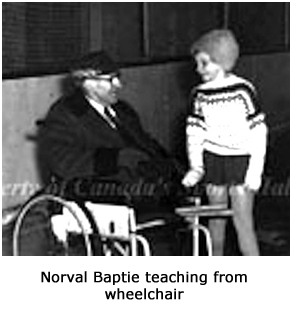 He joined the Washington Figure Skating Club (WFSC) in 1946. Baptie remained in the area until his death in November of 1966 at the age of 87.
To this day the Washington Figure Skating Club names the girls trophy in its free skating competition after Norval Baptie. And to complete the circle, my skating journey took me to the Mt Vernon ice arena in the Washington DC area when that was home of the WFSC -- the legend lives on.
Memorial Plaque, School For the Blind, Bathgate, ND