Bozeman is a music town. It's in the air. Before the moving boxes were unpacked last August the kids decided to learn guitar. We found a music store.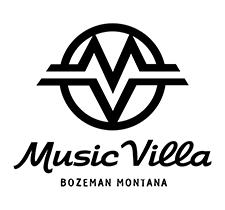 Music Villa says it is a Gibson 5 Star Dealer. The store is on our side of town, just 3.3 miles they say from the Bozeman, MT Gibson acoustic factory, which has put out this promotional video.
. \
We bought acoustic guitars for the older girls and a ukelele for our 7-year old, cause it has fewer strings and is easy to hold. They needed an instructor, so we came across Ty straight away. Who has lusher dreadlocks and rocks out better than Ty?
Blythe introduced Ty to Alvin Lee (God rest his soul) and Ten Years After, "I'd Love to Change the World."
I mentioned Herman's Hermits. Ty said "Who?" I said, "You know, 'I'm Henry the Eighth I Am'" with "Second verse same as the first." Ty said, "What?" Before returning to his native Montana last summer, Ty had lived in Nashville and toured for several years across the USA and internationally. There is a generation gap -- more like 2 or 3. We're closing it and having fun.