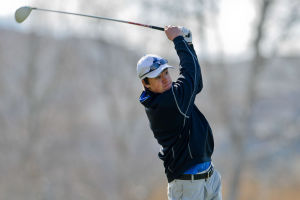 Lone Peak's Tate Tatom
tees off on the first hole.
The young man I played with my first time out on the golf course this year need no longer go nameless. Tate Tatom was lead story in today's Sports Section.
Tate's mom and dad retired and moved to Montana with their school age children. Imagine that! They blogged their move and first year of residence. Dad bragged on avoiding and then driving off the road into snow drifts, and spying bear; he reported about skiing, sledding and preparing for the winter. The Tatom's taped a moose having its way in the back yard.
Getting back to last year's Class C state champion, Tate won the Manhattan (the other Manhattan, population is 1,520 in Gallitan County Montana) Golf Invitational at Bridger Creek Golf Course, in a playoff against last year's Class B state champion, who is rated 48th among prep golfers nationwide. Tate, a mere sophomore, is the best young talent I've ever seen. His career has nowhere to go but up. We will be watching and reporting.