Effective, January 1, I retired my rusty, crusty and musty 20 year old hockey skates.

After two decades the blades were ragged but the boots fit quite well.

Darn!

But that pair had quite a run.
Mt Vernon Ice Arena
In the beginning it was 1993; I stuffed my feet into stiff new skate boots to power around the regulation ice surface at the
Mt Vernon Ice Arena
, a Fairfax County park facility in Alexandria, Virginia.

Even though the Mt Vernon rink is a piece up Fort Hunt Road from the original grounds, it is named after George Washington's estate. The utilitarian rink and its minimalist structure
had once been practice home to the Washington Capitals hockey club, who long complained that the only thing standing between them and a Stanley Cup was the absence of a top shelf practice facility.

National Sculpture Garden Ice Rink
The next skating venue for the now retired skates was outdoors and up the river in the District of Columbia.

Casual Fridays had come into vogue.

Friday noons

I'd put a crescendo on the workweek by throwing the trusty skates over my shoulder, high tailing it across the National Mall and making lunchtime circuits around
National Sculpture Garden Ice Rink
.

From this picturesque setting you can see the
Washington Monument
. It's bordered by the
National Gallery of Art
on the east and the
Smithsonian National Museum of Natural History
on the west, and is located across the street from the grand rotunda entrance to the
National Archives
(shown above). After an hour or so of skating I would walk back (see below) to L'Enfant Plaza for a few more hours of weekly work; tourists ending their skate would retire to the adjacent café for lunch.


The Walk Back

By the millennium I had moved up to a house in Arlington where the nearby
Pentagon Row Shopping Center
was built. Center management opened and operates a wintertime
rink
in the central courtyard.

Pentagon Row is located about a dozen stone throws from the Pentagon and one or two stone throws from the Ritz Carlton Pentagon City, which is perhaps best known for its restaurant, where Monica Lewinski spilled the beans on her presidential daliance to Linda Tripp who was wearing a wire supplied by special prosecutor Kenneth Starr. When our kids were babies and toddlers, we'd stop at the Pentagon Row Harris Teeter grocery store deli counter summertime for sub sandwiches and cold drinks, and walk over to the very same courtyard for free concerts.

Wintertime we'd patronize the rink.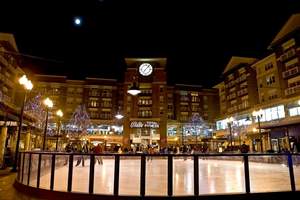 Pentagon Row Rink
Then Arlington County went rink crazy. The County financed, built and then leased out dual indoor ice rinks, christened the
Kettler Capitals Iceplex
to promote a real estate developer that paid for the privilege and to recognize the complex's principal tenant.
The facility is truly first-class, with full-size competition and practice rinks, professional staff, multiple locker rooms, pro shop, snack bar (with a pizza oven and beer on tap), game and party rooms, workout and training room facilities for the Capitals, as well as a suite of offices for coaches and administrators -- still, no Stanley Cup.

Blake hosted her 9th birthday party at the Iceplex.

Blake and Blythe had skating lessons.

I'd chauffeur the kids to weekend public skating sessions and join the fun wearing my old skates.
Facade of Kettler Capitals Iceplex
Now we moved to Bozeman.

Over the years I kept up with growing childrens' feet by purchasing skates at yard sales.

I paid $2, $5 or $7 a pair for white figure skates, never more than $10, going up a size or two each year.

But when Blake said she wanted to go skating on New Year's Day, we discovered she had outgrown our inventory.

So we popped over to Bob Ward's Sporting Goods to get her outfitted and there I saw them – shiny new hockey skates with my name written all over them.

These skates may be new but the Bozeman experience is like the good old days of my youth -- outdoor skating on park rinks, cleared and flooded nightly, frozen courtesy of Mother Nature.

Growing up

the venues were
Harrer Park
,
Mansfield Park
and the our "secret" slough off the North
Branch of the Chicago River at the
Lincoln Avenue train crossing
.

In Bozeman the
venues
are South Side Park, Beall Park and Bogert Park.