In the early 20th century Dad grew up in Bathgate, North Dakota. By the 1920's the Foster family farmhouse was electrified, a radio procured and placed in the parlor. Chicago was the most northwesterly major league baseball city and closest geographically to North Dakota. Accordingly, Cubs games were broadcast up North. Hearing the crack of the bat and the smack of ball into glove during games aired (or recreated using a telegraph feed) from Wrigley Field, Chicago, Dad became an avid Cubs fan.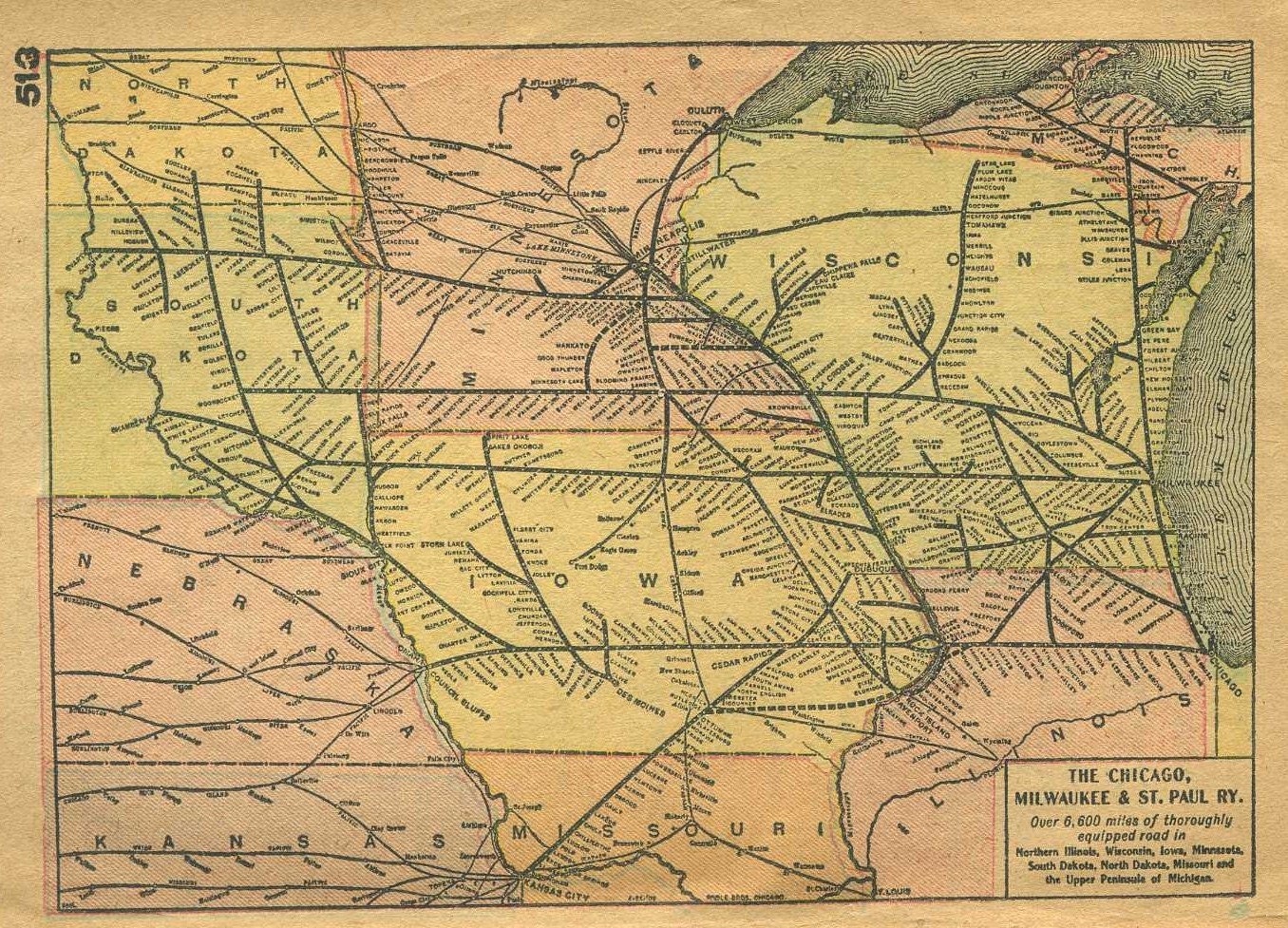 Route Map, Chicago Milwaukee, St. Paul and Pacific
Railroad Line, Pre-1932
The 1932 Cubs did something that modern day Cub fans can only dream about. The Cubbies won the National League pennant and vied in the World Series, where they faced none other than the New York Yankees, led by one George Herman "Babe" Ruth. In view of this extraordinary good fortune, Dad did what any self-respecting Cub fan would do. He moved heaven and earth to get to the World Series. In Dad's case, heaven was an empty freight car headed from North Dakota to Minneapolis, and earth was one of the same destined to Chicago from the Twin Cities.
Wrigley Field 1932, Coal Yard in Foreground
The Chicago, Milwaukee, St. Paul and Pacific Railroad line ran past a triangular coal yard on the third-base (Clark Street) side of Wrigley Field, where Dad jumped off the train and stashed his clothes bag under a pile of coal. Wrigley Field was built adjacent to the rail line and coal yard because seminarians, whose once tranquil campus occupied the ballpark's land, vacated the premises to escape,
"the smoke, dust, grime, soot, dirt (and) foul gases; railroading by night and day; whistles, ding-donging of bells late and early and in between time, and the ceaselessness of undesirable traffic incidental thereto that is growing more unbearable every week."
Someone in the coal yard, apparently not a seminarian, stole Dad's clothes, introducing him to the ways of the big city.
The 1932 World Series is renowned for an incident involving Babe Ruth in the third game. There was merciless trash talking between Babe and the Cubs. Then there was the "called shot,"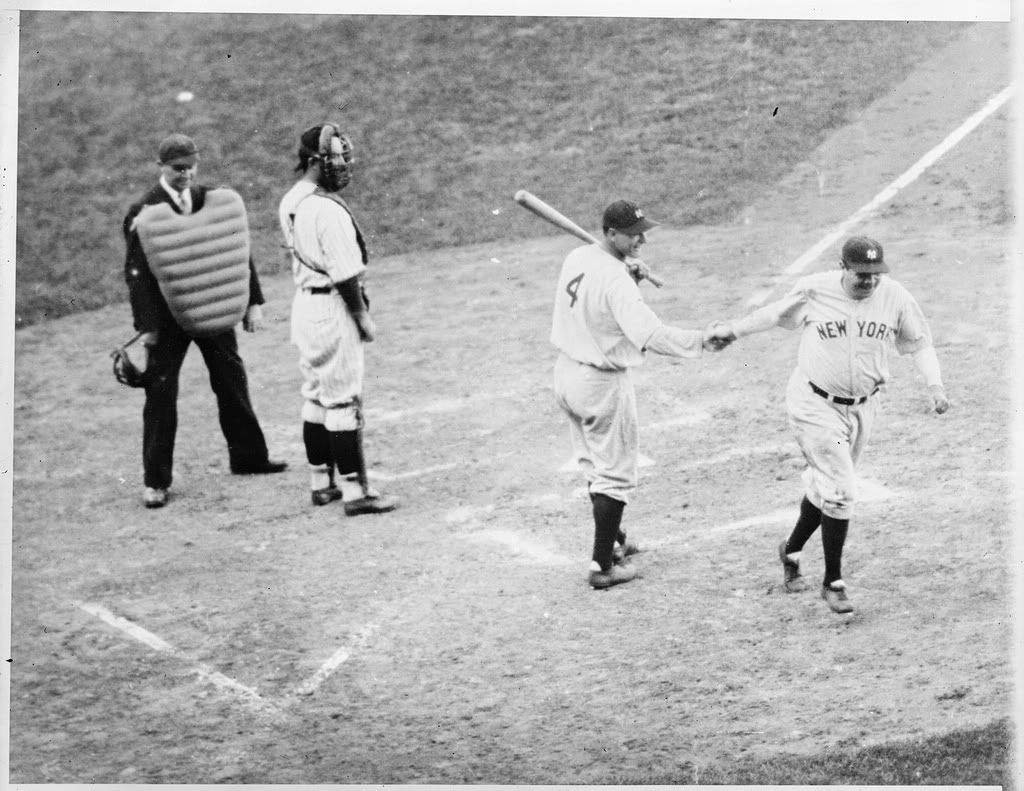 Lou and Babe Smirking After "The Shot"
The site is Wrigley Field, Chicago; the date is October 1, 1932; and the moment is the fifth inning of Game 3 of the 1932 World Series. Cubs pitcher Charlie Root is ahead of Ruth 0-2 when the Chicago bench playfully needles the Babe. Exactly what follows is where the story gets murky. Witnesses agree on one thing: Before the next pitch, Ruth points out towards center field. Some believe he is gesturing at Root as if to say he still has one more strike. Others believe he is telling everyone in the ballpark where he will hit the next pitch. Either way, the Babe deposits the next pitch into the center field bleachers for a home run.
Did Babe Ruth point and call the shot? Dad said no, the Bambino was just indicating the number of strikes left and sassing his opponents. He said Cub players confirmed that in a local watering hole after the game. That's Dad's story and I'm sticking with it. But look for yourself.
The Yankees swept the Series four games to none.
I remember my first Cub game. I had not started school. Mom took me on a Ladies Day. It was April; a frigid wind whipped in off the lake. We sat and shivered, exposed in the upper deck overlooking the third-base line, with Lake Michigan peeking out a mile distant over three flats and midrise apartments. From the time I was 6 until when I turned 10, our family religiously attended Sunday home games, packing in tuna fish and egg salad sandwiches and carrying along a thermos of lemonade, all of which would be inspected by Andy Frain ushers as we entered Wrigley Field to ensure we weren't smuggling in cans, bottles or alcoholic beverages. Double headers were best.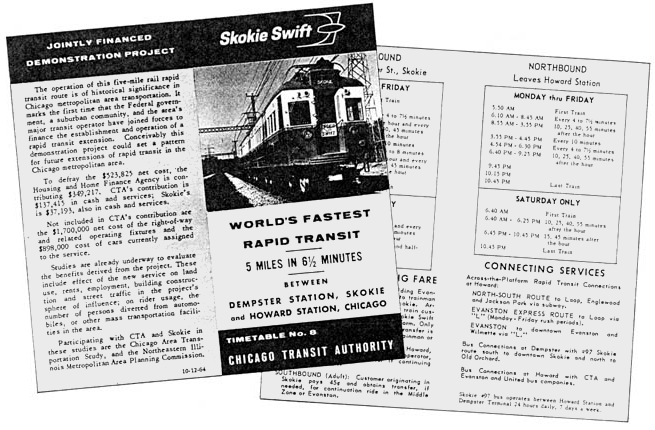 Skokie Swift promtional brochure
Back in the day touted as
"The World's Fastest Rapid Transit"
The Original Bleacher Bums
Left Field Bleachers 1969
Randy Hundley at Bat (Confederate Flag)
At age 13 I was given free rein to attend Cub games unaccompanied by an adult. When I took a day off from caddying, we'd walk the mile and a half to the Skokie Swift station for the trip down to the Howard Street "L", where we transferred to a Ravenswood B Train that dropped passengers at the Addison Street station a half block from Wrigley Field. Those were the days of the Big Red Machine (Pete Rose, Tony Perez, Alex Johnson, Johnny Bench, Joe Morgan and George Foster) and then the Miracle Mets (a miracle facilitated by the Cubs September swoon). Billy Williams, Ron Santo, Randy Hundley, Glenn Beckert, Don Kessinger, Kenny Holtzman, Phil Regan and Ferguson Arthur Jenkins played for the Cubs. Jim Hickman transformed from a journeyman late game defensive substitute to a late game pinch hitting home run hero. I sat in the left field bleachers next to a group of night shift construction and factory workers wearing their yellow hard hats, who came to be known as the Bleacher Bums.
Johnny Bench Signed Home Run No. 4
Rookie Year
We'd get to games early to dive for batting practice home run balls bouncing about the bleachers. Then on June 13, 1968 I caught Hall of Famer Johnny Bench's 4th home run of his rookie season. He would become Rookie of the Year, a 14-time All Star, a 2-time Most Valuable Player and Hall of Famer. Bench's most recent gig is celebrity spokesman for Blu Emu. Bench's dinger was a line drive hit off Jack "Tomatoes" Lamabe into the 2nd row of the left field bleachers, cleanly trapped backhanded by yours truly. The next time the Reds were in town, after the game, I waited outside Wrigley Field by the Reds team bus door to seek Bench's signature on the ball. After some maneuvering and groveling, I succeeded.
Joe Pepitone Signed
Career 201 Home Run Ball
On June 14, 1971 I scrambled halfway up the right field bleachers to
grab
Joe "I didn't know cocaine was illegal" Pepitone's 201
st
career
home run
ball, hit off Atlanta's Phil Niekro. I was older and wiser. So after the game I went straightaway to the Cubs clubhouse and talked the usher patrolling the exit into allowing me to loiter inside the stadium gate at the locker room door. From that position I easily intercepted Pepitone for a signature before he could duck out.
College pretty much put an end to my days attending Cub games at Wrigley Field, excepting for a time, after graduation, when I attended a game with an old college classmate. We sat in the bleachers where we struck up a conversation with a fellow named Scott Turow, whom I foolishly scoffed when he said he would publish a book about attending law school. That "won't sell" said I. So it's fitting I should use Mr. Turow's words, many best sellers later, to complete this post. He defines what it means to be a Cubs fan as follows:
"There remains a special meaning in being a Cubs fan. It makes sports more profound. It teaches the hardest lesson of all: there is no life that is better than life. Hope dignifies our experience on the planet. But there will be defeat for all of us in the mortuary. With the Cubs, as a writer-friend once said of Hollywood, 'You learn to take the bitter with the bad.' You accept hope as an essential irrational part of the human condition that will never be fully borne out. It's existential. It's tragic. It's the Cubs."