Hi! Mrs. Grady here again, guest blogging. I hail from Texas -- born and bred in Odessa and raised in Huntsville. Studied at North Texas State and Sam Houston State universities, which explains this post, perhaps.
Texas has cactus. There are many stories and more than a little folklore about cactus: break one open and eat it if you're wandering in a desert without water, for example. Wait, don't do that unless you are a botanist. Another is that cactus juice can help arthritis pain. Botany books devote lush photos and Latin terms regarding cacti and their blooming habits. Hollywood glorifies the blossoms.
Cultivated Cactus Flowers
Personally, I think you'd have to be crazy to cultivate cactus. However, the Cactus Viper margarita at Zuni's Grill on the Riverwalk in San Antonio (my favorite restaurant in the world) may be the best reason to keep succulents on the menu. Well-behaved dogs on leashes are allowed at Zuni's, but leave your horse at home.
Saturday, Aug 31, 10am to 5pmThe Austin Cactus and Succulent Society's Fall 2013 Show and Sale


The 2-day event is free and open to the public with paid admission to ZBG. It is very popular with gardeners of all ages. The show offers visitors a chance to see rare and beautiful cacti and succulent species from around the world. Vendors from Texas, Oklahoma, and New Mexico will sell native and exotic cacti and succulents, and hand-made pottery at reasonable prices. There will be a daily silent auction and hourly plant raffle of rare and collectible cacti and succulents. Educational information, literature, and expert advice will be available. Come and bring a friend. For more information about the Austin Cactus & Succulent Society and its programs, please visit

www.AustinCSS.com.
Zilker's Koi Pond
Buy exotic and native cacti during the silent auction as well as learn about cactus care. It's is quite a highfalutin' event! But there is no valet parking for your horse.
Why doesn't their website have tons of photos of their cactus auction? Hmm? I tell you what, this here photo of Zilker's Japanese koi pond sure don't make me want to buy cactus. Now I'm in the
mood for sushi.
Texans know that there are only 3 varieties of cactus: Mildly Painful Cactus, Painful Cactus, and Very Painful Cactus. They are abbreviated: MP, P, and VP. In the vernacular it sounds like this,
"Where's Grady?"
""Cain't BBQ tonight. His best dog got all up in the VP out back of the shed."
"Yow!"
MP Cactus
MP variety is most commonly associated with children running barefoot all over town. These sneaky little cacti grow flat on the ground after some horse knocks them over. There they hide, flush with clover, where any little kid would come running right through and -- Yow! MP cacti have the thinnest, shortest, smallest purple or red needles. One five-year-old can acquire 200 needles on a single footstep. Your foot looks like a tiny lint brush with broke off bristles. To get them out, use tweezers and a box of Popsicles to keep the kid quiet. Under no circumstances should you accuse the kid with, "HAVE YOU BEEN RUNNIN' BAREFOOT ALL OVER TOWN AGAIN?! NO BBQ FOR YOU!" This only makes the kid sob and shake. Now those pesky needles are harder to get at.
Cacti can also be grown from seed, and many seed companies offer packets of mixed varieties. These can be fun to grow if you can stand the suspense. Some cacti seed take a year to germinate, and it may take a few years to see what your young cacti will look like.
Sounds like raising the 5-year old, doesn't it?
Let's be clear here, the MP variety is only a hazard to children. By the age of eleven, the age of when kids are expected to get a job in Texas, we are all immune to the MP needles. Fifth graders running through patches of MP simply turn to each other and say, "Was that cactus?" and keep running to work. Years later, if the needles have not worked themselves out, go get a tattoo that connects all the perforations. See for example....
Photo of tattoo bra covering scars. Probably not cactus related. Still, a great tattoo and far sexier than scars. But if this is a tattoo bra, why bother having straps? Just sayin'.
"Would you lay with me in a field of stone, if my needs were strong would you lay with me?" Well heck yeah! Who wouldn't lay with Tanya Tucker in a field of stone? No long-term scarring or tattoos needed with Ms. Tucker and a field of stone. But now, if cactus was involved, well, sensible people would send Tanya packin' along with that horse she rode in on. Which brings us to boots.
Country singer and actress Tanya Tucker sang her encore while on a horse, Tiny Bo, onstage at the Chuck Landis Country Club in Reseda, Calif., on Aug. 31, 1980.
She is comfortably in command of the stage and her horse. Tucker wore her six-guns, probably to intimidate her Hollywood agent. The boots are worn by all sensible people when they are anywhere near a horse. You never know when you might encounter cactus.
Even if you are an adult, and therefore immune to MP cactus needles, it's a good idea to keep your boots on in Texas. I last encountered the MP variety, while barefoot, at Oakwood Cemetery in Huntsville, TX.
That haunted graveyard is home to President Sam Houston's grave.
Sam Houston at San Jacinto, Detail from painting that hangs in the Texas State Capitol building.
Sam was the president of the Republic of Texas (yes, it was a country) after independence from Mexico. He could have been a great politician if he'd have found just one woman who could put up with all his crap
.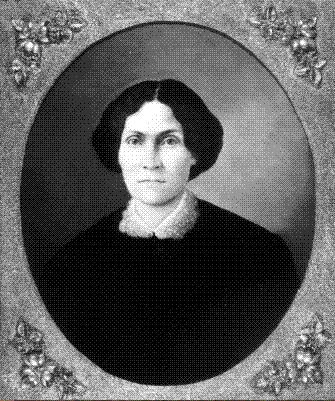 Photo is the third official Mrs Houston. She bore him several children and outlived him. She was also a crack shot and didn't put up with any crap from Sam. She died in the saddle with her boots on, probably armed too. Rumor has it, she's an ancestor of Tanya Tucker.


I don't know Sam Houston's particular opinions on cactus, but notice that he is always shown wearing boots. Sam was also the Gov. of Tennessee, but we overlook that. In Tennessee, they'll let any man be governor who can get along well with women. The women of Tennessee rule their governor. They don't take crap from anyone!
The four Tennessee Chapters of the National Coalition of 100 Black Women joined together to make a strong presence at the Tennessee General Assembly in mid-March. Members of the chapters spent two days on the Hill to meet with legislators and attend caucus sessions. They were presented on the floor in the House of Representatives by Speaker Pro Tempore Emeritus Lois DeBerry and warmly welcomed by all the members. There were also photo sessions with Gov. Bill Haslam, House Speaker Beth Harwell and the Legislative Black Caucus.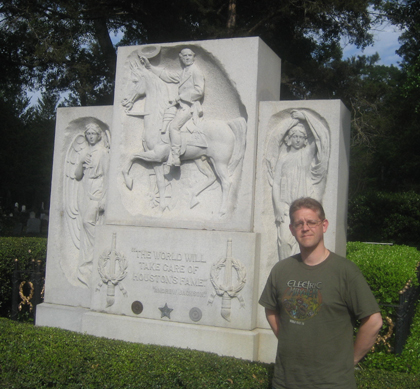 But back to Sam Houston. Here is blogger Brad stopping in at Sam Houston's grave on his grand Texas tour. Bob recounted some history,
A little over an hour later it was 4:00pm and we were in Huntsville, Texas – home of Sam Houston. Houston had an interesting role in both Texas and United States History. As a signer of the Texas Declaration of Independence in 1836 and as Commandor of the Texas Revolutionary Army, he was twice elected to President of the state of Texas and then became a United States Senator once Texas joined the Union in 1845. By 1861, he had become the Governor of Texas and he tried to dissuade the state from joining the Confederacy. Ultimately, Texas voted to secede and Houston was forced out of office when he refused to swear allegiance to the Confederacy.
As often is the case, I knew little if anything about Houston going into this trip, so this was a case of actually learning about history rather than just visiting things I was familiar with – of which I am always indebted to Bob for dragging me along to.
I hope Brad is wearing boots.
And a 1 .....
And a 2 ....
And a 3 ....
They grow!
This crazy lady, Cat Carlisle, transplanted this Painful cactus from Arizona to Del Rio, TX on purpose, and now lives in Utah. Ms. Carlisle must be an adrenalin junky. She's standing in the Pin Cushion Zone between a cactus and a fence without boots on! Despite finding three photos of Ms Carllisle in similar poses, my sources say that she and this cactus are just close friends.