I grew up in Morton Grove, Illinois, a near north suburb of Chicago populated by 20 to 25 thousand people at the time. It was all Midwest all the time, but things were happening about the US and around the world. The world was a'changing.
This was an era when the United States first launched a rocket into space, a suborbital launch at first. The Soviet Union beat the US into space, into orbit and with manned (and women) space flight. The space race was on.
I remember our household had no television in the mid 1950s. When we did get a TV with a tiny black and white screen, we were blessed with all of four channels (NBC, ABC, CBS and educational TV) because we lived in a major metropolitan area where the signals broadcast from the aerial atop Chicago's Prudential Building carried far and wide.
Operators connecting calls on switchboards.
Our phone number was ORchard-5-3565. There was no such thing as an area code. Long distance telephone calls had to be placed through an operator who manually routed the call to distant circuits via wires and prongs into a large panel switchboard. Because we had a party line, often as not, if you picked up the phone in the late afternoon or early evening you would hear other voices engaged in conversation, already occupying the line.
Computers -- the few that existed -- were mainframes that filled a building or a spacious room and had a tiny fraction of the computing power of a smart phone today. Only centralized government, large businesses and research institutions had entered the digital age and that was via Hollerith (more commonly known as punch) cards and reel-to-reel magnetic tapes.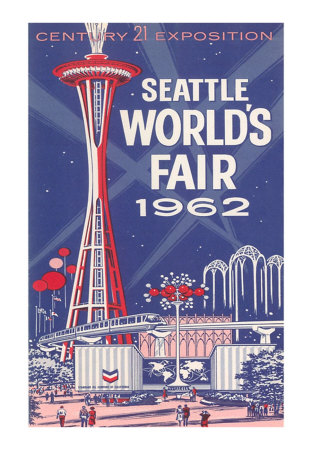 Seattle World's fair promotional poster.
So you can imagine, in August 1962 when our family squeezed into the Chevrolet Bel Air sedan to set out on a west coast trip to the Seattle World's Fair, and the 21st century wonders it promised to preview, we were incredibly excited. We looked forward to visiting the Space Needle, riding the Monorail and exploring the Century 21 Exposition.
I was only 8 years old. My memories are crisp and clear, but a bit disjointed.
I have tried since we moved to Bozeman two years ago, to piece through and reconstruct our 1962 route west through Montana. It's not so easy as you might think because the road system was quite different then. Except for a tiny section or two, Montana was devoid of interstate highways, but parts were under construction. To make it more complicated, the official 1962 state highway map showed interstate designations along the intended routes, making it all but impossible to identify the the several sections where the Interstate had been completed.
1962 Montana state highway map.
Big sky country was crisscrossed with two lane highways.
One of the things we did on road trips back then was read out loud the Burma Shave signs. They were grouped in series of six and rhymed.
Some had a safety message, like this.
Road
Was slippery
Curve was sharp
White robe, halo
Wings and harp
Burma-Shave
Or this.
A
ngels
Who guard you
When you drive
Usually
Retire at 65
Burma-Shave
Many of the sign series were just shamelessly promotional.
I've read
These signs
Since just a kid
Now that I shave
I'm glad I did
Burma-Shave
My favorite was a knock off on the diddy for memorizing the number of days in each month.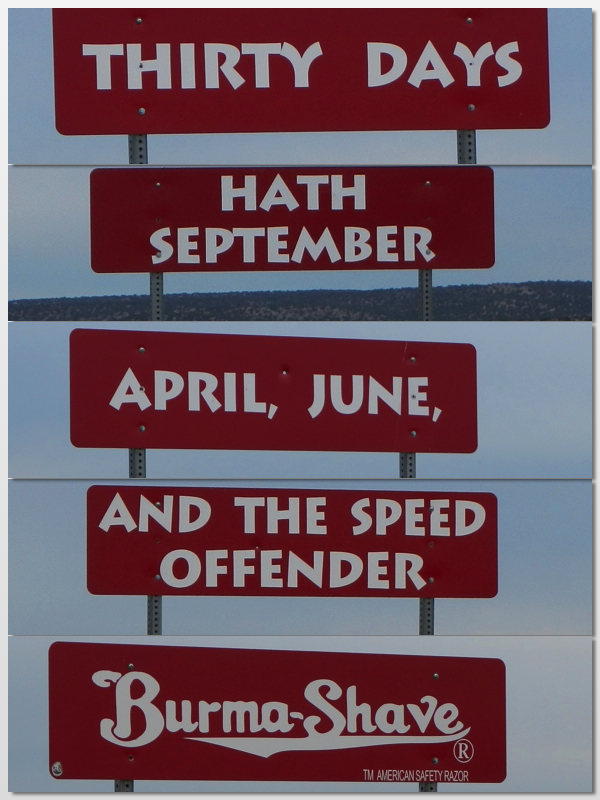 Thirty days
Hath September
April
June and the
Speed offender
Burma-Shave
I distinctly recall the World Fair's trip highway approach to Billings in 1962. We angled down a steep slope, from where I looked down and saw a refinery sprawling across the valley floor. As we closed in on the refinery the smell become offensive and overwhelming to my young nostrils. I began to doubt this memory, however, because in many visits to and through Billings since, I had not been able to find a location that replicated both the sights and smells, until this last Saturday, at long last.
As we swept over the rise and down I-90 to the I-94 merge just southeast of Billings on July 5th, I glanced across over the valley and was enveloped in a 52 year old sense of de javu. The refinery scene was dead ahead and the malodorous smells wafted into our minivan shortly after we made the merge.
Google Maps street view west bound on I-90, from just short of the I-90, I-94 merge, east of Billings, Montana. The Billings ExxonMobil refinery is the distant white building complex left center. It was originally built in 1947 by the Carter Oil Company. I remembered this view from 1962.
I have images in my mind from the 1962 trip of fresh, sparkling white snow atop nearby mountain peaks, the first mountains I had ever seen. Whether it was the Beartooth, the Bighorn, the Crazy or the Abasoroka moutain ranges that were snow capped I could not say. Snow in August was something beyond my ken. No more. I walk out in my backyard today in July and August, and see snowy peaks along the horizon.
I remember the ubiquitous roadside crosses, marking one fatality each. I remember seeing a group of seven at one intersection. The highway marker program is funded and operated to this day by the American Legion.
Seven highway crosses on Route 12 near Helena.

The program is intended as a highway safety not a memorial. Still, many families place wreaths or other decorations on the white crosses, which may be considered a memorial to a loved one lost in an accident. .... Attaching them below the cross on the metal pole is acceptable. The white markers serve as a public service message, reminding drivers to "Please Drive Carefully." They are a sobering reminder of a fatal traffic accident, a place where a human being lost his/her life.



The American Legion's Fatality Markers can be found within the boarders of Montana, along state and federal highways, secondary and forest service roads and even city streets. One white marker is erected for each traffic accident.



Not all highway fatalities are marked. Not all of the 134 Posts in Montana currently participate in the program. Some areas of Montana do not have a local American Legion Post. Because of these two reasons many stretches of Montana highways do not have fatality markers where a fatal accident has occured. Also, when a highway is reconstructed and corrects what may have been the cause of the fatality, all markers are removed. In these cases, only those fatality markers specifically requested by a family member are replaced. In addition, a family may request that a fatality marker not be erected at the site of a death.
I have a vague recollection of something about fire paratroopers and Missoula. Sure enough, there is a Missoula smokejumper base.
T

he Missoula Smokejumper Base is located at the Aerial Fire Depot by Missoula International Airport, Missoula Montana. The base is situated at the west end of the airport along with the Region One Fire Cache, the Interagency Fire Science laboratory, and the Northern Region Training Center.


C

urrently 85 smokejumpers, consisting of men and women from many walks of life, work at the base. Ranging in age from early 20's to 50's, these are all dedicated and professional individuals who are highly-trained and experienced firefighters.


A

smokejumper's primary job is to suppress wildfires in remote mountainous terrain of the western United States. To do this we are self-sufficient, capable of initial attack in remote mountainous terrain, wilderness areas, rangeland and the desert southwest.


U

tilizing a fleet of fixed wing aircraft, including a Turbine DC-3, Twin Otter, and a Shorts Sherpa, firefighters and paracargo operations can reach anywhere in the country.
I remember we stayed a night in Helena, in a mom and pop breezeway motel. Given the routing of the US Highways, Helena would not naturally have been on our cross country route. But I learned that major construction work had commenced to build Interstate 90 near Butte in 1962, so in order to avoid construction delays it would have made a lot of sense to detour north just past Three Forks, cutting up to Helena on US 287 and then across McDonald pass the next morning on US 12, on to Missoula.
Our Helena motel was across the street from a minor league baseball stadium, where the boys of summer were engaged in a contest under blazing klieg lights, framed by wooden outfield walls emblazoned with colorful ads paid for by local merchants. I was in awe. That stadium was Kendrick Legion field, where the Helena Brewers short season A-League team plays to this day.
When Helena's Kindrick Legion Field was first built in 1932, local players, as well as the townfolk, were extremely anxious for a new ballpark. Baseball was a huge activity back then, with two different City leagues comprised of about 10 adult semi-pro teams, one Junior Legion club and several youth teams. There were five ballparks in use then - Smelterite Park in East Helena, Campbell Field (located approximately where the Memorial Apartments are on Euclid Ave.), the Sixth Ward Field (across the street west of Mergenthalers Transfer), Scullen Field (by the Carroll P.E. Center) and Fort Harrison Field - but none had bleachers, dugouts or an outfield fence. When the new park opened, it was quite an event.





"Helena baseball fans in large numbers witnessed a brilliant game of baseball last evening which marked the opening of Legion Park, new home of the Helena Baseball Association," reported the Helena Daily Independent on August 24, 1932. "The league-leading Eagles defeated the Orange Crush by a 2-1 score in a game that was as good as any fan would care to see."





"The crowd expressed pleasure at the splendid plant which was made possible through the efforts of William C. "Bill" Campbell and the American Legion Lewis and Clark Post No. 2, which donated the funds held by them for legion stadium. These funds, coupled with the earnings of the league this season and the acceptance of "script" by Helena merchants assured construction of the plant which will doubtless be fully paid for by the end of the season."
The ballpark, which has remained the local Legion team's homefield for the past 73 years, has gone through several name changes and numerous renovations, improvements and expansions over the years. For awhile it was called Memorial Park Field, and then in the mid-1970s the name was changed to Kindrick Legion Field, in honor of longtime Legion supporter Ace Kindrick. From it's completion in 1932 until the mid-1960s, the field was the site of thousands of ballgames for the semi-pro City and Copper League games. It also served as the location for the Helena High football team until Vigilante Stadium was built in 1935, as well as the field for the Helena Cathedral and Central High's football games from 1955-68. Since 1978, with the exception of a couple years, the park has been the home to the Helena Phillies, the Helena Gold Sox and the Helena Brewers.
Here is the advertising on the outfield fences today. That's Mount Helena in the background.
Kindrick Legion Field, Helena, Montana
American Legion baseball is big time popular in Montana because it supplies a summertime outlet for talented high school age ballplayers. The springs are too cold and snowy to allow for high school baseball programs while school is in session.
We will get to the Seattle World's Fair experiences in later posts. Cheers!