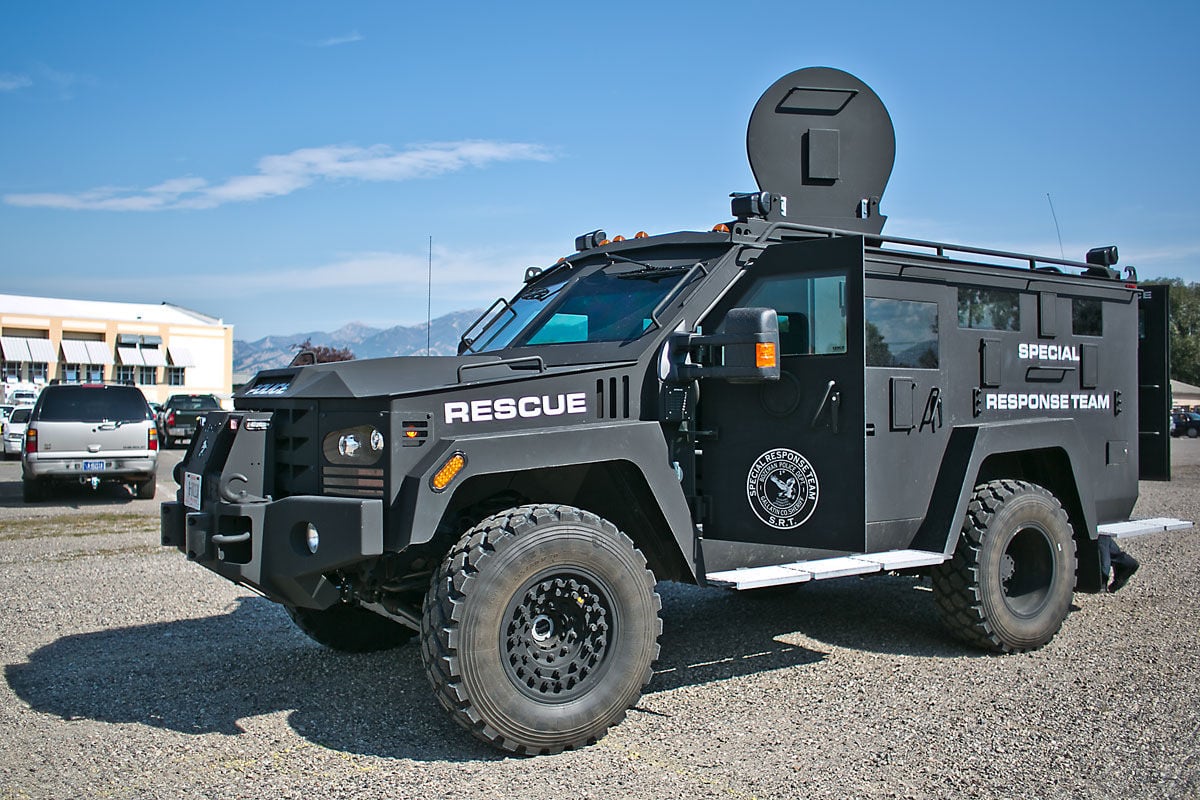 It's pawned off as a "Rescue" vehicle, which is no

t what the Bozeman Police do.
Search and rescue is a volunteer, county coordinated function.
When the federal government reaches around elected representatives of the local government, handing out favors and arming the local police for assaults, America, we have a problem. That's what has come down in here in Bozeman, Montana, population 38,695.
It's pawned off as a "Rescue" vehicle, which is no
t what the Bozeman Police do
When Mayor Jeff Krauss logged onto Facebook on Friday night, he was surprised to learn the city owned a new armored rescue vehicle."It was a vehicle we never discussed. No one told me we needed this," Krauss said. "It raised a lot of questions for me." The vehicle, a Lenco BearCat G3, was fully paid for by a grant through the Homeland Security Grant Program.
Lenco trucks can be used in a variety of missions. The BearCat, our best selling truck, may be used as a S.W.A.T. or Military Counter Attack and Rescue Vehicle and is often used in hostile Urban Environments or as a Patrol/Reaction Vehicle on a Military Base. The BearCat, with its standard NIJ IV armor and 4WD system, can carry up to 10 people through varying terrain. The BearCat has been embraced by several DoD and DoE Security Forces and, because of its affordability, low maintenance expenses, ease of use and superior armor level, is increasingly the replacement vehicle of choice for up-armored Humvees. It may also be equipped with our optional Mechanical Rotating Turret with Cupola (Tub) and Weapon Ready Mounting System, suitable for the M60, 240B and Mark 19 weapons system.
We got the version with the turret baby, the better to shoot all comers with.
Commissioner Chris Mehl was on a police ride-along one night when he caught a glimpse of the vehicle parked at the Law and Justice Center.
Mehl admits he thought it was odd when he saw it, but he has talked with police and is convinced it's something the city needs.
"I hope that we never use this, but it was free," Mehl said.

Krauss isn't convinced.
He said adding the "urban assault vehicle" to the police department's fleet seems like an escalation of police activity.
"I'm not convinced that we need this. It had never been identified as a need in my 11 years here," Krauss said.
It's Free! You have to be kidding me -- our spendthrift debt addicted country is paying for this, meaning the assault toy is being financed squarely by my children.
Mehl claims to be an economist. In reality he is a liberal Democrat -- in his perverted world something is free when my children pay for it.
The gifting of the assault vehicle generated a torrent of on-line criticism -- including the following.
Here is the manufacturer's promo video -- see how the armored assault unit is used to deploy troops, provide cover for lines of snipers, break into homes and infiltrate gas. Defensive, huh?