Here in our little corner of the world, in rural Gallitan County, just outside of Bozeman, Montana, taxes are pretty low, in large part because people volunteer, kick in, contribute, pitch in and take the initiative to do things that in many other jurisdictions are paid for dearly and expensively with tax dollars. We were reminded of that again last week when a summer concessionaire employee went missing on the Yellowstone River, in Yellowstone National Park between the river's junction with the Lamar River and Gardiner, Montana. That section of the river drops 700 feet.
On August 12, the Billings Gazette reported,
A search is underway in Yellowstone National Park for a Georgia man who was swept down the Yellowstone River near Tower Junction Monday evening.
Three young concession employees reportedly used inner tubes to illegally float the Lamar River on Monday. Shortly after reaching the confluence of the Lamar and Yellowstone Rivers, two of the men got out of the water.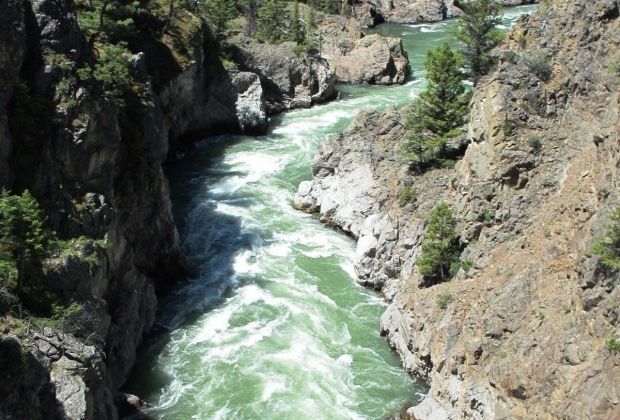 Yellowstone River flowing down canyon nearby river junction.
The third man, 22-year-old Darien Latty, was last seen about 7:30 p.m. Monday being propelled downstream by the rushing water, without an inner tube or life jacket. The river downstream of the junction features numerous rapids as well as a narrow rock-walled canyon.
Initial search efforts Monday evening failed to turn up any sign of Latty, who is described as 5 feet 7 inches tall, 140 pounds, with brown hair and brown eyes.
Search efforts were increased on Tuesday, with a helicopter, three dog teams and several small groups of people searching the Yellowstone River corridor from Tower Junction downstream to Gardiner. About 50 people had been dedicated to the search effort as of midafternoon Tuesday.
This story did not have a happy ending.
On Friday, Latty's body was recovered, his uncle, Kevin Latty, told The Atlanta Journal-Constitution on Saturday. Late Friday, searchers spotted Darien Latty's body in a steep and dangerous section of the Yellowstone River, about a quarter-mile from where he was last seen, the NPS said. A swift-water rescue team from Gallatin County, Montana, later returned with kayaks and a raft anchored to both banks of the river and recovered the body, an NPS spok
esman said. A helicopter was utilized to remove his body from the remote area.
Darien, who planned to re-enroll in college after his summer job ended, had been working in Yellowstone since earlier this year, his uncle said.
"The last 2 to 3 months were probably the best 2 to 3 months of his life," Kevin Latty said.
That swift water rescue team is not under the aegis of the National Park Service. It is ours. And it is staffed by volunteers.
The Sheriff's Office is responsible for all search and rescue missions in the county. Trained Deputy Sheriffs act as incident commanders in support of highly skilled volunteer groups. The volunteers are organized into specialty groups including:




Alpine Hasty Team

Backcountry Hasty Team

Big Sky Search and Rescue

Civil Air Patrol

Gallatin Ham Radio Club

Gallatin Valley Snowmobile Association

Salvation Army

Sheriff's Posse

Tactical Divers

West Yellowstone Search and Rescue

Western Montana Search Dogs





---

Statistics




| | | | | | | | | | | |
| --- | --- | --- | --- | --- | --- | --- | --- | --- | --- | --- |
| | 2003 | 2004 | 2005 | 2006 | 2007 | 2008 | 2009 | 2010 | 2011 | 2012 |
| Searches | 65 | 46 | 60 | 43 | 53 | 69 | 50 | 42 | 51 | 51 |
| Rescues | 35 | 29 | 30 | 26 | 40 | 37 | 59 | 39 | 45 | 45 |
| Totals | 100 | 75 | 90 | 69 | 93 | 106 | 109 | 81 | 96 | 96 |






Volunteers




Gallitan County SAR dive team training.

Gallatin County Search and Rescue is made up of volunteers ranging from construction workers, doctors, retired persons, college students, and real estate brokers, just to name a few. We have recognized experts in the field of technical climbing, technical radio operations, avalanches, extreme snowmobile operation, and search operations. If you are considering a challenging and rewarding way to serve your community through Search & Rescue, please see below for contact information. There are a multitude of ways to serve, from actual search operations to support, administrative, and public outreach functions.




Below are links to two videos that showcase our volunteers. They may take several minutes to load.





If you know a Search and Rescue volunteer, be sure and thank them for the hundreds of hours they volunteer each year in support of their community.




Interested in Joining Gallatin County Search & Rescue?




Thank you for your interest in Gallatin County SAR. The way into SAR is through membership in one of its volunteer groups.




The groups are organized by geography:

-Valley -- See specialties below,

-West Yellowstone – Contact Jason Pond 406-641-0000

-Big Sky – Contact Mark Bradford 406-539-6981




Or by specialty

-Alpine - technical climbing – Contact Chuck Swenson 581-6563

-Hasty - expert cross country skiers and avalanche – Contact Scott Gill 581-7991

-GVSA – snowmobile/ATV ownership and operation – Contact Rob Balke 580-7762

-Divers – underwater search and recovery – Contact Mike Gianfrancisco 58509248

-Hams – communications & computer technology - Contact Don Wilson 920-2395

-Dogs – search and rescue K-9 – Contact Ladean McKittrick 388-7070

-Posse – provides general training for Search and Rescue. The Posse also provides our watercraft and whitewater rescue services. Contact Nikki Foley 581-7670




If you know what you might be interested in please contact that group's representative directly at the number given above. If you are not sure where you might fit or have other questions, please contact Lt. Jason Jarrett at 406-582-2105 or

email

. Note that most people starting out in SAR go to the Posse. Membership in more than one group is allowed and encouraged.
As mentioned, the Posse is responsible for whitewater rescues. The Gallitan Country Sheriff's Posses was organized in 1959 in the aftermath of the Hebegen earthquake that cleaved off the side of a mountain and created Quake Lake.
The Gallatin County Sheriff's Posse found it's origins in the aftermath of the 1959 Earthquake. A group of ranchers, at the request of the Sheriff, rode in on horseback to the Hebgen and Quake Lake areas to rescue stranded campers. While Gallatin County has grown over the past few decades, so has the Sheriff's Posse.
SAR work is not glamorous. It is lots of hard work performed by dedicated volunteers. There are no scheduled hours on search or rescue missions. The calls come in at any time and may last for a few hours or a few days. Every volunteer must be prepared to spend as much time as needed regardless of conditions including overnight in the wilderness. Personnel assigned must work as a team and under the direction of the Incident Commander and team leaders. The professional application of skills and techniques as well as maintenance of safety standards is mandatory in the performance of all missions.
When an incident begins whether it is a missing person, lost hunter, car in a river, injured hiker or any number of others a call is usually made to 911. The Sheriff's Office will have the Posse called out via pager. An Incident Commander is assigned and directs response of the members to assemble equipment including boats, ATV, Snowmobiles etc.., go to the scene or other activity as determined by the incident.
The Incident Commander will brief the teams and provide them with necessary information to initiate the search or rescue. Safety issues are reviewed and all equipment is checked prior to launching the mission. The Incident Commander coordinates the mission, communicating with the teams in the field via radio. If necessary, additional resources such as helicopters or emergency personnel may be requested. Once the subject is found their physical condition is assessed. Sheriff's Posse members are trained in First Aid and CPR. Some are certified Wilderness First responders as well as EMT. Following evaluation an appropriate method of evacuation is chosen depending on the situation and condition of the victim. Following completion of the mission the teams reassemble and are debriefed. Equipment is repacked and vehicles are prepared for the next call out.




Gallatin County has a diverse terrain including rugged mountains, major rivers, small streams, lakes, reservoirs, heavily used recreation areas and urban areas. Sheriff's Posse members must train for many types of missions.
In order to maintain a high level of proficiency as a volunteer agency we must put in a lot of training hours every year. All members receive training in subjects such as wilderness navigation, survival, first aid and radio communications.
Gallitan County SAR extracted Ken Gibson's body by
helicopter and snowmobile on January 2, 2014.
One of the Search and Rescue team's sad responsibilities was to recover the body of the snowmobiler whose tragedy we profiled in January.
Downstream from the national park, below Gardiner, the Yellowstone River is gentler and can be safely rafted or tubed with proper equipment and supervision. However, within Yellowstone National Park, rafting and tubing are strictly prohibited because of extremely dangerous conditions (waterfalls, cascades, and severe rapids).
We owe a big debt of gratitude to the men and women of Gallitan County Search and Rescue who venture out in difficult and extremely dangerous conditions dozens of times each year to bring people back. Their's is an incredible and selfless contribution.