I believe in telepathy.
We have written about our days as a caddie and our tremendously good fortune to have been awarded an Evans Scholarship, which funded our passage through college and became the foundation for everything following that we may have accomplished in life. The other day, out of the blue, I thought let's write a post about the founding, development and growth of the caddie scholarship program, supplementing the well known and documented story of Chick Evan's legacy, with original research, if we could turn up anything. Let's honor the program, I thought, and the people who founded it and developed it, and get the story out there.
So I sat down at my laptop, logged on to my account on the www.newspaper.com website and typed in "Evans Scholars." The earliest article that popped was dated March 1934. It was a short feature on the first two Evans Scholars, Harold Fink (who, as I, caddied at Glen View Club in Golf, Illinois) and Harold MacInnes.
Here it is.
YOUTHS GIVEN SCHOLARSHIP BY CHICK EVANS TO RECEIVE THEIR DIPLOMAS FROM NORTHWESTERN

----------------




By ROBERT WALTON




EVANSTON, Ill, March 11-- (AP) -- In Northwestern university's graduating class this year are two youths whose college educations resulted in part from their ability on the golf course -- not as players, but as caddies.
Miami (Okla.) Daily News Record, March 12, 1934
A one-time caddie who developed into a great star but who never forgot the days when he trudged the fairways carrying a bag of golf sticks, made their college education possible -- Chick Evans, winner of both the national open and the national amateur championships in 1916.




W. G. A. Direction




It was four years ago that Evans provided its scholarships and put them under direction of the Western Golf Association and the university.




Now the first two recipients, Harold Fink and James McGinnis, of Chicago, are winding up their college and will receive diplomas in June. Five other "Evans Scholars" are now in school.




Two scholarships are awarded annually on an elimination basis. Each club in the association is privileged to nominate one of its caddies and the final selection is based upon scholastic ability, character, physical fitness, years of service as a caddy and leadership qualities.

On Purple Varsity


Besides receiving tuition and other financial assistance, the recipients are given individual attention by the university and special quarters in the men's dormitories at reduced rates.

Of the caddies now attending the university Fink and Tom Saielli, a sophomore, are members of the Northwestern golf team. The latter is a stellar player and much is expected of him during the coming season in the Big Ten.
From that humble beginning, the Evans Scholar program has grown to produce almost 10,000 alumni, all young men and women who needed help to get through college and worked in their tender years, with no guarantee of reward, for the opportunity to get it.
Identifying potential news and information sources is in the first stages of our blogging process. I paged through some more of the thousands of articles that appeared and put my brain on background processing mode, knowing that I would come back to the task days or weeks later, with more sharply defined organizing themes and messaging in mind.
Then I got an email from the Evans Scholar Foundation. I learned that Jim Moore had died the same day that the research and writing impulse popped into my head. For almost half a century Jim Moore was the consistent driving force behind Evans Scholar program. He will be more than missed.
Here, in full, is the obituary written in Golf Week.
Every now and then a death hits you as if you were struck in the head by a George Foreman punch or grill. That happened a few hours ago. We finally found out what could wipe that everpresent big smile off the face of Jim Moore. Pancreatic cancer and death. Dammit.
Golf legend Chick Evans may have been the founder and namesake of the Evans Scholars Foundation, which has sent more than 10,000 deserving caddies to college with tuition and housing fully paid since 1930. But Jim Moore was the face of the program.
I've said multiple times over the years that Moore is the nicest person I've ever met in golf – and I've been around the game almost a half century. But considering what Jeff Harrison, his successor as Evans educational director, said Wednesday, that's probably not giving Moore enough credit.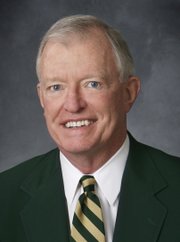 "He could be nicest man you'll meet anywhere in life," Harrison said of his former boss. "He was the kindest, most thoughtful man. He truly cared about everybody."
Moore worked at the Illinois-based Western Golf Association, which administers the Evans program, for 47 of his 73 years until Tuesday night. No one has come close to working there that long. After at least 20 years apiece as educational director and assistant director, Moore served as chief fundraiser since 2008. They were all perfect jobs for him, the latter because it was hard to say no to someone so pleasant.
His warmth touched so many people, so many college students, that surely countless concur with the nice notion. I tested the thesis by asking a couple of his other longtime co-workers if they considered Moore the nicest guy in golf.
Answer No. 1: "Absolutely," said Gary Holoway, who has handled WGA public relations for 24 years. "That's the consensus of everyone here. I never saw him angry. He had a nice gentle way about him. He was able to get things accomplished in a way to make friends."
Answer No. 2: "There's no question," said John Kaczkowski, the WGA's president and chief executive officer. "He was the titan of the Evans Scholars, a wonderful man who made a positive impression on everyone he came in touch with. I mean, have you met anyone more positive in life?"
No is the answer to that question. Then Kaczkowski asked another. "Have you ever seen anyone smile more?"
Negative. In fact, your correspondent will bet a year's tuition that no one in the history of mankind has smiled more. He seemingly was never seen without one. The hunch here is he smiled in his sleep. You'd have thought some dentist just froze it onto his face. He made Jim Carrey seem straight-faced. Just the thought of Moore wants to make you smile more.
With apolgies to Jerry Lucas and Harry Lorayne, Jim Moore also might have led the world in memory. That idea is supported by one of the more interesting stories of my life.
In 1971, as a high school senior, I applied for the Evans Scholarship and interviewed with Moore. The next time I saw him, I was walking through a large crowd at the 1980 Western Open at Butler National.
Moore picked me out of the masses, stopped and said, "Hi, Jeff, how are you?"
After almost fainting, I wondered if he stayed up nights memorizing the composite collection of head shots from all 14 Evans houses around the country.
"That's Jim Moore," Harrison said. "It's a true gift. The reason he remembered so much is because he cared so much."
This is also Jim Moore: I was in the midst of greeting visitors at my mother's wake two years ago when I looked up and saw Moore walk in the door. I had no idea he knew. But he was there. He always seemed to be there for somebody.
"It's never about him," Denver oilman George Solich, an Evans alumnus and general chairman of next month's BMW Championship, said recently. "He's always talking about you or somebody else."
During Moore's tenure, the Evans program grew from 600 students in college and 1,000 alumni to 870 in school and almost 10,000 alums. It also improved its academic standards, increased diversity, introduced co-ed living and required that all chapters have an annual charity project.
The Bench.
"Without question, the greatest reward is (that) I have been the first person from the WGA to talk to these young people in a one-on-one interview about the scholarship," Moore recently recalled. "When I see them as frightened, nervous youngsters coming in for that preliminary interview and then, years later, to know them as successful men and women in their careers, there's a great deal of satisfaction in seeing that transformation and hopefully to being a part of it, to have assisted in a small way."
You didn't even need to know him to know he cared. All you had to do was drive by his house in Green Oaks, Ill., a north suburb of Chicago.
On the front porch sits a brown wooden bench. It is engraved with large green letters, each one capitalized.
EVANS SCHOLARS, it reads appropriately.
And here is the more conventional remembrance put out by the Western Golf Association.
Jim Moore, Western Golf Association, Evans Scholars Program leader, dies
The longtime leader of the Evans Scholars Prgoram, Jim Moore, has died. Below is the information from the Western Golf Association:
GOLF, Illinois (Wednesday, Aug. 13) – James E. Moore, who dedicated his career to helping thousands of deserving caddies attend college through the Western Golf Association's Evans Scholars Program, has passed away. He was 73.
During his tenure, Mr. Moore helped lead the nonprofit's growth from 600 Scholars in school and 1,000 Alumni to having 870 Scholars in school and 9,990 Alumni. He served the Program for 47 years, longer than any other WGA employee, in several capacities, including as educational director and senior vice president of foundation advancement.
"Our hearts and thoughts go out to Jim's family and all of those whose lives he so deeply touched in his leadership roles at the Western Golf Association," said WGA Chairman Dennis O'Keefe. "Jim was a pillar of our organization and the face of the Evans Scholars Foundation to thousands of young men and women who received the Evans Scholarship over the past five decades. He will be greatly missed."
The Evans Scholars Program, administered by the Western Golf Association in Golf, Illinois, is one of golf's favorite charities and among the nation's largest privately funded scholarship programs. Each year, more than 240 full housing and tuition college scholarships are awarded to caddies who show outstanding academic, leadership and caddie records, as well as financial need.
On 14 college campuses across the country where there is an Evans Scholarship chapter, recipients live together in a Scholarship House, excelling in the classroom and in the community.
Mr. Moore first arrived at the Western Golf Association as assistant educational director in 1967, helping then-longtime Educational Director Roland F. "Mac" McGuigan with the growing needs of the Evans Scholars Program. Previously, Moore taught at Rich Central High School in Park Forest, Illinois, where he was a football and tennis coach.
From 1989 to 2008, Moore served as educational director, and he worked tirelessly to improve living conditions for all Scholars. During this time, every one of the Program's 14 Scholarship Houses was replaced or upgraded through renovation or purchase of new property.
He made numerous visits to the chapters and met with hundreds of Scholars each year, advising them on academics and personal matters. He maintained close ties with many Alums, serving as a mentor and friend as they built their careers.
Notable achievements include:
•An increase in academic standards for Evans Scholars.
•An increase in diversity among the Evans Scholars.
•The introduction of co-ed living in the Evans Scholars Program.
•The requirement that all chapters have an annual philanthropy or community service project. A national philanthropy, an annual blood drive, has also been added.
•The re-introduction of resident advisors to the Program to help emphasize chapter living.
Every day, Mr. Moore looked forward to coming to work.
"Without question, the greatest reward is (that) I have been the first person from the WGA to talk to these young people in a one-on-one interview about the scholarship," Mr. Moore recently recalled. "When I see them as frightened, nervous youngsters coming in for that preliminary interview and then, years later, to know them as successful men and women in their careers, there's a great deal of satisfaction in seeing that transformation and hopefully to being a part of it, to have assisted in a small way."
In 2008, Mr. Moore became senior vice president of foundation advancement, helping to develop a loyal base of supporters to guarantee Program funding for future Evans Scholars.
Also in 2008, the Evans Scholars Alumni Association established the James E. Moore Endowed Named Scholarship in honor of his more than 40 years of service to the WGA. His legacy also lives on through the James E. Moore Scholarship Trophy, which is annually awarded to the Evans Scholarship chapter with the highest overall cumulative GPA.
"Jim's legacy also is evident through the lives of the thousands of young people he helped during his many years of service to the Evans Scholars Foundation," said John Kaczkowski, WGA president and CEO. "He was a father, uncle and brother to many of the caddies he mentored and who grew to know him, most of all, as a friend. We're saddened to know he will no longer be here to help us with our mission to educate caddies, but we know the work he did in his tenure here has laid a firm foundation for the future. His spirit remains with us in the lives of those thousands of caddies he so greatly impacted."
Mr. Moore, of Green Oaks, Illinois, was born on March 3, 1941, in Champaign, Illinois. At a very young age, he moved to Fairbury, Illinois, later excelling in sports at Fairbury High School. He played college basketball at Illinois State University. His interests included sports, golf and spending time with his grandchildren.
He is preceded in death by his parents, Benjamin "Guy" and Edith Moore, and one sister, Janice (Rohrer). He is survived by wife Jermayne Moore, son Jeffrey Moore, daughter Rebecca "Becky" Palmieri, son-in-law Thomas Palmieri, and his grandchildren: Dolores Andres Palmieri, Jonathan Michael Palmieri, Kathleen "Katie" Jermayne Moore and Kyra Elizabeth Moore. Also surviving are two sisters: June (Larry) Green and Jane (John) Brown.
A celebration of life service is being planned for a later date.
A Colorado alum wrote about Jim earlier this summer.
The influence of Moore particularly hits home in Colorado this year with the BMW Championship PGA Tour playoff event being contested at Cherry Hills Country Club Sept. 4-7. All the net proceeds from the BMW Championship go to the Evans Scholars Foundation, with more than $16 million having been contributed since 2007. George Solich is the general chairman for this year's BMW Championship.
"Particularly in Colorado, Jim Moore has seen it all" regarding the Evans Scholar program at CU, Mate noted. "He saw the purchase of the Evans Scholars house (in the late 1960s), saw the program grow and saw all of us go through.
"The Evans Scholars program is named after Chick Evans but it could easily be the Jim Moore Scholarship. The impact he's had ... there are 10,000 alumni and 80 percent probably fell on his watch. Jim is such a humble guy -- he never asked for any credit -- but the things that stand out are his passion for the program and his positivity. He's always been such a positive influence. I don't know a single Evans Scholar that doesn't have a positive memory of Jim Moore. We owe so much to him."
It's little wonder why, in 2008, the same year Moore became the WGA's senior vice president of foundation advancement, a gala was thrown in his honor. More than 800 people feted him in the Grand Ballroom of Chicago's Navy Pier.
Moore has a room in his home with numerous cherished items collected over the years. There's a photo from that Jim Moore Gala at Navy Pier. There's a picture with him, the Solich brothers and Jack Nicklaus (left). There's a photo of him with another CU Evans Scholar alum -- and WGA director -- Bob Webster. But the first item in the room that Moore shows guests is a glass-engraved tribute he received from family members.
His life has clearly been well-lived on more than one front.
As Moore said in 2008, "I'm a fortunate guy in that I have two families that I love very much. If I've had a little impact on some of your lives, I'm happy with that. I'm pleased and proud of that. But I can tell you that each of you has had a greater impact on me."
It seems like everyone has a Jim Moore story -- or at least deeply ingrained memories of Moore and his ever-smiling presence.
I last saw Jim Moore five years ago after not having seen or spoken to him in about 35 years. In Tysons Corner, Virginia, I walked into a room of about fifty people at an alumni gathering. He crossed the crowded room and walked straight over to me, greeted me by name before I had a chance to pen a name tag, and initiated a conversation about my days at Glen View Club and the University of Wisconsin. In Jim Moore's mind, I was not merely one of a crowd of 10,000 alums, but an individual with with a real life and a unique story. If there had been any doubt about my continued support for the program, it would have been obliterated then and there.
Jim Moore was a special man who led a special life who touched countless people. When they have that celebration of life they had better book a spacious venue, for thousands no doubt look forward to recalling, remembering and reminiscing about a life fully and freely led.