It's an oxymoron. But let me say how we got there.
When we were considering places to move after retirement I insisted on two criteria.
First, to match with our reduced income stream, the new locale had to have a lower cost of living for our family than our then place of residence, Arlington, Virginia. That turned out to be hardly binding, because property values, taxes and cost of living in general inside the Washington, DC beltway were wildly inflated by the massive growth of government and federal spending. Criterion one eliminated some tiny enclaves, and Manhattan and Silicon Valley -- not much else.
Looking southwest over the Montana State University
campus to the Madison range.
Second, our new location had to be in or near a large urban area or preferably college town, the theory being that in and around a university you could find at some level most every amenity and activity you could find in the big city. So here we end up in Bozeman, Montana, where we have more than twice the house for a fraction of the Arlington price, and the dominant institution in town is Montana State University, plus views and fresh mountain air to kill for.
Which sets up this rambling reminisce.
I have always enjoyed college sports. They are played with a purity of purpose and passion, and an uncertainty of process and outcome, seldom found in professional venues. College sporting events are grist for many fond memories.
Dean Talafous scores "The Goal" with 5 seconds left in NCAA
semi-final Frozen Four game, Boston Garden, March 15, 1973.
During my undergraduate years, I attended every home hockey game at the University of Wisconsin and followed our beloved Badgers all the way to Boston to cheer them on to their first NCAA championship, which was a story unto itself. At homes games, the Badger hockey faithful would unmercifully intone "Sieve, Sieve, Sieve," reverberating from the ice to the rafters every time an opposing goaltender surrendered a Wisconsin goal. You could just about see opposing goalie faces glow red through their cage masks from anger and embarrassment.
One night the Badger hockey team beat Colorado College Tigers 5 to 2. The game was a total mismatch, but the Tigers had a goalie by the name of Eddie Mio who repelled the 56 shot assault. If Eddie had not stood on his head to save shot after shot it could easily have been a 10 to 2 rout or worse.
After the game I went out with friends to a small bar up Langdon Street in Madison, across from the Edgewater Hotel, which it turns out is where the Colorado College hockey team was lodged. Sure enough, a few minutes later, in walks most of their team (the drinking age was 18 in those days), wearing team jackets with individual names embroidered over their breast pockets. I spotted Mio and went over to congratulate him on a noble effort. He thought I was mocking him. "You want to take this outside?" he said and grabbed my lapel. My friends grabbed me, hustled me outside and escorted me rapidly down the block. While Colorado College may have been outmatched top to bottom by the Badger hockey team, they were not there to protect us. We would have been beaten to a bloody pulp.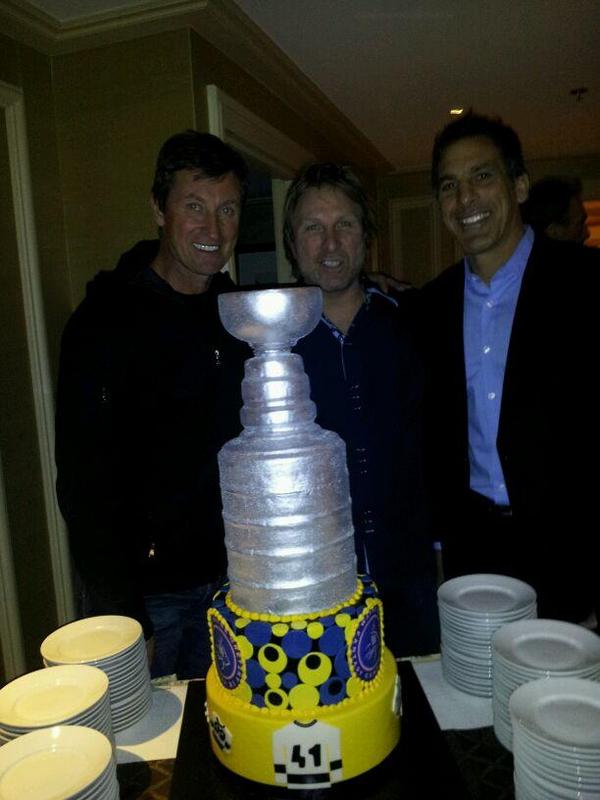 Wayne Gretzky, Eddie Mio and Chris Chelios
Las Vegas, Nevada, January 28, 2013
Eddie Mio later had a career in the WHA and the NHL. He was included in the trade that sent 18 year old Wayne Gretzky from the Indianapolis Racers to the Edmonton Oilers, where Gretzy advanced to become the greatest hockey player of all time. Eddie Mio was best man at Wayne Gretzky's wedding. They are best friends to this day. I suppose this would be a better story if I had allowed Eddie to rearrange my nose, but personally I am quite happy it worked out this way.
At Stanford, it was a joy to watch their football offense develop and excel under the tutelage of a brilliant, dynamic, young head coach by the name of Bill Walsh. He groomed no names like Guy Benjamin and Steve Dils into solid NFL quarterbacks and developed highly successful NFL wide receivers such as Hall of Famer James Loften and Chicago Bear Ken Margerum.
Mike Bratz, all 6' 2" of him, stuffs
against Santa Clara, December 2, 1976.
The Cardinal also fielded a competitive, if not winning, basketball team, led by players with some polish and more scrap -- names like Wolfe Perry, Mike Bratz, George Schrader and Mark Pitchford. On a good night against a nationally ranked team they could get Maples Pavilion rolling and rollicking.
My last year at Stanford there was a freshman whose name will ring a bell -- John McEnroe -- who broke into the international tennis scene and the public conscious the previous summer when the 18-year-old advanced to the semifinals at Wimbledon. McEnroe obviously was well known around campus. His constant companion and wing man was fellow New Yorker and tennis player, Peter Rennert. Rennert would stand up years later as McEnroe's best man when the "Superbrat" married Tatum O'Neal.
That year a sponsor of the Stanford men's basketball team ran a promotion. Ticket stubs were randomly drawn; whoever held the winning ticket was invited to attempt a half-court shot at halftime. If the shot went in the lucky fan would receive $100, with the award growing by $100 each game the half-court shot was not made.
It came to be the final home game. From late November into February, and now early March, a number of shots bounced off the rim, but none of the chosen ticket holders had made the half-court bomb. The pot had grown to fourteen or fifteen hundreds dollars (about $5K value today). Who held the winning ticket stub for the last try? Peter Rennert.
Rennert was relaxed. He was comfortable. He was a showman. As he walked to center court he turned to each of the arena's four corners and waved to the crowd. They cheered him on. At the center line he went into athletic mode. You could see him focusing on the distant rim. He bounced the ball, one, two and then three times. He squatted and launched a high arcing two handed underhand shot down the court. Swish! It went through. The crowd went berserk.
I peeled off to the concession stand to buy a hot dog and a Coke, behind maybe a dozen people in line, six lines scrunched together, when Mr. Rennert shows up. He uses his wiry frame and sharp elbows to work through the crowd to the counter. I am thinking who the hell does this guy think he is, rich New Yorker, here on scholarship, just won fifteen hundred bucks, and he can't wait in line a few minutes with the rest of us, when my faith in humanity was restored. After consulting with the concessionaire, Rennert turns around, gets our attention and yells out, "Hey everyone, it's on me." Thank you Peter Rennert.
So last year I thought let's check out the college basketball scene. I bought tickets to an early season Montana State game. I had enjoyed Big Ten and PAC Eight basketball games in college. Living in the DC area we were saturated with Big East (Georgetown centered) and ACC (Maryland centered) coverage on the tube. College basketball is exciting and unpredictable. Time to check it out in Big Sky country.
The Bobcats got trounced by Cal State Fullerton. The score was 84-55. I lived in California for three years and I'm not sure I could tell you where Fullerton is. Montana State was pathetic. It was like there was a lid on the basket. MSU finished the year 14 and 17, and frankly wasn't that good. Seeing the handwriting on the wall, coach Brad Huse resigned, and is now more suitably employed selling insurance.
Going into this year I took heart -- a new coach and a class of fresh recruits. Montana State had to improve. Or so I thought. This year they've started 3 and 11. MSU has lost to UCLA 133-78 and fell to Kentucky 86-28. Their victories have been over UT Arlington, South Dakota School of Mines and Utah Valley. Who? What? Where? My god, I've seen better high school teams -- no lie.
I thought back to 1967-68. I had started high school and was manager of the Niles West freshman basketball team, which led to my being a statistical assistant with a front row seat in the regional round of the Illinois high school state tournament. Favored in the field of eight was Evanston Township High School; the Evanston cagers steamrolled over the opposition all the way to the state championship, including a 75-49 victory over Maine South in the state sectionals. Maine South was led by all-state football, basketball and track star Dave Butz, who would go on to a sixteen year career in the National Football League. They were the best.
How good was Evanston's 1968 basketball team? Better than Thornridge in 1972 or Marshall in 1958? Better than Quincy in 1981 or King in 1990? The best of all time?
Thirty years after the Wildkits overwhelmed Lockport, Peoria Central, Crane and Galesburg to win the state championship, coach Jack Burmaster still wonders where his 30-1 powerhouse ranks in the pantheon of state champions.
"We were as well-rounded as any team I can think of," Burmaster said. "We had two watch-charm guards in Walt Perrin and Ron Cooper, who could dish off, shoot and penetrate. We had a great front line with Farrell Jones, an enforcer, and Bob Lackey, who complemented Jones. And we had an excellent shooter in Bill Battinus.
The Evanston five of Bob Lackey, Farrell Jones, Bill Batinnus, Ron Cooper and Walter Perrin would have taken this Montana State team to the cleaners.
We wait and watch. Maybe next year.