December was a great month for us and ours in Bozeman, Montana. These last two weeks real winter has set in real hard with multiple snows, below zero temps, stiff winds and hoary frost. The snowmobilers, ice fishermen and skiers are loving it.
On the internet, monthly page views were dominated by nostalgic looks at the past, including several in the On the Road to Bathgate series. We imagine if we authored on the roads to Dallas, New York, Los Angeles or Minneapolis series, we could increase our readership ten or twenty times over. But we prefer the stories interesting, the research fascinating and our writing fun. Here are December's top ten.
Golfer and two-time US Open champ, Retief Goosen, promoting "The Goose" fine wines.
1. Even though the Golf Channel has been nothing but reruns these last ten days, this blog's perennial most read, The Golf Channel: Spouses Guide to Sanity, was our most viewed post again in December. Mike Weir and Retief Goosen are featured in this jam packed post about everything golf and some things not. Given the state of the Canadian's and the South African's golf games, it is fine and proper they picked out a profitable and mind numbing sideline. Check it out.
Paul Bunyan welcomes to Brainerd?
2. A bloke who administers the Cavalier Area Chamber of Commerce Facebook page in Pembina County, North Dakota, linked to several On the Road to Bathgate posts. On The Road to Bathgate Act 1: "Fargo" the Movie, was shared and re-shared leading to its position as number two December post. It turns out that Bathgate and Brainerd have something in common.
3. Growing Up In Morton Grove presents a nostalgic look at our youth. Morton Grove is still there. We are not. But the memories linger on. By virtue of this post a reader sent us the name, fifty year old address and age of his birth mother, who grew up in Morton Grove, asking for help locating her. That's all the information he had. I recalled a same last-named classmate who resided in that section of town. It turns out my classmate was a younger brother. Via that connection, our reader was able to track his birth family down. Sadly, he reported back that his birth mother is no longer with us in this world, but he was able to speak with and introduce himself to his birth grandmother, who was quite pleased with the closing of the loop.
4. If your goal is to author a highly read and widely circulated blog, then you should write about bureaucrats, consultants, politicians and government contractors in the Washington, DC metropolitan area. There are hundreds of thousands; they love reading about themselves. We aligned with that strategy in our post, Lining Up Postal Data: A Tale of a Career and Two Calendars. For the efforts we put in through the years, and various achievements -- real and imagined -- we earned an honorary doctorate of philosophy degree -- one that Dorothy's scarecrow friend would be proud of. Before Jonathan Gruber there was Jerry Hausman. In response to publishing this post, we have received positive private feedback from highly placed sources, who have asked they remain anonymous because of the sensitivity of the matter and that they are not authorized to speak on the topic. Really.
Norville Baptie jumping barrels.
5. Our friend from the Cavalier Area Chamber of Commerce and an

octogenarian erstwhile resident of Bathgate have been driving web traffic to On the Road to Bathgate Act 6: Norville Baptie, Champion Skater. Whether it was speed skating, barrel jumping, figure/fancy skating or ice show productions, Norville Baptie was the premier skater and ice skating promoter of the early 20th century. Norville hailed from and is buried in the hamlet of Bathgate, North Dakota.
6. Our latest addition to the On the Road to Bathgate Series, On the Road to Bathgate, Act 4i: Robert Dimon Hoskins -- Editor, Public Servant, Lawyer and Merchant, debuted late in the month. Great uncle Rob Hoskins rose from small town editor and lawyer, to clerk of the supreme court in Bismarck, North Dakota, and merchant, who started a business empire that eventually spawned Meyer Broadcasting, owner and operator of KFYR radio, KFYR television and a TV network covering the western half of the state. This post covers R. D.'s first forty years, when the seeds of the family business empire were sown.
7. Beware the Avalanche tells the tragic story of a Bozeman man who lost his life a year ago today, with advice and information on avoiding and surviving (don't depend on it) avalanches weaved in.
On New Years Day, three men rode snowmobiles into the northern Gallatins, planning to spend all day in the mountains. The group started at 9:30 a.m. from the Portal Creek trailhead, seven miles north of Big Sky on U.S.191.
They were Ken and Kenneth Gibson, father and son ages 46 and 19, and Kenneth's friend Zachary Walker, also 19. Ken Gibson was an expert snowmobiler, familiar with the area and aware of avalanche hazards, according to Staples. The younger men were experienced riders, as well, and Walker had been out riding with the Gibsons a few times prior.
Aerial picture of the avalanhce site, from the
Gallitan National Forest Avalanche Center.
All three had avalanche beacons, probes and shovels, and were familiar with their use, and both Gibsons wore airbag backpacks. As the group traveled through the backcountry, they passed crown lines from recent large avalanches.
Just before 2 p.m., they rode into the north end of Onion Basin, a remote area south of 9,948-foot Eaglehead Mountain.
Kenneth got his snowmobile stuck, but because he was in the back the other two didn't realize they'd lost him. Debris from a recent natural avalanche was visible on one of the steep, 500-foot slopes encircling the basin, and they kept what they thought was a safe distance from the slopes above, Ken riding up into a gentle meadow, and Walker continuing out across it.
Walker saw the avalanche out of the corner of his eye just before it hit.
On January 1, 2014, Ken Gibson, as an experienced and well prepared snowmobiler you can find, was buried in Onion Basin, near Big Sky, Montana. That day, his wife lost a husband and his two boys lost a father. Our prayers to his family. May he rest in peace. God bless them all.
Checking out the right front wheel that
got too close to the culvert.
I admit it. I can't drive, walk or ride by a culvert without swiveling my neck, inspecting and visually evaluating the structure, judging condition, materials and construction and looking at the drainage to see how well, or if, it is performing its intended function.
in Caring About Culverts, I did not foresee the trip we took up Hyalite canyon a couple of days after Christmas. When avoiding another vehicle Larry drove off the road into a culvert inlet hidden by the blowing and drifting snow. Back in the 1970s we built culverts in Madison, Wisconsin, but probably not that one.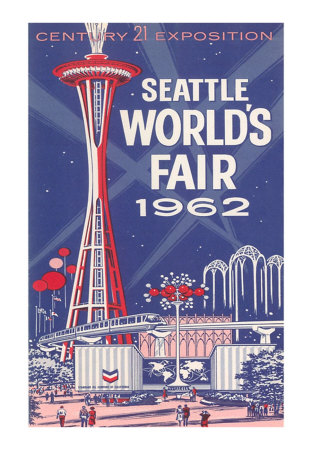 Seattle World's Fair promotional poster.
9. My first time in Montana was on the way to the 1962 Seattle World's Fair. The exposition had a space age theme and gave us the iconic Space Needle which is Seattle's signature structure to this day. On the way we journeyed through Billings, Helena, Missoula and probably Bozeman too. As we were descending into Billings on July 6th of this year, I had a deja vu, 52 years ago moment, when memories of that trip flooded back. Read about them in Seattle World's Fair or Bust.
10. The lore of the caddie strike lives on -- so says a former caddie master at Glen View Club who linked up to this old post on Facebook.
I began caddying at Glen View in the fall of '73. I remained at the club for 18 years as a caddy, caddy master and assistant pro. I was also fortunate enough to earn the Chick Evans caddy scholarship. You could say the my years there were the main influence in my life.

The story of the strike lived in GVC caddy lore for many years. The chats of "of hell no we won't go" still live on whenever some of us old loopers get together. Thanks for allowing me to relive some great memories.