1. Hillary
Despite having cherry picked her appearances, just about everywhere Hillary Clinton had gone to support candidates the Democrats lost last night. I guess that should be no surprise, since last spring and summer she was about the first presidential aspirant in history to have lost a book tour. We look forward to learning what the next president of the United States has in store for us in 2015.
2. Virginia
It was a fascinating election night in the Commonwealth of Virginia. In my old home town of Arlington, a Republican running as an independent ran roughshod over his Democratic challenger, marking the first time in decades the Arlington County Democratic Committee handpicked candidate did not win. Alan Howze was the blue blooded losing liberal Democrat. John Vihstadt was the anti street car independent.
Arlington Total
Alan E. Howze
(D)
John E. Vihstadt
(I)
Vote Totals
27,447
34,939
Percentage
43.80%
55.76%
Vihstadt is pictured on the right celebrating victory in his home kitchen with fellow County Board member Libby Garvey. Libby is the last Democrat who I voted for for anything, and perhaps the last ever because they don't make 'em like that anymore.
The Washington Post reported on a sampling of voters who went for Vihstadt.
Vihstadt, 62, a real estate attorney who postioned himself as a fiscal skeptic, said a streetcar would be too expensive and inflexible.
Margaret Hunt, an environmental lobbyist accompanying her 88-year-old mother to the polls at Arlington Arts Center, called Vihstadt "a little more fiscally conservative," which she liked.
Michael Beglinger, who works in construction management, said he chose Vihstadt because "There's too much of one-way thinking" on the County Board. "We don't need five of the same [party]. I'm just looking for balance."
Ronelle Matney, 63, a consultant, and her husband Bud Matney, 75, said they are focused on the economy.

"I can't say I'm so strongly enamored with the candidates," Ronelle Matney said."I think I'll probably vote for Vihstadt. He had a more fiscally conservative approach. We need that.''
Bud Matney said he is opposed to the streetcars. "I don't think they'll get the return for the money they spend," he said.
As I recall, when the street car was first proposed the cost was estimated at $55 or $65 million. The latest estimate is $358 million. The trolley, as the opposition calls it, would go down a traffic lane in a clogged street that is already fully utilized by cars and buses. I estimate that by retiring and moving from Arlington, we saved $7,000 a year in taxes.

Arlington voted quite differently when it came to federal office. There they get to spend and pocket other people's money rather than parceling out sums of their own.
Statewide, it looks like Democratic incumbent U.S. Senator Mark Warner squeaked by.
Statewide - United States Senate
Candidate
Votes
Percent
Graph
Ed W. Gillespie


Republican

1,053,444
48.37%
Mark R. Warner


Democrat

1,069,451
49.1%
Robert C. Sarvis


Libertarian

53,201
2.44%
Write-in

1,979
0.09%
Warner's margin of victory sits at 16,000 votes. Arlington county went bonkers Democratic, accounting for that margin and then some.
Locality - ARLINGTON COUNTY
Candidate
Votes
Percent
Graph
Ed W. Gillespie


Republican

18,121
26.85%
Mark R. Warner


Democrat

47,643
70.59%
Robert C. Sarvis


Libertarian

1,657
2.45%
Write-in

74
0.11%
Warner beat Republican challenger Ed Gillespie by 29,500 votes in Arlington and won by even a higher percentage in my old precinct.
Precinct - 027 - JEFFERSON
Candidate
Votes
Percent
Graph
Ed W. Gillespie


Republican

342
24.96%
Mark R. Warner


Democrat

988
72.12%
Robert C. Sarvis


Libertarian

40
2.92%
Write-in

0
0%
It is not so much political philosophy that drives Arlington's vote as it is dollars. The federal spending bomb is making many thousands rich in Arlington and virtually everyone else incredibly affluent. Mark Warner of Virginia was elected by people who don't want to recklessly spend their own money but who are happy to luxuriate in yours.
3. John Kasich for President
A Republican won the governorship in Maryland? And Illinois? And Massachusetts? Didn't Obama campaign for the Democrat aspirant in Maryland, because that state was so blue? But from my perspective, the truly important governor's race last night was in Ohio where former Congressman John Kasich was re-elected in a landslide vote.
John Kasich, R - Ohio, election night.
Kasich was a Congressman, an effective leader and the Chairman of the House budget committee during the deficit busting years of the Clinton administration. There is no single person more responsible for the budget surpluses that ensued. When Kasich, Dick Armey and Newt Gingrich left Congress, the Republicans replaced them with a bunch of incompetent political hacks who seeped into and were co-conspirators in the inept Bush administration. John Kasich should be elected the next president of the United States.
4. The Most Competent Senator
In Montana, Congressman Steve Daines won the Senate seat running against a clown show of changing opponents. While Daines could have raised and spent enormous sums on his campaign, he spent precious little. He spent his time travelling the state talking to the tribes, meeting with small businesses and sitting down with workers, trying to understand what it takes to keep the economy moving and jobs growing in this state. That's not much different from what Daines did in the private sector when he and his dad were developing office parks and light industry in Bozeman and when he was the chief marketing officer of a highly successful tech start-up. He is far from flashly, but he may very well be the most competent member of Congress in an era when the incompetence of our federal government is bleeding out.
5. Police State Lies and Karma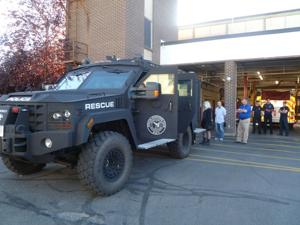 The Bozeman BearCat. Rescue? Hah!
Locally, the smug police state lefties got their comeuppance when City of Bozeman voters rejected the bond issue and tax levy for a fancy new law and justice center (read police station and municipal court). We blogged about the "free" BearCat assault vehicle that DHS awarded the Bozeman PD when police officials bypassed city procedures. Subsequently, the Bozeman commission (equivalent to a city council) ratified the gift by a 4 to 1 vote after the police begged to keep the military style BearCat, saying that they really didn't mean what they told DHS about using the vehicle to control crowds at gatherings of various political groups -- they just had to say that to get the grant.
The one vote against ratification was by the only Republican on the city commission. He gave an impressive speech on the importance of integrity in government and warned of adverse consequences that would result in the absence of the same. One of those consequences is citizenry turning against and disbelieving the police. We saw a chunk of that last night when what was once thought to be slam dunk referendum on the new law and justice center went against the council and the boys and girls in blue. The top Facebook comment on the result?
6. Oinking for Joy
Like most everyone, now and again I like to see someone who I have something in common with do well. So I am over the moon that Joni Ernst will be the next U. S. Senator from the great state of Iowa. What do we have in common?
It's done with local anesthetic. Piglets are smart. They know what is going on. Afterwards they look up with big doleful eyes, as if to say, what have you done? Yes, Joni is tough. She knows how to do what needs to be done and move on.