Though you can make a good argument that is should be eight days from now, April 7 is National Beer Day.

The timing celebrates the beginning of the end -- the end of Prohibition and the speakeasy era that is.
Reversing a constitutional amendment is a long and difficult process, so changes came in waves. The first sign of change came in the form of the Cullen-Harrison Act, which legalized the sale of low alcohol beer, and went into effect on April 7, 1933. The whole country celebrated by lining up in droves to legally purchase beer! Many reports were made that people started lining up outside breweries and bars on April 6, and waiting in line through the dark of the night to get their hands on all the beer they could handle. In the first 24 hours after the alcohol amendment was officially changed, 1.5 million barrels of beer were consumed. That must have been an awesome day in America.
The beer industry is an economic space where our government is actually breaking down regulatory barriers -- and facilitating true diversity and an openess that is beginning to approach free market competition.

In Bozeman alone we have six craft breweries -- the most notable being Bozeman Brewing Co., Madison River Brewing Co., and Bridger Brewing.

I'm partial to the Bozone beers produced by Bozeman Brewing. Just about every local pub and eatery has Bozone Amber Ale on tap. Canned, its available wherever cold beer is sold. It's my fave.
Bozone Select Amber Ale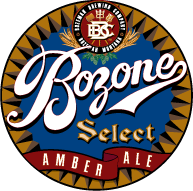 The local favorite, this flagship light amber is all about balance, with medium body, a hint of hops, and a refreshing finish that leaves you beckoning for more. Bozone Select Amber Ale is the flagship offering from Bozeman Brewing Company, made with Montana grown and malted Pale barley, as well as Crystal and Vienna malts. Hopped with a blend of Magnum, Columbus, Santiam, and a late kettle addition of Cascade hops for a pleasant aroma. This is a truly quaffable session beer.
If you come by our way, have a few cold ones. I don't think you will be disappointed.