A warmer than normal winter? Check. Less than normal snowfall? Check.
The Gallitan National Forest Avalanche Center's avalanche advisory alert going into this weekend was low, but mentioned "there may be a few [slabs] on high elevation slopes where the snow remains dry which could produce a small avalanche."
No avalanche fatalities? Sadly not. After the previous winter's tragedies we thought we were free and clear. But that was not to be. Yesterday a back country skier perished on a run down from Beehive Peak near Big Sky.
BIG SKY -
A 28-year-old Bozeman man died Saturday afternoon in an avalanche north of Big Sky.
Gallatin County Sheriff and Coroner Brian Gootkin said Jens Hagen Anderson was skiing with three others near Hanging Garden on Beehive Peak when he triggered a small avalanche and was swept over a rock face.
The slide happened around noon. Witnesses say Anderson was the first to ski the run. A preliminary investigation indicates that Anderson died at the scene as the result of injuries sustained from the fall.
A member of the party made a long climb to a ridge top in order to make a cell phone call to 911.
Rescuers accessed the site and evacuated Anderson from the mountainous area using a helicopter before wind and snow closed in.
Sheriff's investigators and the Gallatin Avalanche Center will continue the investigation Sunday
There are two skiable routes down from Beehive (elevation 10,742 feet), a north coulier and a south coulier. Anderson was skiing the northerly route.
The best ski line off Beehive is Bowman's north couloir.... Dropping off the west ridge a short distance from the summit, this extreme route follows a steep ramp-like couloir for several hundred feet to the edge of a cliff. It then traverses east across a hanging snowfield to a large bowl above Beehive Lake. Mountaineer Terry Johnson first climbed this route on July 23, 1967 and named it "Hanging Garden."
Apparently the top layer of snow sheared off and carried Jens Hagen Anderson over the cliff.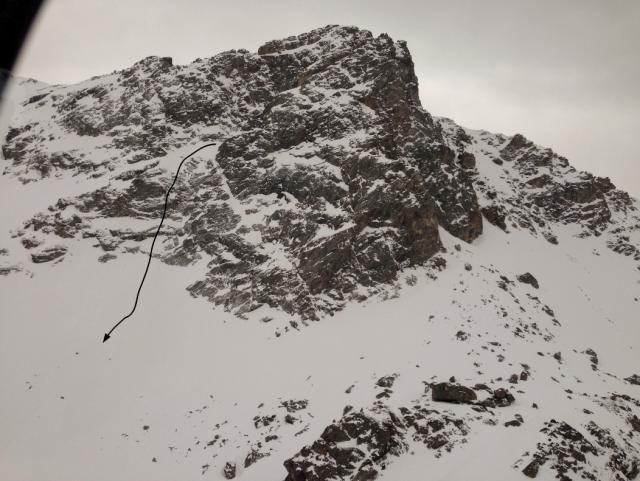 April 11, 2015 view from helicopter. The Gallitan Natioanl Forest Avalanche Center says, "the upper portion of the couloir is mostly out of view but the hanging snowfield can be seen. The avalanche carried the skier over the cliffs."
We will await official word from the Gallitan Avalanche Center when it completes its investigation and update this post with their findings.
Here is the Avalanche Center's post mortem video, posted Monday, April 13. The finding is the skiers were as careful as they could have been given the inherent danger of the terrain. As can be judged from the video, the chute they were skiing was very narrow and near vertical.
Avalanche experts with the GNFAC tried to access the site of the slide on Sunday, but were forced to turn back due to gusty winds. Doug Chabot and Mark Staples were able to make it in to Beehive Peak Monday and filmed the video above.

We spoke with forecaster Eric Knoff on Monday morning who said they are working to piece together how this happened to a seasoned skier when avalanche danger was low.
"It did catch us a little off-guard," said Knoff. "It has been such a quiet and fairly benign winter and right when you think you're out of the woods, you can be surprised by an accident like this."
Knoff said although avalanche danger was low, the terrain in the Hanging Garden area where Anderson and his friends were skiing Saturday is really unforgiving.
"There's essentially no room for error," said Knoff. "Unfortunately, they triggered a small slide, that anywhere else wouldn't be a big deal but the terrain magnified the consequences significantly and it ended badly."
Knoff said Anderson and his skiing partners were experienced in the backcountry, had avalanche training and were essentially doing everything right.
"Unfortunately you can make tons of good decisions which can be offset by one bad one," said Knoff. "It's a great reminder that spring is a really fickle time in the mountains and weather and snowpack can change rapidly."
This is the second avalanche fatality in Montana during the 2014-2015 season and the ninth nationwide. Last year, 35 people across the country were killed by avalanches; six of them in Montana.
In May of 2009, Jens Hagen Anderson received his B.S. degree in mechanical engineering from Montana State University. He was a design engineer at Graymatter Research in Bozeman, Montana. May Jens Hagen Anderson rest eternally in peace. Our prayers and sympathies to his family and friends.
Related posts:
Beware the Avalanche.
More Avalanche.
Avalanche Advisories Issued.
Memorial Service for Jens Anderson and Opportunities to Help.
Read the moving obituary and tribute to Jens Anderson published in the Bozeman Chronicle.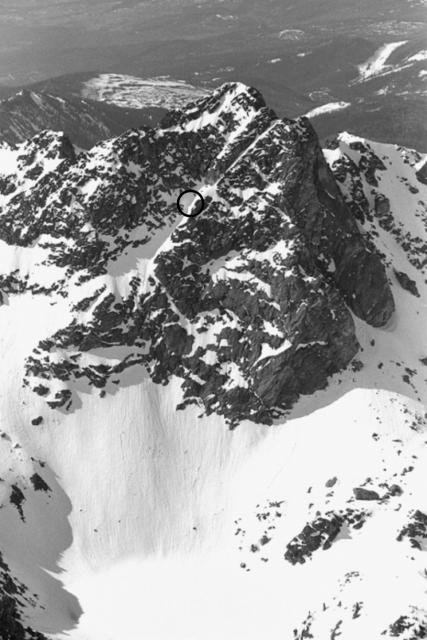 The avalanche was triggered approximately in the location of the black circle. It was one foot deep for about 6 feet and quickly tapered to just a few inches thick on either side. The skier was in the middle of a turn with his skis pointed downhill when it broke. Had he not been in this position, his partners are fairly confident he would have been able to either ski off it or self arrest. Photo, April 12, 2015.
Jens Hagen Anderson skiing a back country couloir, January, 2015.