We're two days into April. It snowed yesterday. It snowed today. Snow is forecast for tomorrow night and Easter Sunday. Monday too. April is coming in like a lion. The weatherman calls them vigorous snow bands. Seems like a good time to look back on the sunny days of March. Here are the March top ten posts in Along the Gradyent.
1. My brother- and sister-in-law are diving feet first, and finances to the hilt, into the hottest new thing in apartment construction. Down in Ted Cruz land and the Lone Star state:
Cube Square is rising in Huntsville, Texas. One of the coolest new ideas in apartment construction is to build using inter-modal shipping containers. They call it Cargotecture. You have seen them on truck trailers, double stacked on flat bed train cars and stacked to the sky on cargo ships. Now they are beginning to appear on land, rising high in the latest green movement in apartment architecture.
America is a consumer nation, resulting in a surfeit of shipping containers inbound at U.S. ports -- many looking for a domestic home in lieu of an empty back haul. In our import intensive economy, the containers protect goods that are shipped in but are not needed in equal numbers for outbound export. A solution? Shipping container apartments: Reuse, repurpose and adorn to create a utilitarian industrial chic.
For the full story and video links click through to the "The Cubes Are Coming, The Cubes Are Coming."
2. I don't know if it is the record winter snows in the northeast, the prospect of Rory completing his career grand slam, or the speculation about what is happening with Tiger Woods, but people it seems are really looking forward to the Masters this year. In The Masters (Repost) we reprise our childhood connection with a gentleman who was in the first pair of honorary starters who kick off the tournament on Thursday mornings.
Current honorary starters at the 2014 Masters -- Gary Player (black sweater), Arnold Palmer (green sweater), and Jack Nicklaus (blue sweater).
3. People love childhood reminisces. So do I (sometimes I am not fully human, I get that). I wrote about my times and adventures as a baby boomer in the sleepy suburb of Morton Grove.
Half a block up and across the street was a field on the edge of the Cook County Forest Preserve, which with its bridle paths, heavily wooded areas, and riparian landscape presented all manner of opportunity for adventure and mischief. We captured butterflies, grasshoppers and lightening bugs, hung out in a "cave" along the river, climbed trees and explored the dump once located within.
I have been contacted by all sorts of people as a result of this post. One fellow, who was adopted, I was able to help track down his birth mother's trail, who sadly is deceased. But he was happy to finally know more of her and to meet his birth grandmother and an uncle who was a classmate of mine. There is more than meets the eye in Growing Up in Morton Grove.
"The Goal," March 16, 1973.
4. Wisconsin was in the Final Four in 1973 as well, except that time it was hockey, and our opponents were Cornell and Denver University. We reigned supreme in the old Boston Garden. Here's hoping that the Badger cagers are similarly successful this week in Indianapolis. Forty-Two Years Ago Today (Repost) looks back at our Bean Town trek, and the zany return trip we could never forget -- planes, trains, buses and automobiles, precipitated by a March blizzard in northwest Pennsylvania.
5. We like it when our top ten posts reprisals are well read, because that signifies readers saw something they liked here and are looking for more. So it is that we are proud that the February Top 10 came in strong for the month.
Bonnie Swearingen riding down
State Street, Chicago, Illinois.
6. Sometimes you meet the darnedest people on a golf course. When I was a teenager, that included John Swearingen, president and chairman of the board of Standard Oil (Indiana) and his southern belle wife, Bonnie Boulding. Whether it was the business or society pages, the New York Times, the Washington Post or the Chicago Tribune, or People Magazine, they were a couple worth talking and writing about -- and the media did, and did, and did. In John and Bonnie: A Profile in Oil, Finance, Politics and High Society, I do the same.
7. Before Google Maps and satellite views, there were aerial photos. I used one of these in Addendum to the Lincoln Tavern Post to add to my exegeses on one of the most notorious roadhouses in Morton Grove during the Al Capone and Prohibition era. I hope someday to get to finishing off a draft post about Fred Sonne, a Morton Grove resident and pilot, who invented and patented cameras that were used for many of these aerial reconnaissance shots, and hot spots like North Korea, the Soviet Union and Cuba in subsequent years.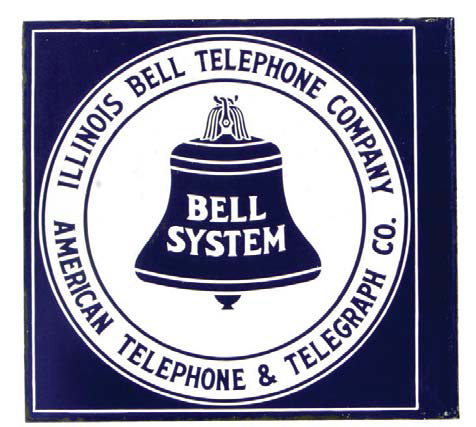 8. AT&T entered the Dow Jones Industrials average in 1916. Now it is out so Tim Cook of Apple can make a federal case of whom does and does not bake wedding cakes for likes of himself. In Hello Good-Bye AT&T we profiled the life of Angus S. Hibbard, a pioneering telecommunications engineer, operations and marketing executive, and, it so happens, an orignal memeber of Glen View Club, where I caddied as a youth. That Bell System logo? It was a Hibbard creation. He did more to bind this nation together than Tim Cook can imagine. Tim Cook has done nothing except draft in Steve Jobs' wake.
9. My uncle, Lyndon R. Foster, was a great man. He died mere months before I ventured to California in 1975, so I never had the pleasure of making his acquaintance. There are World War I, disabled veteran, 1932 Los Angeles Olympics, China Town, mob and Ronald Reagan ascension to politics elements in the Lyn Foster story. Read all about it in On the Road to Bathgate Act 4f: Lyndon R. Foster -- Veteran, Publisher and Politician.
10. My hometown of Morton Grove, Illinois was a notorious hangout of mobsters and hoodlums during the Prohibtion era. By the time I was born and raised there in the 1950s and 1960s it was a Ward and June Cleaver kind of a suburb. In Morton Grove Mapped Through Time, we trace the physical transformation of the Chicago suburb that tracked its cultural evolution.
A 1938 aerial photo showing greenhouses where the school I attended and the park of my youth were later located.