Yes, it is still there.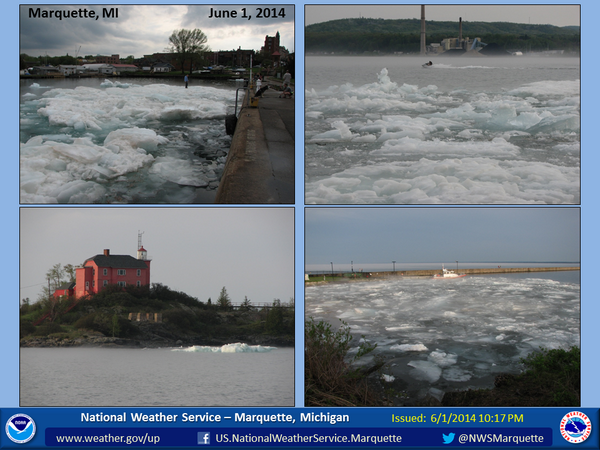 Doyle Rice at USA Today says,
I'm gonna keep writing about this until the last cube of ice is melted (if that happens). Unimaginably, there's still ice from the savage winter of 2013-14 on the south shore of Lake Superior near Marquette, Mich.
The Marquette Mining-Journal newspaper reports that according to some forecasts, the ice may last until July:
In more global warming news,
FEMA help?
State seeking FEMA damage assessment for 2013-14 winter freeze
June 4, 2014
,
MARQUETTE - State officials are seeking a Federal Emergency Management Agency assessment of winter freeze damage in the Upper Peninsula and parts of the northern Lower Peninsula, after costs from nine counties affected in the region have totaled $14.7 million.
"Right now, we've kind of met a milestone, we have exceeded the $13.7 million that's required to now go to FEMA with a damage assessment," said Teresa Schwalbach, Marquette County emergency management program coordinator, in an update briefing Tuesday to the Marquette County Board.
A state emergency declaration was issued by Gov. Rick Snyder for Marquette County April 17, which made state resources available to local jurisdictions without cost. Some of the items communities have sought under the declaration included leak detectors, construction equipment, steamers and manpower.
Article Photos
Marquette County has incurred $5 million in costs.
In May, Snyder added eight additional counties in the Upper Peninsula and northern Lower Peninsula to the Region 8 emergency list including Chippewa, Delta, Gogebic, Luce and Mackinac in the U.P. and Charlevoix, Cheboygan and Emmet counties in the northern part of Lower Michigan.
Those counties are now hoping for a presidential declaration which would make federal funds available to the region, which suffered one of the worst winters in decades. Marquette County had 79 consecutive days with below freezing temperatures and frost depths reaching 8 feet or more, cracking numerous water mains and other pipes.
Remember, it's science. Good luck to all.