In view of the severity of last winter, which set in hard the third week of November and did not yield until late April, we have been most pleasantly surprised by the advent of real spring during May in Bozeman. The saying goes, we have a wonderful spring in Montana -- all three days of it. This year we are getting a gloriously long month and perhaps more.
We have been out on the golf course all month. And we are developing a vegetable garden plot (more on that to come). We were not able to get up in the mountains as much as we would have liked in recent weeks for Saturday pictures because many of the prime scenic locations remained blocked by the deep winter snow packs. We have been making the rounds almost exclusively at Cottonwood Hills golf course
(see new webcam view across the putting green towards the first tee at left) because the surging and merging snow melt runoff over the banks of the creek and the East Gallitan River has temporarily made Bridger Creek golf course more like a 16 and 1/2 than an 18 hole links.
We want to thank our readers for their loyal readership. We like to research, learn, inform and entertain. Your joining with us makes the experience incredibly worthwhile and rewarding. You are awesome.
Our top ten most viewed post list in May has a good mix of perennial favorites and new postings. Here they are top to bottom: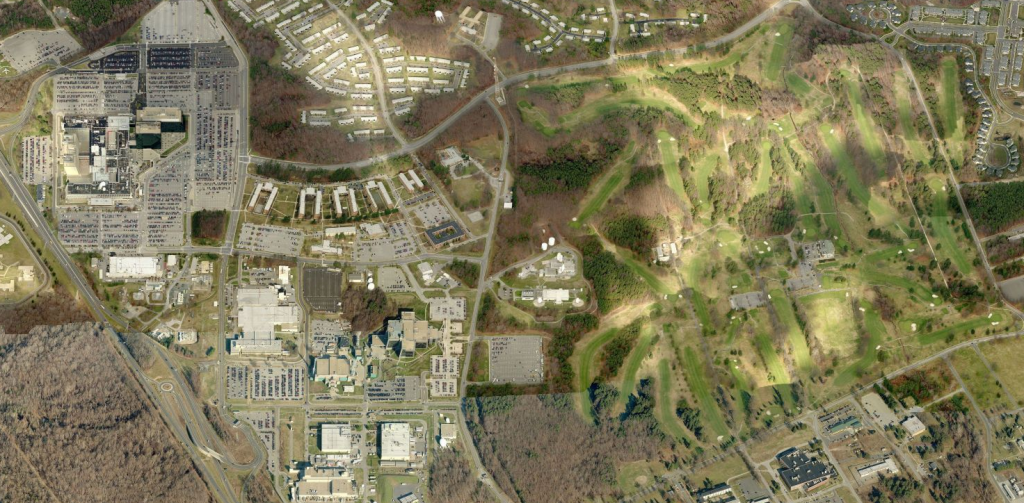 Dear President has plowed under the secure military golf
course (right) to make way for his latest NSA expansion.
1. CNN was once the world's premier news organization under Ted Turner. If something important was happening, CNN was the news source I would reflexively go to first. Bernard Shaw, Peter Arnett and Susan Rook, they were the bombs. John Holliman was cool. Now it is the last. The network has become a purveyor of speculation, misinformation and reality trash under the leadership
and tutelage of NBC News alumnus Jeff Zucker. Accents are more valued than acumen. In NSA Overeaches are Bush's Fault? we unmasked one of Christiana Amanpour's know nothing reports from Europe.
2. Baby boomers are nothing if not nostalgic. In Growing Up In Morton Grove I recounted boyhood memories of growing up on Austin Avenue in the sleepy suburb north of Chicago during the boom. That the post has received a welcoming and lasting reception warms our hearts well.
Jock Hutchison (left) 1921 British Open champion
golfer of the year and Chick Evans,
1916 U.S. Open winner, circa 1920. Evans
was also a member at Glen View Club.
3. When I was growing up in Morton Grove, summer mornings I would jump on my bike around 7:30 am, ride up Austin Austin Avenue to Beckwith Road, turn left and then cut right across Chick Evans golf course, and zigzag across Golf Road to the entrance of Glen View Club where I caddied from the ages of 10 to 18. I sometimes looped for an old codger by the name of Jock Hutchison who played several times a week. Jock said he had won the British Open. I scoffed. In The Masters (Repost) I atone for my youthful disbelief by recognizing the man who was also first in a series of legendary honorary starters at The Masters.
4. The replacement contractor for Healthcare.Gov has turned out to be outrageously expensive and absurdly behind schedule. Who could have predicted that? Well me. Check it out at Accenture Comes Through For Healthcare.Gov.
5. Succulents don't weather well in Montana winters. It's a different story in the land that gave us Sam Houston. The special spousal guest post, Mildly Painful, Painful and Very Painful -- Texas Cactus, recounts everything you might want to know about cacti in the Lone Star state.
6. Here a lobbyist, there a lobbyist, everywhere a lobbyist. From the mortgage meltdown, to the Obamacare website disaster, It's That Fella Across The Street recounts the ubiquity of the lobbying crowd from our days inside and around The DC Beltway.

7. With the golf season in full swing again, training for the uninitiated is freshly in order. Readers of this blog who are new to the game are learning how to survive a season of professional golf coverage in The Golf Channel: Spouse's Guide To Sanity (Special Guest Post).
HWY 281 closed by Devil's Lake's rising waters.
8. If you want to actually learn something about climate change, read this post, Real Climate Change at Work, about Devil's Lake, North Dakota. Droughts and floods, arctic cold and stifling heat -- they are all there, and episodically come and go, having absolutely nothing to do with global warming or with Dear President wiping his brow while giving a Georgetown speech in July. Obama has not visited North Dakota. He would learn too much.
9. On The Road to Bathgate Act 1: Fargo the Movie,
is an ever popular pop culture story on the Paul Bunyan statue that found new legs this spring with the debut of Fargo, the series, on FX
. "You should have seen it right after they put it up," said Reinhold Henschel, who owns Reiny's Bar, one of a handful of businesses in the town of 75 people about 10 miles south of the Canadian border. "It was foggy, and people couldn't see it until they got right up to it. Then, it says, 'Brainerd,' and they thought, 'What the hell?" You can join the 383 of us who like Reiny's on Facebook, here.
10.
We drove up to Kalispell to attend the Glacier Bancorp Annual Shareholders Meeting (GBCI). Glacier is a holding company of community banks, headquartered up the Flathead Valley, a gateway to Glacier National Park and hence the name. It is one of our largest stock holdings, a conservatively and well managed company that unlike most all the rest of the banking industry did not accept TARP money from Uncle Sam and never suspended, did not even cut, its dividend during the financial crisis. They walk the talk.