I was watching CNN this morning when Christiana Knownothing Amanpour chimed in from London, commenting on the latest NSA spying scandal to the effect that Dear President is merely continuing what had been previously done under Bush Cheney. Wow lady, you have to get back to our shores. Or better yet, don't broadcast your pap over the pond. You are totally out of touch.
Sprawling Utah Data Center.
NSA's budget is dark, so we cannot see it and analyze the dollar trends. But we can see NSA's footprint and observe how it is expanding dramatically. The most well known indication is NSA's ridiculously large multi-billion dollar 12 exabyte capacity Utah data center under development, which by the way, has had its opening repeatedly delayed by meltdowns and glitches. It almost makes you wonder whether NSA is using the same contract and management team that is responsible for HealthCare.Gov.
Closer to Dear President's home are developments at NSA headquarters at Fort Meade, Maryland, just up the Baltimore Washington Parkway from Washington DC.
NSA Headquarters
It was once said NSA stood for No Such Agency. No way, no how are those claims forthcoming, not anymore.
With more than 56,000 employees, Fort Meade is Maryland's largest employer and is the third ­largest workforce of any Army base.
The main NSA building, as such, does stand out.
But it is dwarfed by the size of its campus.
Fort Meade campus (within dashed line)
NSA HQ is middle, left edge
The Fort Meade command boasts
,
Fort Meade is virtually a a city within itself. It consists of 5,067 acres with 67.5 miles of paved roads, 3.3 miles of secondary roads and about 1,300 buildings. There is a modern post exchange mall, bank, credit union, post office, chapels, seven schools, and many other facilities on the installation. Whatever your interests -- crafts, sports, movies -- all are available on Fort Meade.
Fort Meade is not standing still.
Fort Meade and the surrounding areas are in the midst of significant growth, change and transformation.
For Meade is home to 95 tenant units, many of which are expanding their presence at Fort Meade. The National Security Agency, Defense Information School and the 902nd Military Intelligence Agency are three such agency that are slated to grow in personnel and occupancy at the post. DINFOS alone is expected to increase the size of its building by one-third and expand its annual student capacity to 4,000. In addition, the newly established Cyber Command, headquartered on post, may add up to an additional five thousand personnel.
With the additions of thousands of new employees, residents and family members, Fort Meade has been busy keeping pace with necessary upgrades to its infrastructure. Miles of fiber optic cable have already been laid to improve communications and new water, sewer and utility line have been installed or upgraded to handle personnel and resident growth.
Future construction includes a new 24-hour shopette, Post Exchange, Child Development Centers, golf course, youth sports complex, and a Veterans Administration Center -- the first ever to be constructed on a military post.
There are veterinary services, kennels and pet care on post, a clinic, a pharmacy and outpatient surgery services, eleven restaurants, bowling, running track, indoor basketball courts, an already established 27 hole golfing complex, a library and museums, and an RV park, general use pools as well as pools at most housing clusters, as well as outdoor recreation facilities to numerous to mention.
None of this includes or houses tens of thousands of contract personnel who are hired by the agency to carry out its orders.
Fort Meade further
boasts
,
Every day, more than 100,000 people seek the services Fort Meade offers. Its primary mission is to provide a wide range of services to more than 95 partner organizations from the Army, Navy, Air Force,Marines and Coast Guard, as well as to several federal agencies including the National Security Agency, Defense Media Activity, Defense Informations Systems Agency, the Defense Courier Service and the U.S. Cyber Command.
The NSA and its cousin alphabet soup agencies housed at Fort Meade are big, bloated, growing and out of control.
Even with its 5,067 acres Fort Meade is running out of space. So what did it do? Why the unthinkable -- a short drive from Dear President's White House, Fort Meade revealed plans to plow under a secure, military golf course.
In July 2010, the NSA revealed that it was expanding into a 227-acre parcel of land at Fort Meade called "Site M", constructing a series of buildings that could cost as much as $5.2 billion. This expansion would displace two golf courses currently occupying the land and provide the NSA, which already occupies 630 acres at Fort Meade, with more space to build "an operational complex and to construct and operate consolidated facilities to meet the National Security Agency's (NSA) continually evolving requirements and for Intelligence Community use". The project has been shrouded in secrecy throughout its existence and there are only a few references to "Site M" in DoD budget planning documents. However, a recently discovered collection of development planning documents for the Site M project provide detailed information about the proposed $3.2 billion expansion, indicating that the facility will be a centralized command center for the NSA's evolving cyberwarfare capabilities.
It came to pass sooner than anyone expected.
The golf course at Fort Meade will close May 1 after more than six decades of play, officials at the Army base said Thursday.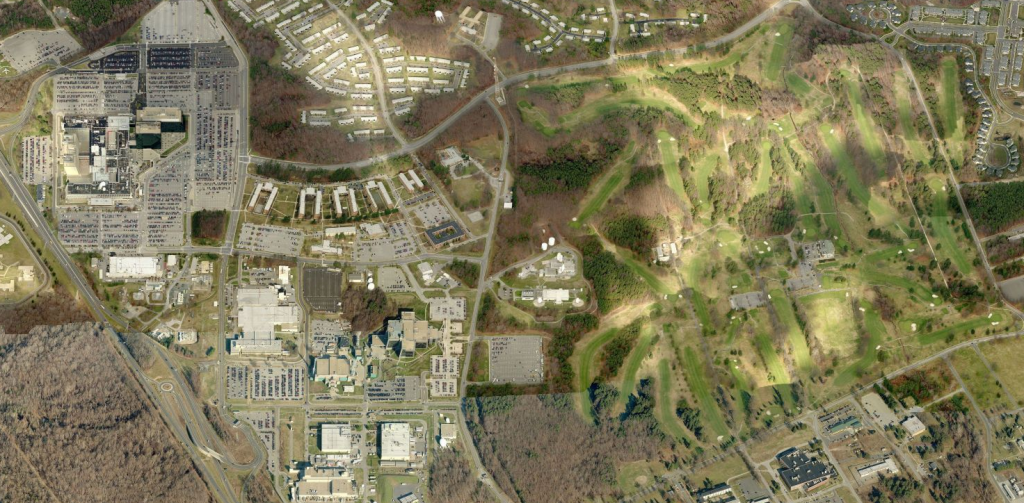 Golf course (right) is no more.
The 27-hole course, which saw 35,000 rounds of play last year, had been scheduled to close in September to accommodate building projects at the rapidly growing installation. But the date was moved up to accommodate construction deadlines, effectively canceling the final season of play.
The NSA is expanding rapidly and massively, even at the cost of Dear President's favorite past time. There is a hell of a lot more than Cheney Bush going on there. You can bet on it.