As of late yesterday, Karen was predicted to grow into a hurricane, and make landfall as a tropical storm all the way into Georgia, continuing as a tropical depression up into Virginia.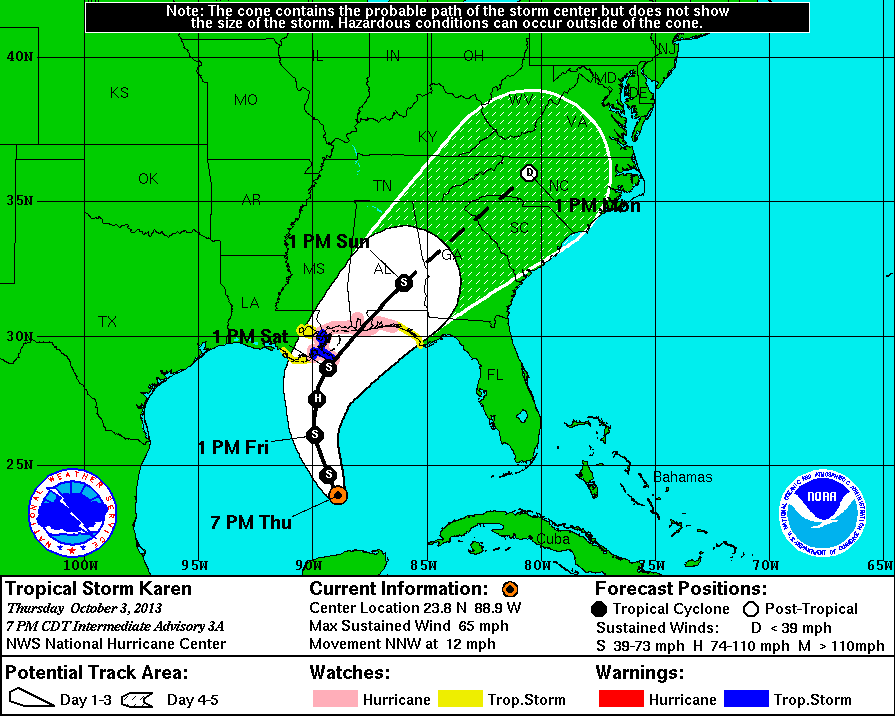 Oops, Karen is weakening, not intensifying.
POORLY DISORGANIZED TROPICAL STORM KAREN WILL CONTINUE TO MOVE
SLOWLY NORTHWARDS TONIGHT. SWELLS AS RESULT OF KAREN ARE STARTING TO GET INTO THE COASTAL WATERS THIS AFTERNOON. THE ONSET OF TROPICAL STORM FORCE WINDS WILL BE SLOWER THAN PREVIOUSLY EXPECTED REACHING THE COASTAL WATERS LATE TONIGHT AND SATURDAY MORNING.
Didn't mean to say a hurricane after all. And when it hits land it will be a depression, not storm anymore. As for the last two days, forget about it.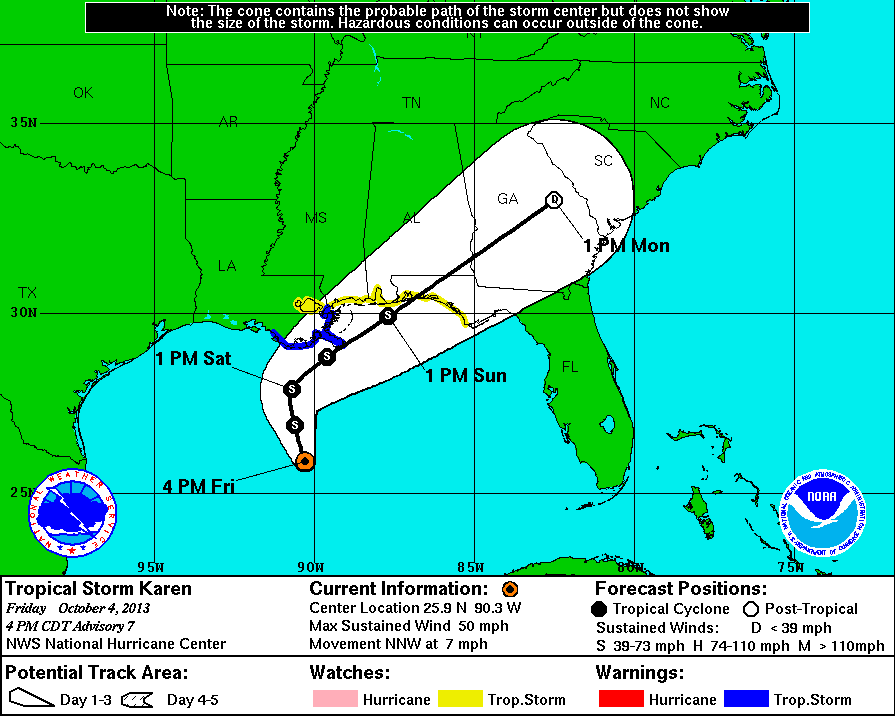 Those climate scientists, they are magicians who understand what's going on with 95 percent probability. If you don't believe that, just ask them.
Update 10/5: Dudes and dudettes, storm is not even gonna make it to land, will be downgraded to a tropical depression off the Louisiana shore.
And Saturday evening...
WATCHES AND WARNINGS
--------------------
CHANGES WITH THIS ADVISORY...

ALL TROPICAL STORM WARNINGS HAVE BEEN DISCONTINUED.

SUMMARY OF WATCHES AND WARNINGS IN EFFECT...

THERE ARE NO COASTAL TROPICAL STORM WARNINGS OR WATCHES IN EFFECT.

INTERESTS ALONG THE NORTH-CENTRAL GULF COAST SHOULD CONTINUE TO
MONITOR PRODUCTS ISSUED BY YOUR LOCAL NATIONAL WEATHER SERVICE
FORECAST OFFICE AT WEATHER.GOV.
Sunday Morning, BYE BYE Karen!